Discussion Starter
·
#1
·
I wanted to share some pics from my brother's and my Utah deer hunt. We had scouted the area a fair amount throughout the summer and had a few nice ones pegged. We got out there a couple days before the hunt to do some final scouting. The day before the hunt my brother was stepping out of the trailer and stepped on it wrong and broke his ankle. I ended up scouting alone that day while he doctored his ankle in the trailer. I found a couple potential late hunt shooters the day before, but nothing special.
Our camp
Opening morning came and I hiked into an area I knew held some nice bucks. I spent all morning glassing and didn't even see a deer. Discouraged I hiked back out and cooked a nice breakfast as the snow fell late Saturday morning. Later that afternoon I hiked into another area that I had spotted some nice bucks, and seen one doe before the snow and fog and wind limited visibility to 20 yards. I hiked out in the dark discouraged not seeing even a horn opening day. My brother on the other hand had witnessed a handful of smaller 4 pts being shot from the road, passing on a half dozen decent bucks himself, despite being hobbled and limited to his 4 wheeler.
Sunday we went to a different area, got up high, and spent the first half of the day glassing. I hiked around the ridges and spent considerable time glassing. I found a few bucks that were in the 22 - 25" range, but were either willow horned, crab forked or missing brow tines. Sunday around noon I jumped my buck from his bed in the sage and watched him for about 5 minutes. I wasn't sure I wanted to shoot it at first. I had passed on a few bucks that had a bigger main frame, but the more I watched this buck, I realized we wasn't the monster I was looking for, but he had a lot of character. His tops split into thirds on both sides, but one point on the right side was broke (I thought I could see a nub in the spotting scope). He has a 6" sticker on the right and a 4" sticker on the left coming off the back. With all this and the fact that he looked to be around 24" wide, just as tall, decent mass and this is one of the only bucks I seen with brow tines, not to mention we might have to call it an early hunt with my brothers condition, I decided I would take him. Just before he crested over the hill, he gave me a 300 yard quartering away shot. I aimed for the opposite shoulder putting my cross hairs on the first rib and fired my Ruger M77 .270. The 150 grain Nosler ballistic entered at the first rib, went through both lungs and the heart and lodged in the opposite shoulder. He was able to take three bounds before he tumbled. I hiked up to where I had hit him, followed the crimson highway 25 yards to my buck. Although I probably could have harvested a larger deer, I love deer with trash and I have no regrets about this buck.
My brother Mike who broke his ankle the day before the hunt is a Hemophiliac, which is a bleeding disorder, which caused his ankle to swelled up and we thought we were going to have to pack up early so he could go to the doctor. Each day it seemed to get worse, but he really wanted a quality buck. We spent hours travelling and glassing followed by more travelling and glassing. We ended up spotting his deer with the help of our friend Cody and his top quality glass on Monday night. We got to within 250 yards of it but Mike was unsure he wanted it because of the weak fronts. We thought he looked between 24-26" wide, real tall, great mass, and awesome tops. We then drove to another area that night, but failed to find anything of quality. That night, with his ankle getting worse, Mike said he would shoot that buck in the morning if we could find it again. The next morning, as we were driving up toward the same area, we spotted the buck about 800 yards away on the opposite side of the hill the buck was on the night before. We followed a fence line around and got to within 400 yards (396 to be exact), it was as close as we could get because Mike couldn't walk. The buck was near the top of the hill in some cliffs and rocks with about a dozen other deer. Mike got down on one knee, got a good rest, and fired his Browning A-Bolt .300 win mag. The buck didn't even take a step, it fell right where it stood. Cody and I then hiked up to it and brought it down. It had a huge body and was a real old buck; no teeth, white face and a big Roman nose. It is 25" wide, tall and heavy. Even though his fronts are weak, they do have a slight "S" curl to them that makes them unique.
Here are some pics giving a side by side comparison.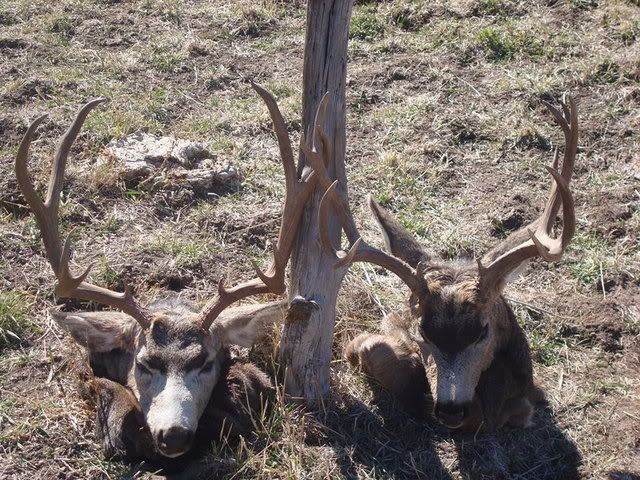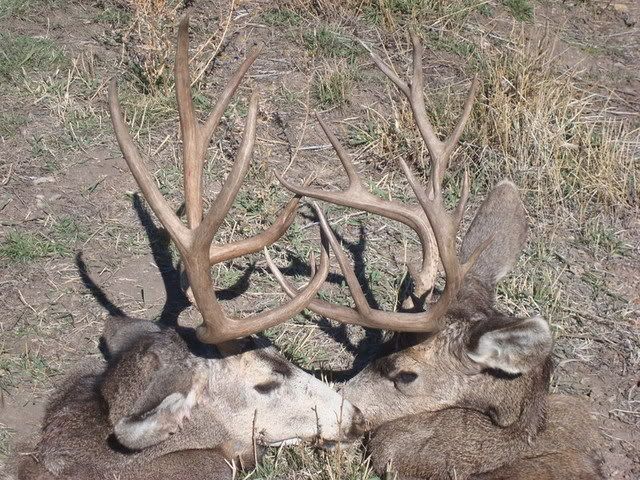 It was a great hunt spent with good friends and family. You can't ask for more than that. Even with the misfortune of a broken ankle on a much anticipated hunt, my brother was a trooper and held out for a great deer. Both bucks will look good on the wall. I would like to dedicate this hunt in memory of my dad who passed in 2003, who I regard as one of the most avid, passionate mule deer hunters to ever live. There are many people in this world who owe there love for outdoors to him. Thanks dad.