Discussion Starter
·
#1
·
The annual Evanston Kids' Fishing Day was held today at the Evanston Ice Ponds. 363 youngsters registered. Great weather and great fishing was had by all. A large majority of the participants caught fish. All the kids received either a fishing rod and reel, or a tackle box with fishing tackle; all free.
The event is sponsored by the Upper Bear River Trout Unlimited, Cowboy Bass, the Sportsman for Fish and Wildlife, and the Wyoming Game & Fish, among many others. Fish were gilled and gutted, or filleted. Fresh-caught fish were fried on the spot. Hot dogs, chips and soda pops were also available.
The fish were big this year, mostly 14" to 16" brood-stock cutts. Many 8" to 12" fish were also caught. The highlight of the day was a 9.25 lb Rainbow!!! A beautiful Ice Pond hold-over caught by a young lady with a little help from her brother. Geeze, where was this guy this past winter when we were all ice-fishing???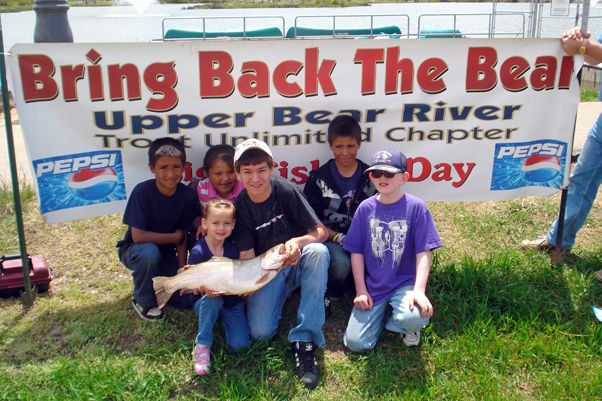 Holy Cow!!
These kids are hooked for life!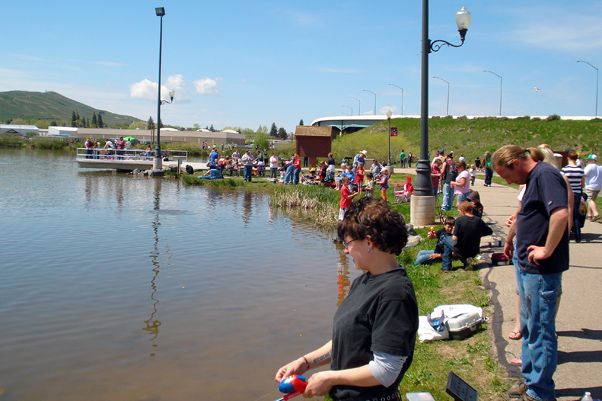 Good crowd, nice weather.
First time fishing for these young ladies.
Pretty typical for most of the fisherman.
All smiles. Life is good.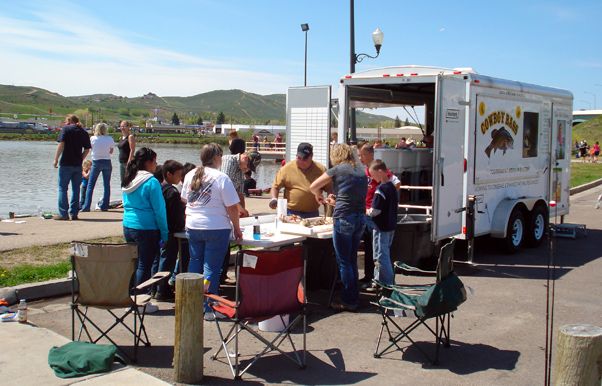 The guys from the Bass Federation weighed fish and then gilled and gutted them - all day!!
#4 Black Panther Martins or #1 Mepps spinners worked the best.
My grandsons caught a dozen fish, got bored, and jumped in the lake. The oldest little Goober said "Fishing is just too complicated, huh Grandpa?" smart kid
I even went fishing and caught a nice shoe; a mens 7.5.
The shoe had a nice crawdad in it.