Discussion Starter
·
#1
·
I was suppose to go to the Green this past weekend, but chose not to do so because of the driving conditions. I don't enjoy traveling in snow.
I did get to fish some local waters as a consolation prize though.
Yesterday, 12/09/07 I went fly fishing on the Lower Provo with my wife. We ended up catching around 10 fish or so between the two of us in about 3 hours. I did catch a nice 16" brown that was fairly fat. Sorry no pic of that one, not only was it cold as a witches *** out there, but the fish was pretty stressed out so I just let it go as quick as I could.
We caught all the fish on the surface with midge patterns and a caddis soft hackle pattern of all things, go figure. That was pretty cool.
Today 12/10/07 we went to the Middle Provo. It was cold as hell again. I am not sure what the temp was when we got there at 10am, but I am guessing around 20 degrees, maybe 15? Anyway, it was freakn cold. But we were prepared and dressed properly. All though my feet do have bad circulation and a couple times I had to run around like I had ants in the pants, just to get the blood flowing in my toes again. :lol:
I had a bite on my first cast, and then on the second cast of the day I hooked into a little 12" brown. I have had that happen to me before. Sometimes that is the only fish of the day... but this was not one of those days. Turns out there was a really nice midge hatch today, especially as the day warmed up. That made for some fun top water action. We ended up catching around 22 fish between the two of us. We lost a lot of fish too which always makes me sort of gruff. I need to start using different hooks for my flies. The ones I am using don't seem to be hooking up very well at all...
Anyway, most of the browns were fairly small. Near the end of the day, I did hook into a fairly nice brown that put up one heck of a fight for this time of year. (this brown is seen below, sorry for the low quality. It was taken by my phone)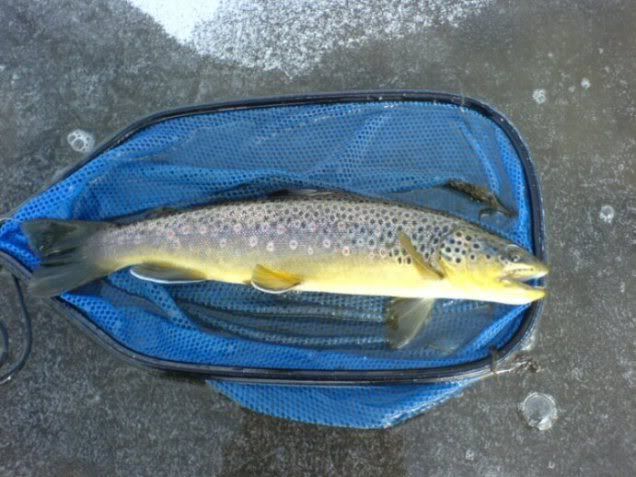 Also this is a nice pic of the area. It was gorgeous out there today (other than the cold). Got back to the Salt Lake Valley to grey dark skies. It was sort of depressing. But all in all, it was a fun couple days of fishing, cold, but fun.