Nov 20:
Needing to make sure all of my accrued time off at work gets used before year's end, I had made arrangements to take last Friday off. My plans were to try my best to get back to my lake with the thin ice from 13 days prior.
Reaching out to some fishing buddies, a plan was made to go with an old Jr. High School classmate in his 4x4 to see how close we could get. At 5:00 on Friday morning, I met Dan Kennedy in Spanish Fork and we took off for southern Utah.
The last mile or so of road was loaded with snow and we didn't quite make it to our intended parking area. Looking around, the snow depth away from the road looked daunting as well, but we decided it could be worth it to endure some punishment and finish what we'd set out to do.
The hike took us about an hour, having to do our best to follow the trail in the knee-high snow. An occasional peek at a GPS kept us mostly on track, but I did get us a little turned around for a bit before finding the real path again. It was pretty rough and had us sweating in the frosty air.
We'd joked about doing all that work to find dangerous ice conditions, but fortunately, we were good to go. The ice was 3.5 to 5 inches thick throughout and we used Dan's ax to break out a lot of holes, based on my pre-set waypoints.
Being a nerd has its benefits, as we were getting bites quickly after beginning to fish. After a couple of good missed bites, I finally landed a healthy cutthroat.
A couple of smaller ones followed and Dan got his first of the day, with small fish honors.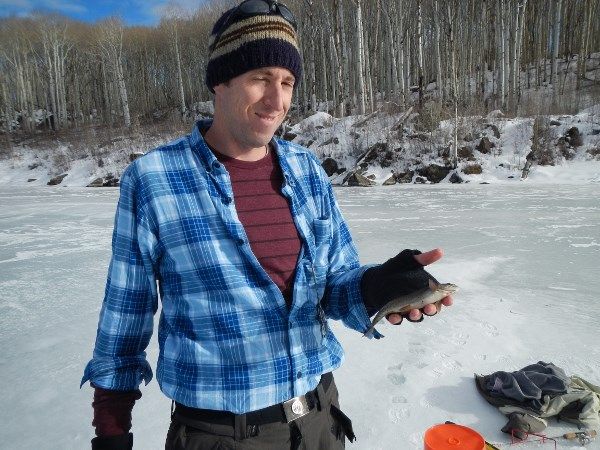 Another good one hit the deck for me in colorful fashion: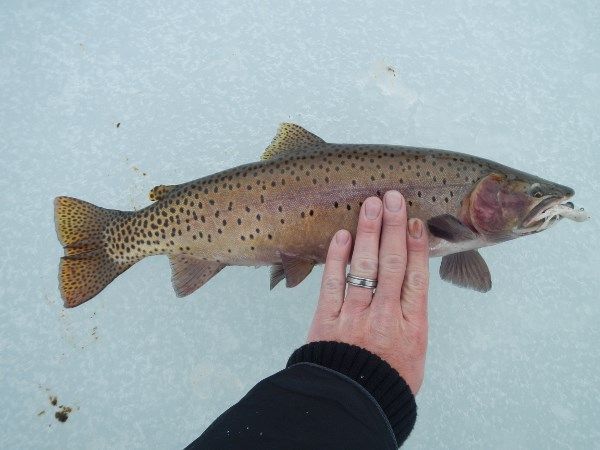 Some time passed without getting many hits, so I grabbed the ax and pounded out a few more holes in choice spots hoping to find some willing mouths to sink a hook into. The weather had deteriorated a bit, but at least it wasn't storming. We continued to fish in a cool fog.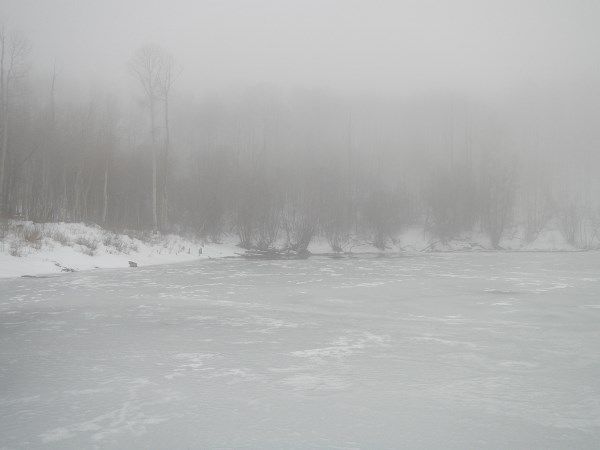 After some trial and error in a few more holes, I started getting into some better action, especially after switching jigs to the apparent winner.
How about this paint job?
]
Beautiful cutthroat!
Having caught several fish from that productive hole, things died down again for me. Dan was catching some smaller cutthroat from time to time and had moved closer to where I was doing better.
One hole that was still untouched was calling to me, so I moved in for look. It appeared to be over thick weeds, but after a minute or two of active jigging, a legitimate strike was missed, leaving my jig torn a bit.
A new jig was readied and another drop led to a fast take from a nice brookie: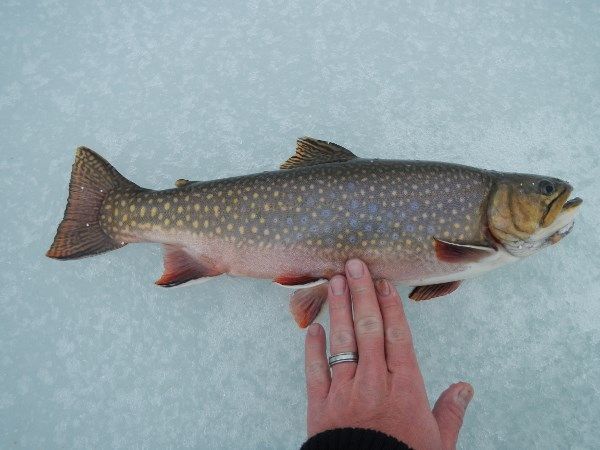 At 18", my day was made. Nice cutts and a nice brookie on the day were well worth the effort it took to get there.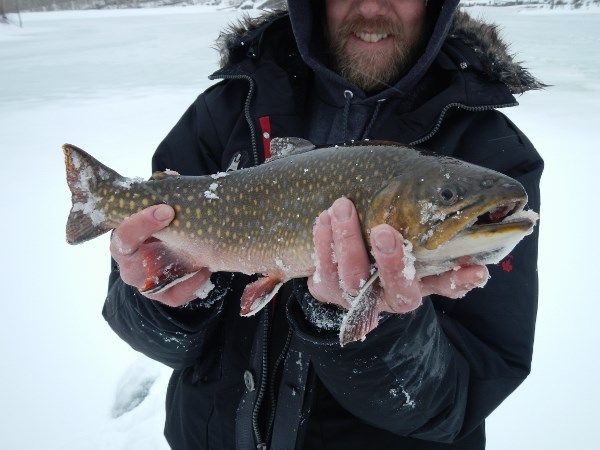 Dan was motivated to get his own and it showed. He had his game face on and stayed focused on his presentation. More little cutts came in for the time being.
Meanwhile, I tried another hole and pulled up another brookie after some active jigging. This one was a bit smaller and had a messed up jaw, like some of the other brookies in the lake.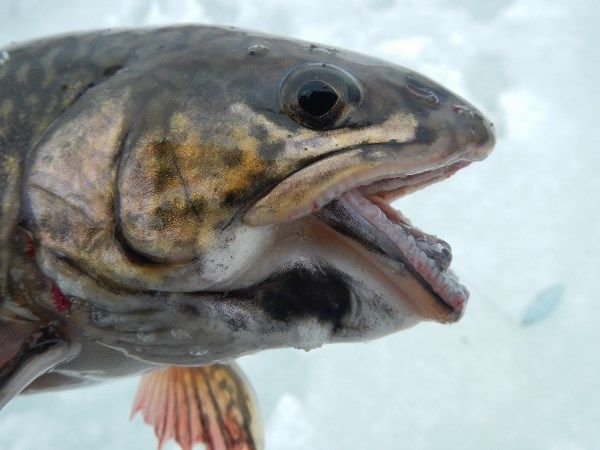 Dan was next to score on a better fish, with a pretty nice cutthroat. It was his best fish thus far and gave him something to smile about:
Still working on that brookie though.
Speaking of brookies, one last untouched hole had mostly refrozen and escaped our attention. It also appeared to be over some weeds, so I wasn't sure how productive it would be. Still, a new hole always holds promise.
While pulling my jig up to see if it was covered in weeds, I noticed a nice fish moving around below it, through the hole. It was a brookie, as the fins would have me believe. Another dip was all it took to confirm, as another 18" female hit the ice.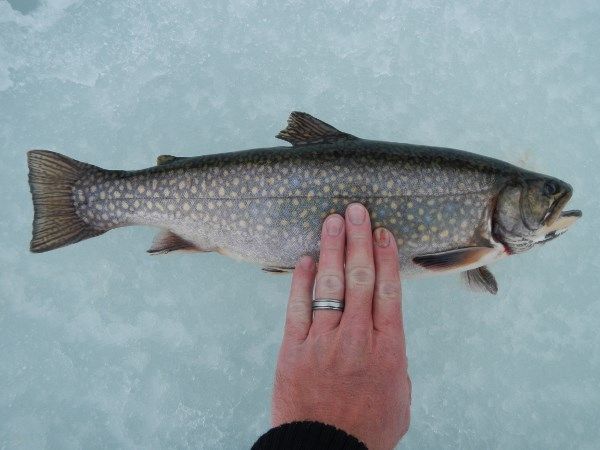 With my day already over par, this fat girl payed me overtime in the satisfaction department.
The next hour was much slower, but held a couple more small cutthroat from a set of holes farther away from where we'd been fishing. While focused on a missed bite with follow-ups, I heard Dan shout "Brookie!" from the last hole I'd fished over there.
Dropping my gear, I ran over to him in time to see the beauty get hoisted out of the hole. A dolled-up male in full autumn apparel shone in his hands.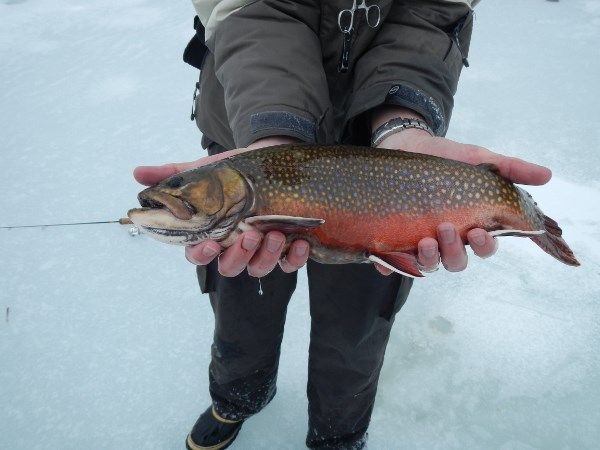 Talk about payoff for one's patience huh? Wow, what a great looking fish! At 19", it was also tall and girthy.
Right after the quick photoshoot, he released it and gave me a nod stating that "Now we can leave". His steadfast will to catch a brookie was rewarded handsomely. We packed up our things and stopped to fish our first holes for a short while before embarking on another grueling push through the snow to leave.
The snow was pretty deep, though at least it was fluffy and much easier to move through than late season ice-crusted snow. It still kicked my butt though.
Dan seemed unfazed on the hike back, taking point and blazing the trail through the parts I'd mistakenly led us around, going in. He was likely charged by that awesome brookie. I'm grateful he was in front because my legs were screaming by the time we were back to his truck.
Furthermore, I must thank Dan for offering his vehicle for the trip. My Sentra wouldn't have gotten us close enough to Shangri-La for us to effectively hike to the promised land. He was a good sport all day and great company for such an ambitious trip.
As I reflect upon the last several weeks, I'm left with gratitude for this beautiful world we live in and the opportunity to enjoy this life that is a blessing. Keep on living, folks! We're lucky to be here.
Happy Fishing, Humans.