Discussion Starter
·
#1
·
It's been an interesting fall. From stream fishing in central Utah to ice fishing in southern Utah, add a funeral to the mix and that's my story since early October.
One or two nights before Holdsworth and I were going to explore a "new" small stream, we learned of an awful tragedy as one our close friends had passed away.
I had three friends at my very small wedding and Weston was one of them. Three "best men" to send me off from the world of bachelor bro-dom to a new life starting a family. He's the guy on the right, in the first photo below:
He and Holdsworth:
More on that in a bit.
October 11:
Aaron and I both agreed that getting away and pounding a couple of small streams was definitely in order. Our first stop was just a quickie, on our way to some new water.
Usually a better place to fish, we left without much action. A small cutthroat on the fly was all I could wrangle.
Finishing our drive to the main target, a short hike was required along a VERY small stream, only about a foot across in most areas, if that. A few pools on round bends grabbed our attention and I was able to pull in a pretty little wild cutthroat.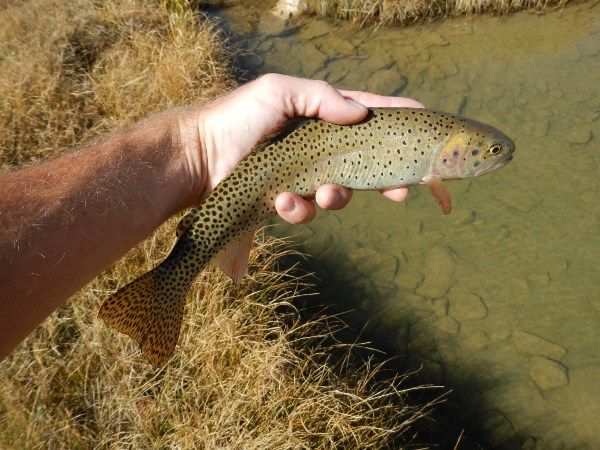 The stream we hiked to wasn't a whole lot bigger, but much fishier looking. Not long after getting in there, a colorful brown grabbed a black marabou.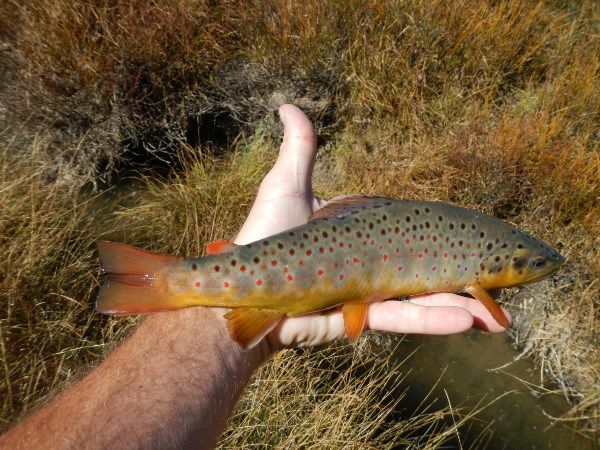 The fishing wasn't great, but we both missed big fish, especially for the size of the stream, which could easily be hopped over in the straight runs. A couple of small browns and cutts met me before we ran into a property line, complete with a sign.
It's a gorgeous creek though and I'll be back: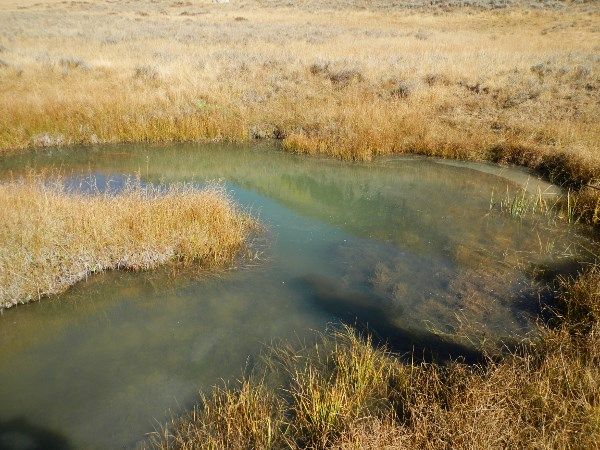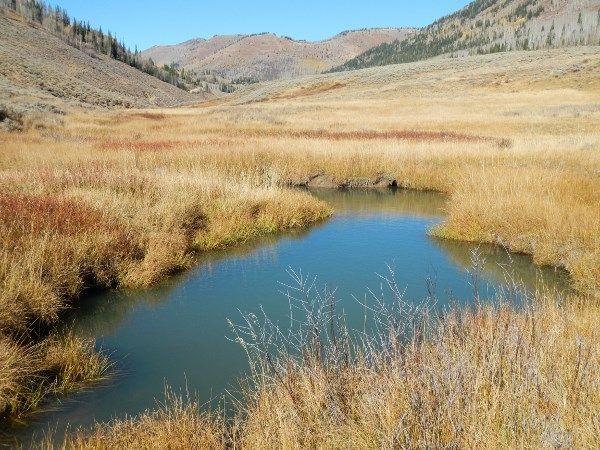 Using the rest of our daylight where we could, we burned the last 45 minutes or so at Huntington Reservoir, where a couple of small tigers came in.
It was nice to meet a new stream and blow off some steam with my best friend, while we reverently mourned the loss of our friend in a beautiful place. We had actually fished Huntington with Weston before, so it was good to stop there on the way home.
The next week, we attended his funeral and didn't get any fishing done. Having meant so much to so many people, a lot of old friends were reunited to observe and pay tribute to such a great guy. Because of this, a small get-together with some of his close friends was improvised.
My cousin Aaron was in town for this and that meant it was time to hammer on our guitars and sing our hearts out around a campfire in celebration of his life. It was a great time for everyone, with Aaron and I laying it down like never before. The force was with us and Weston probably was too.
He was loved and will be missed by everyone who knew him. RIP, buddy.
Nov. 1:
Staying close to home, Holdsworth and I fished another stream that we hoped would provide some steady action, but only after a couple of hours at a pond that skunked us, previously.
The first few minutes made us nervous, with no signs of activity from the fish. Soon enough, I landed a cast just inside a submerged trench in the weeds and hopped it out to see a flash darting around behind my jig.
With the next flash, I saw the take and set the hook to a pretty good sized cutthroat of about 20".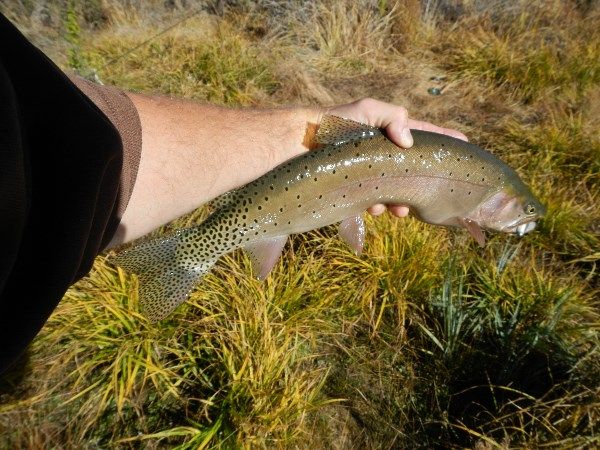 A long quiet spell ensued before we'd worked our way around the pond, where Aaron got a decent one to play.
We stayed another fruitless half hour before relocating to some more productive water, we hoped. The fishing wasn't spectacular, but a few fish were had.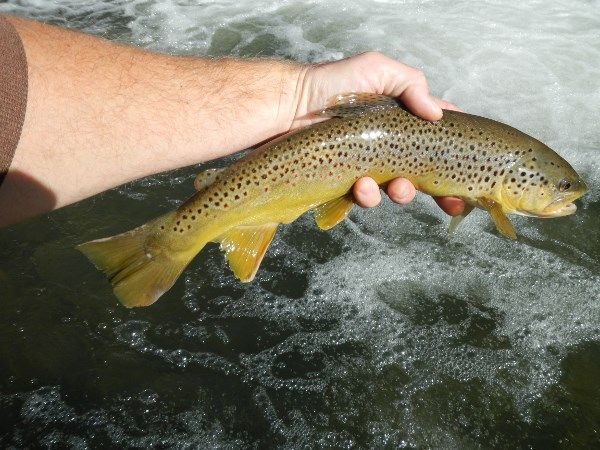 There were many line issues for me, with break-offs leaving me out of ammo, so to speak. Before losing all my preferred gear, I did get a pretty good brown to hang on.
Aaron got into some cutthroat, though he never got any browns to hand.
It was still nice to get out. We both got a fish out of the pond that skunked us on our last visit and both caught some fish from a great stream.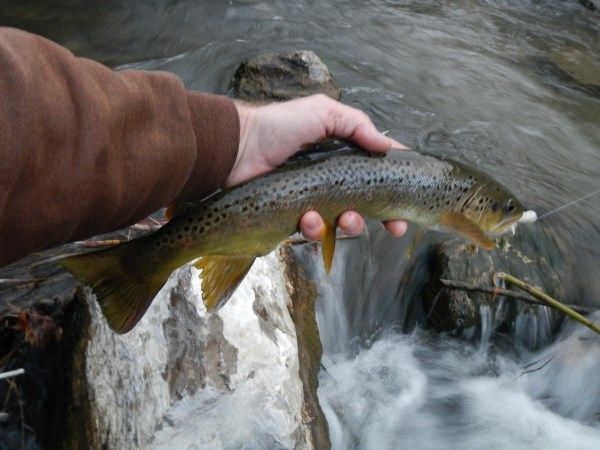 Nov. 7:
Knowing our time was running out for open water at some of our high country waters, Aaron and I took a chance and hiked in to find a mostly-capped lake with limited access to open water from shore. An extra hike to the best launching area put us in position to see if we could at least float to the edge of some of the holes in the weedy pond.
The edge of only one good hole was accessible, but not enough for a proper presentation. The rest was covered with about 1/2 inch of clear ice. Most of our stay was spent breaking ice and the sun was on its way down before we'd even fished very long in "good" water.
A good hike, lots of work to open some water, and one small cutthroat all day.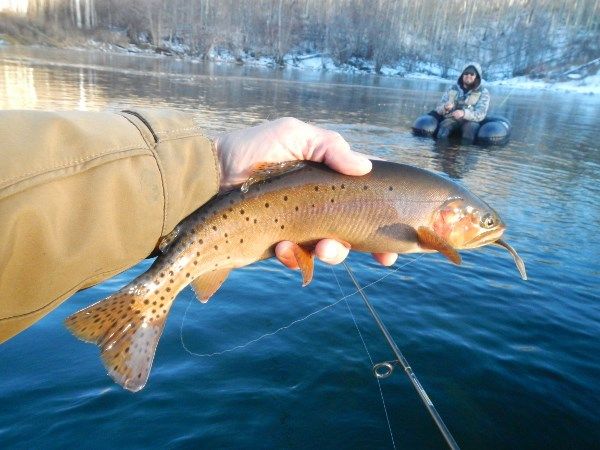 Still worth it! Taking note of the ice development, I vowed to go back within the next two weeks.
Nov 14:
My Step-Dad had made plans to fish Strawberry with me from his boat, but something went wrong with the engine and we agreed on a rain check. Regardless, I had my heart set on the Berry and set off to float by tube instead.
My arrival was later than it should have been and the wind was already blowing in several areas. After driving a bit to find a settled bay, I found Mud Creek lacking whitecaps and went for it.
It took some time, but I finally started getting into a rhythm and got a 21" cutthroat.
Working that same area, a few smaller cutts and rainbows came in, with a big one breaking me off in between. After thoughts of leaving had passed my mind, a good thump led to my first slot buster in quite awhile.
At 22.5", it made my day and I pointed my tube toward the car to make an early homecoming with some daylight left. While kicking back, a frivolous cast provided a 20" rainbow that fought like crazy.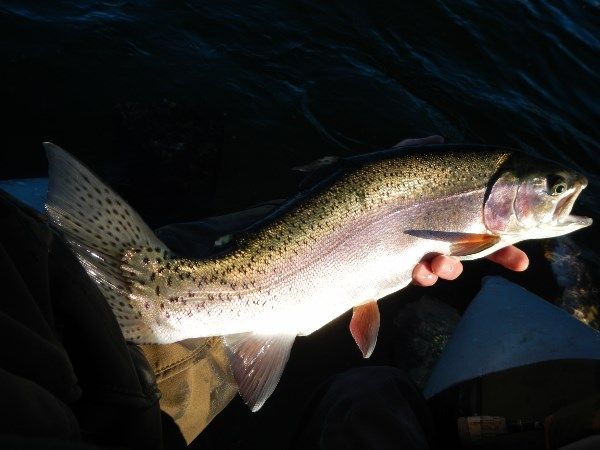 Already satisfied with my float, the rainbow topped everything off perfectly. My family was thrilled to have me home so early.
(continued below - photo limit)