Discussion Starter
·
#1
·
Have had severe recent trauma with my computer….my "apple" went bad. A few months ago the mother board crashed and I nearly lost 9,000 photos. Fortunately someone was able to recover most but they are all jumbled up…..what a mess. Anyway that has kind of led me not to post for awhile...but I am back.
Just finished a working gig up in Alaska and dropped by Austin, Texas on the way home to Boise (yes….it is in a direct path from Anchorage to Boise if one travels in the 7th dimension…..my wife insists I travel in one different then most "normal" people…hmmmmm). My guide buddy there, Shea, almost had me cancel the trip due to the torrential rains and flooding a few weeks ago in central Texas. The Colorado River went from 400 cfs to 60,000 cfs making it rise nearly 10 feet up the banks…not real conducive to fishing.
On Monday and Tuesday the water clarity on the Colorado was still a bit yucky so we drove a couple of hours to fish the highlands of Texas and the Llano River. The river bed here cuts through pink granite and is absolutely beautiful with gin clear water. It is the river I've wanted to fish since first going bassin in Texas. But it is one low flowing, rocky sucker…..known for some good numbers but not real big fish….home to the beautiful Guadalupe bass (also native largemouth).
Looking upstream the Llano looks very tranquil:
Trying my favorite little crawdad crank produced only one small fish so I exchanged that for the always gets whacked, unweighted bubble gum fluke which quickly responded with my first Llano largemouth: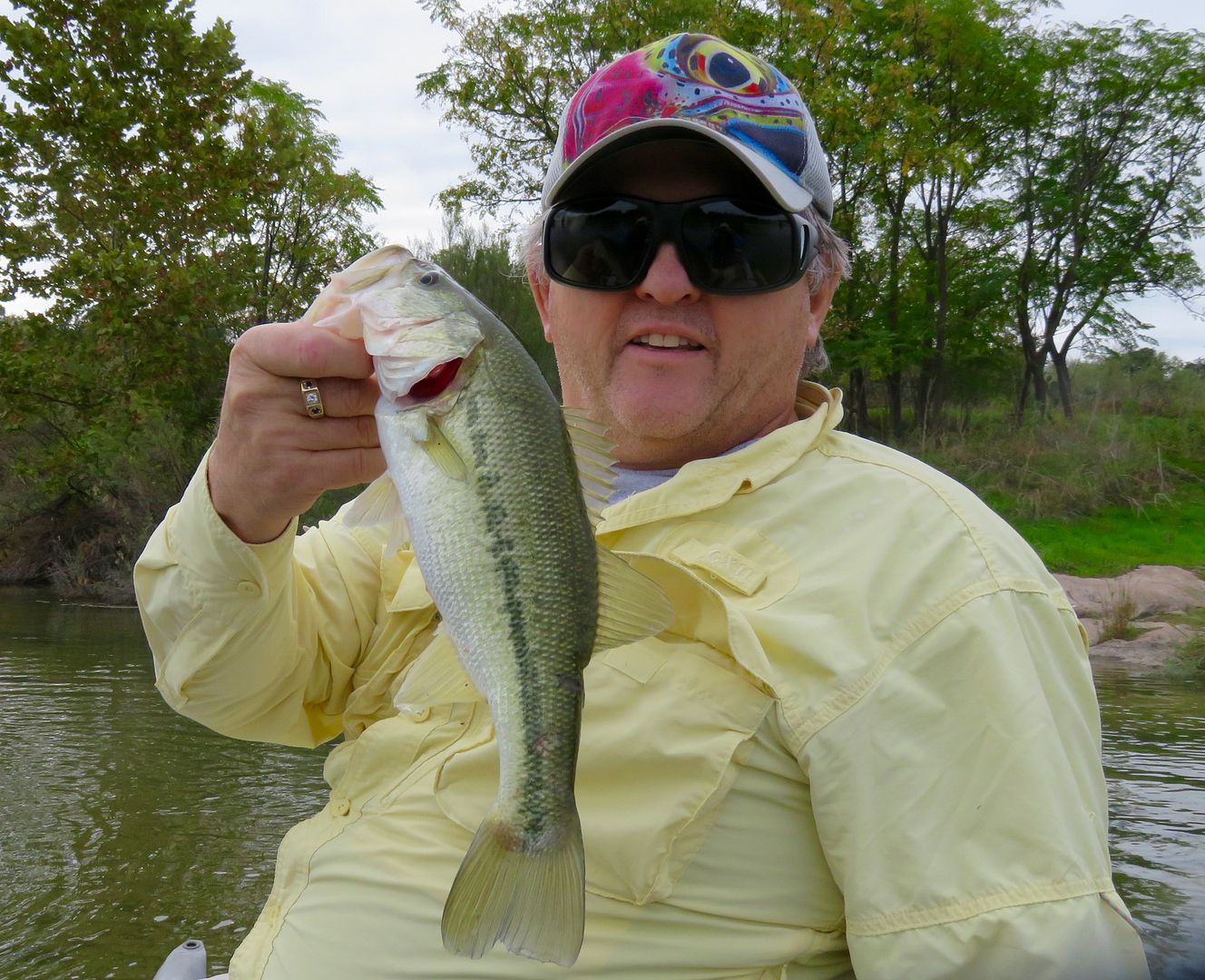 Right after that it enticed the first guadie of the trip:
The flow on the Llano is slow…..about 150 cfs, and the river breaks and wanders around the granite formations making it difficult to even see all the water as well as navigate it.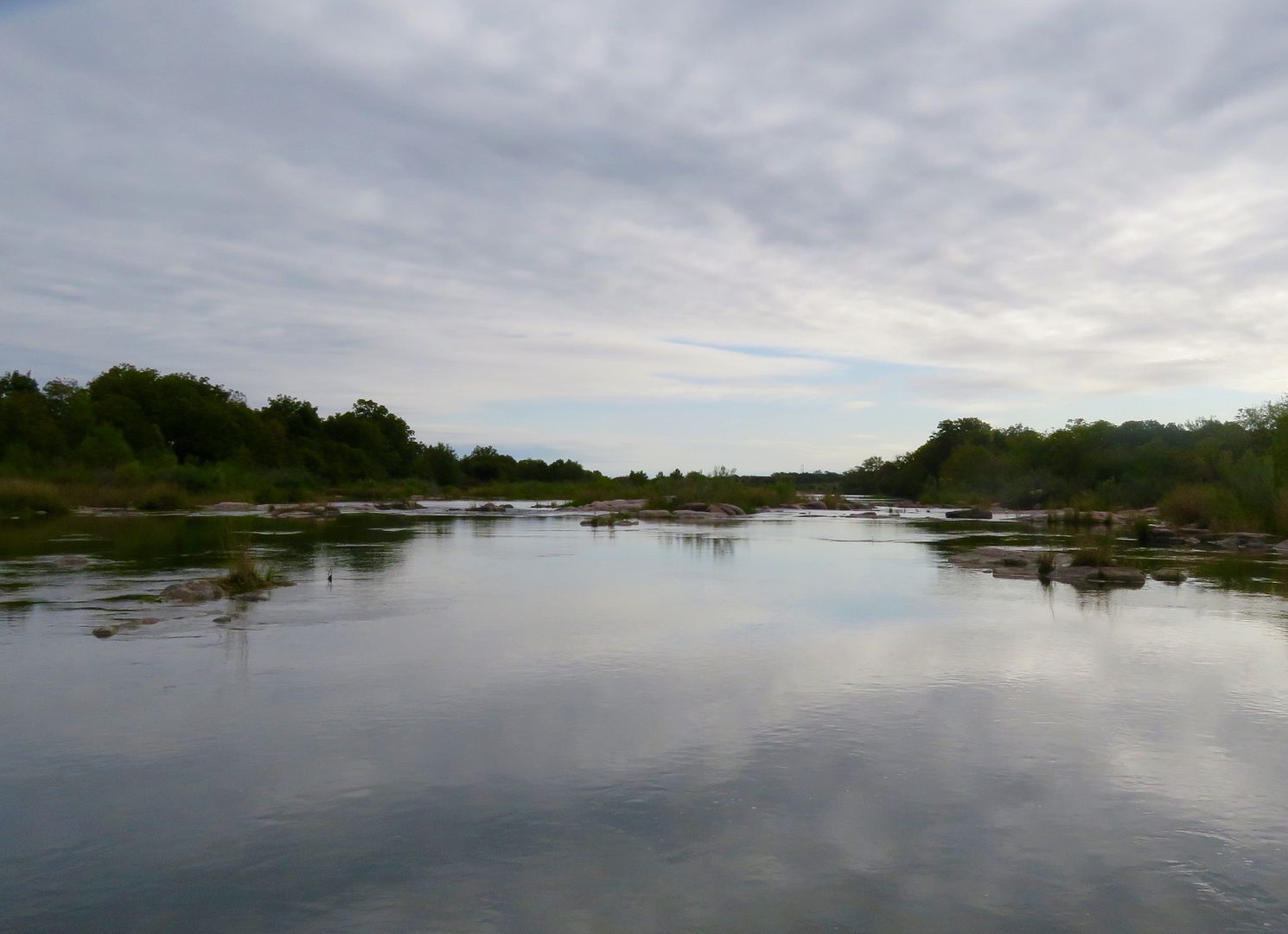 We started picking up more frequent fish after about a mile of floating: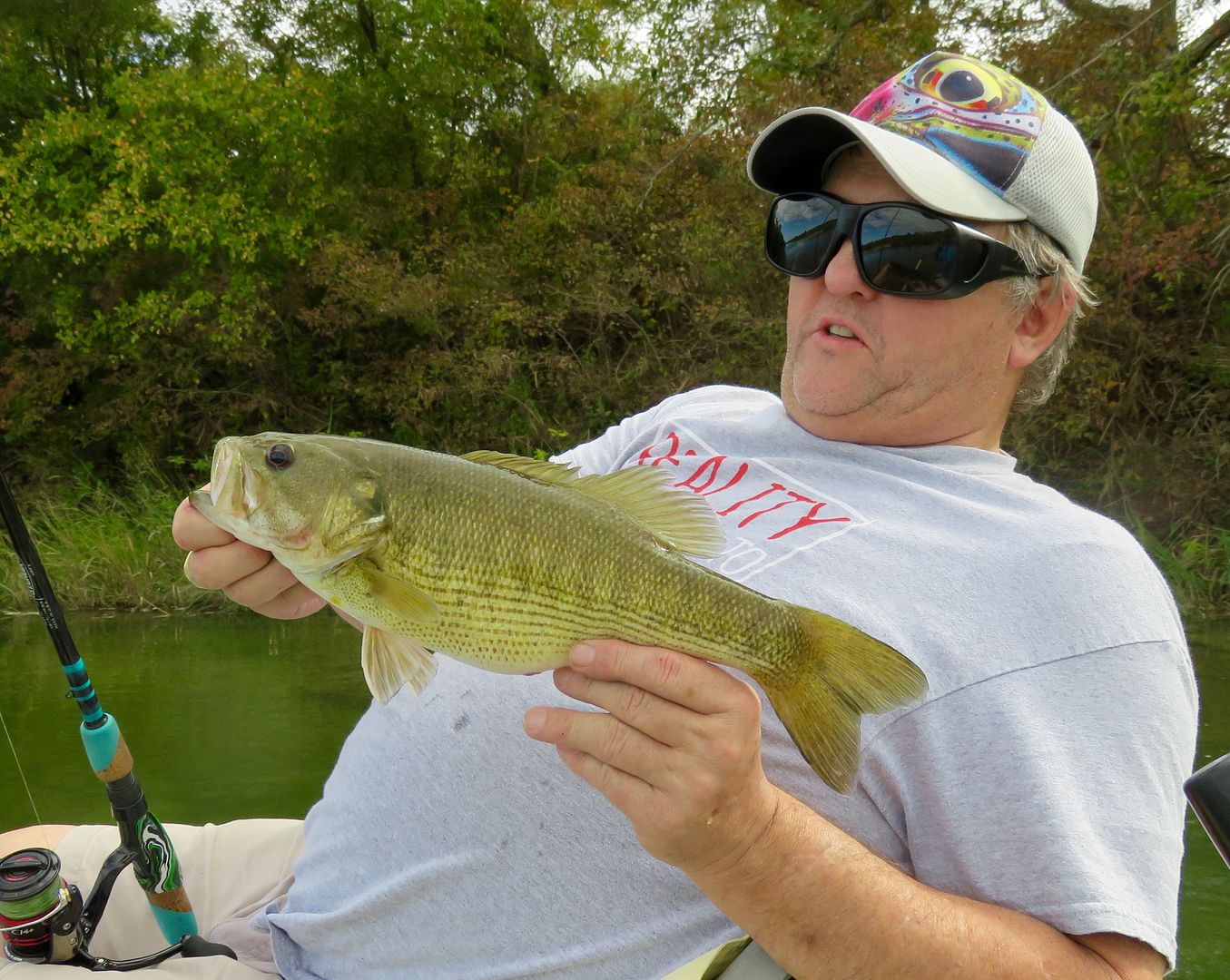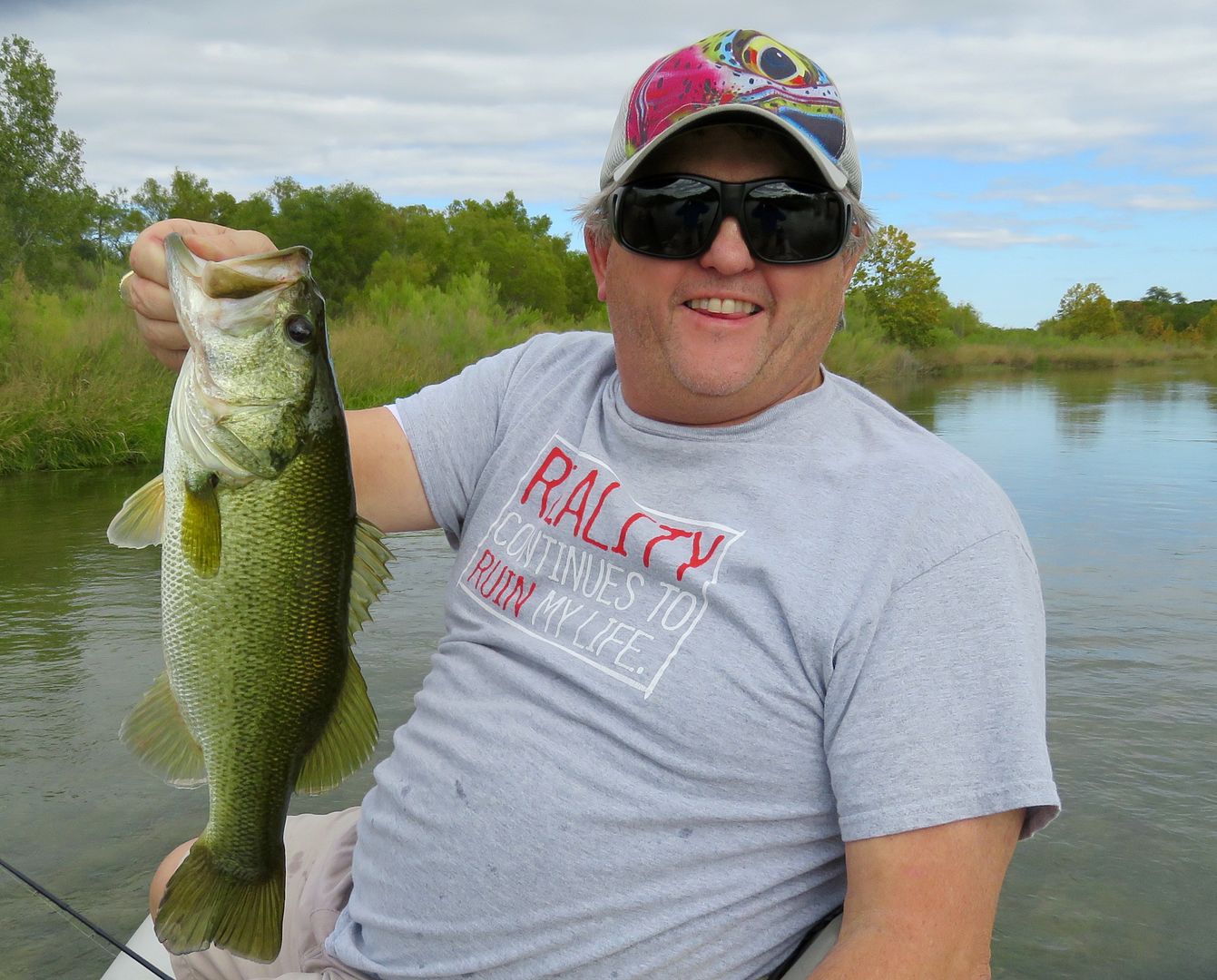 Shea commented on how unmarked and pristine these bass were…..no hook marks or split fins or skin blemishes…..
We had to portage a waterfall (maybe better termed a baby falls) in the middle of the trip and lunched while hung up in the rocks. The afternoon actually brought out some bigger largemouth: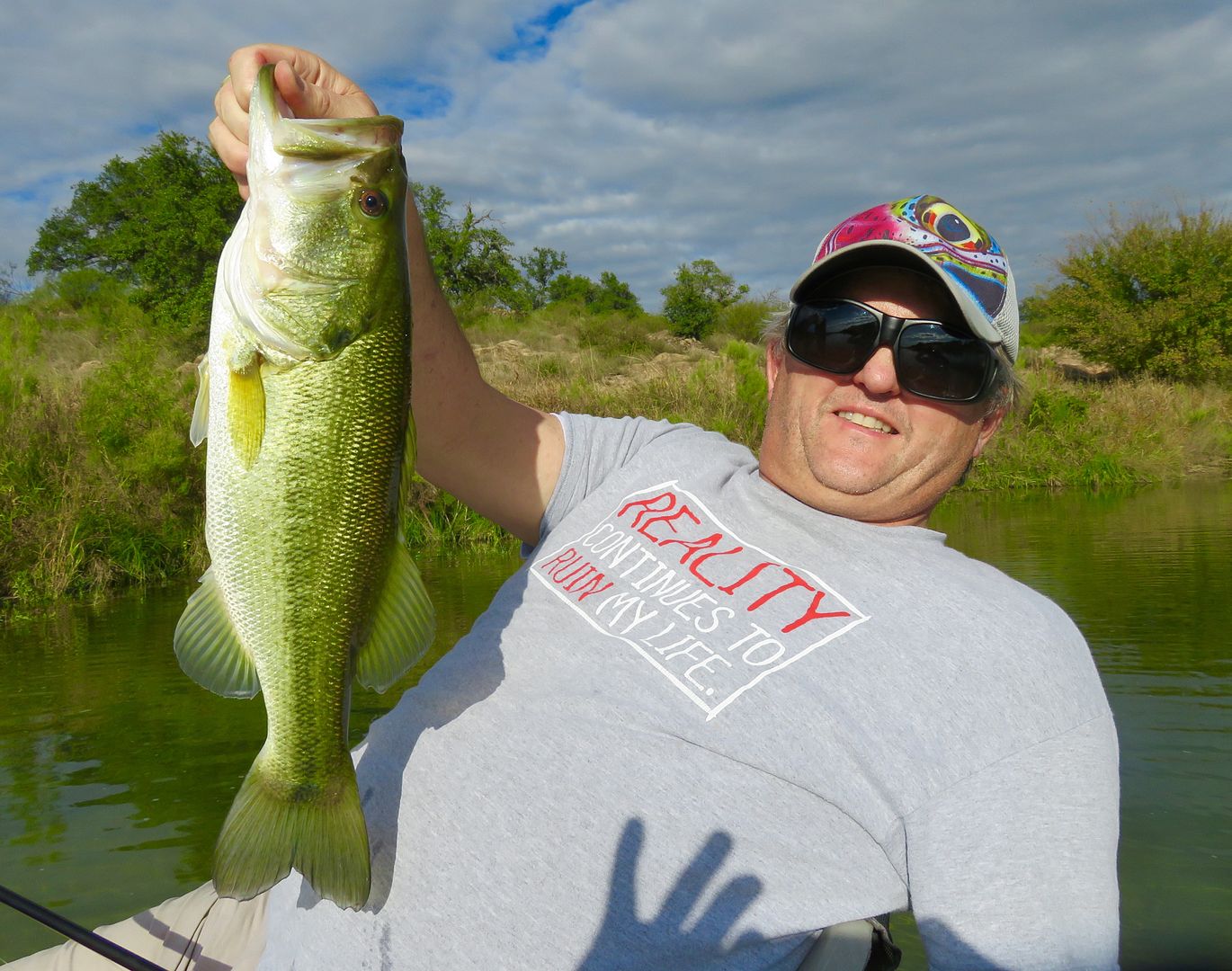 It was so intense to see all the takes you were receiving. Casting up towards the shore in the crystal clear water and twitching the fluke away then watching it disappear…..way too much fun. Near the end of the afternoon Shea caught a nice one too and my last that day was a fat, dark largemouth:
This next picture was our get out the first day and starting point the next day. These roads across are very rough but built like tanks…..they are placed low and built sturdy to survive flood waters…..they were very cool. Second days float on the Llano was very similar to the first except for the rocks. We had to portage down small falls and extreme rocky areas 30 to 35 times…..it was exhausting (note to self…..do not, UNDER ANY CIRCUMSTANCES, float this stretch with less than 300 cfs of flow), it was very painful, for me, as I have become fat and soft.
But the fishing was just like the day before….very nice: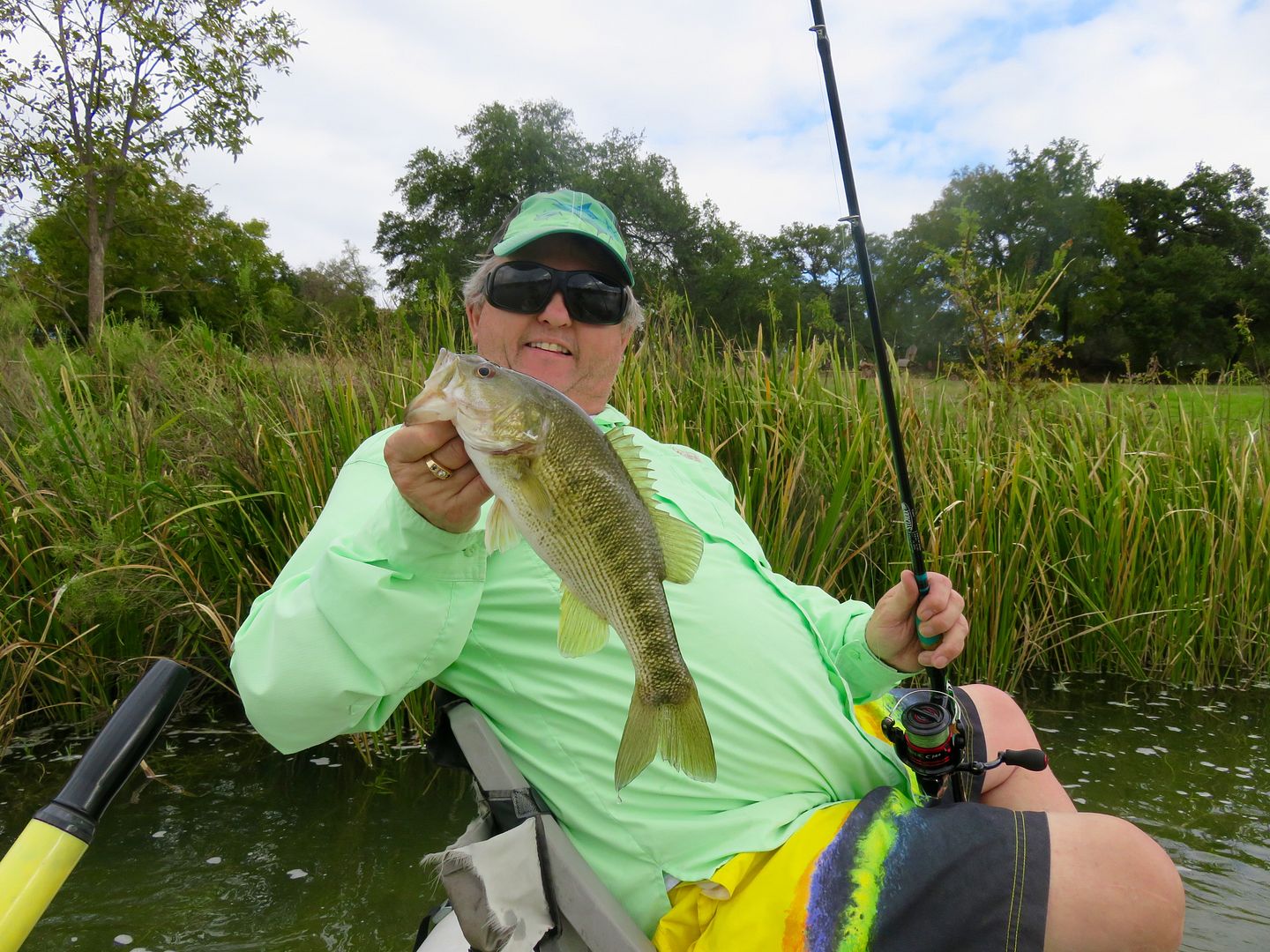 Sometime near midday we stopped and ate some lunch….Shea makes the best lunches. This is one of our rocky get out and drag the boat down spots….it was not the worst: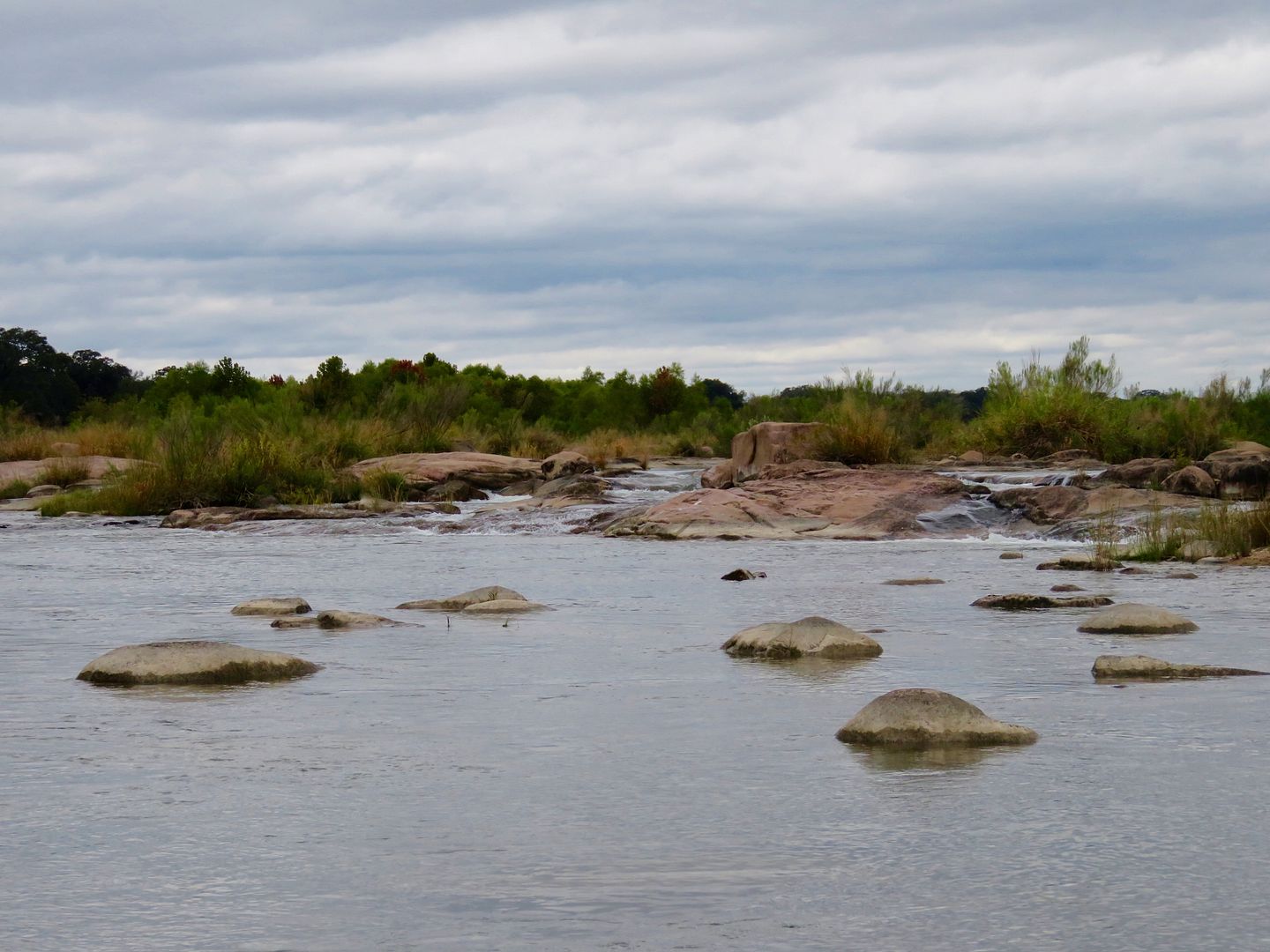 In my younger days I was often referred to as the "billy goat" of rocky rivers, deftly dancing over the top of the rocks. Now I'm considered a somewhat slow, clumsy, with no balance Pillsbury doughboy, falling around the rocks. During one portage I got out and promptly went down not only smacking my tailbone and head but to add insult to injury I lost my hat. Just a while ago, after showering, my wife asked alarmingly what was wrong with my buttkus….have a dark purple bruise makihg it look like I have a tail…..wonderful momento (and "no", there will be no picture provided as I don't want to permenantly damage anyone).
Not long after lunch my cell phone rung a few times so I finally picked it up. My father needed something so as I was chatting my fluke found itself against the bank and about two flutters out it was lambasted by the biggest bass we had seen up this way……quickly hung up on my dad and played the beast for a bit but as we tried to net it, she bolted deep under the boat and made it to the rocks…the line went slack and I was sad. We guessed in the 6 lbs class….we'll get her next year. After this it slowed a bit so I changed rods to using a jerk bait in baby bass color. Oh my, but the little cannibals loved it. Brought a few nice largemouths:
Sorry for the expression on that last pic….Shea said I was getting "boring." Using this bait I attracted numerous hits from small bass and sunfish in the water. I eventually ended up catching several of these very aggressive redbreasted sunfish:
Great visual while fishing this shallow bank line when I cast out short and was reeling in quickly to recast and a monster bass came screaming off the shoreline from nearly 10 or so feet away and just clobbered my baby bass offering. Had him on for a few seconds and he shook the hook…..would love a vid of that.
Shea and I both slept the sleep of the danged….tired and sore. The last day we were determined to fish the Colorado even if it was a bit off in color….no more portaging!!
This section always has lower numbers but many largemouth in the 3-5 lbs. range with a few bigger ones. The first mile was pretty quiet…..a middling bass then a huge strike which turned out to be a monster gar (thank goodness it let go of the lure after a while). Tried the crawdad crank for a good while but nothing doing. Changed back to the baby bass jerkbait and stayed with it the rest of the day. As we came on the only other angler we saw in our 3 days of fishing I hooked into "the toad". Took some drag then cleared the water 3 times…..easily the biggest bass I ever had on in the Colorado. After a very determined fight we finally got a net on the beast and a couple of pictures: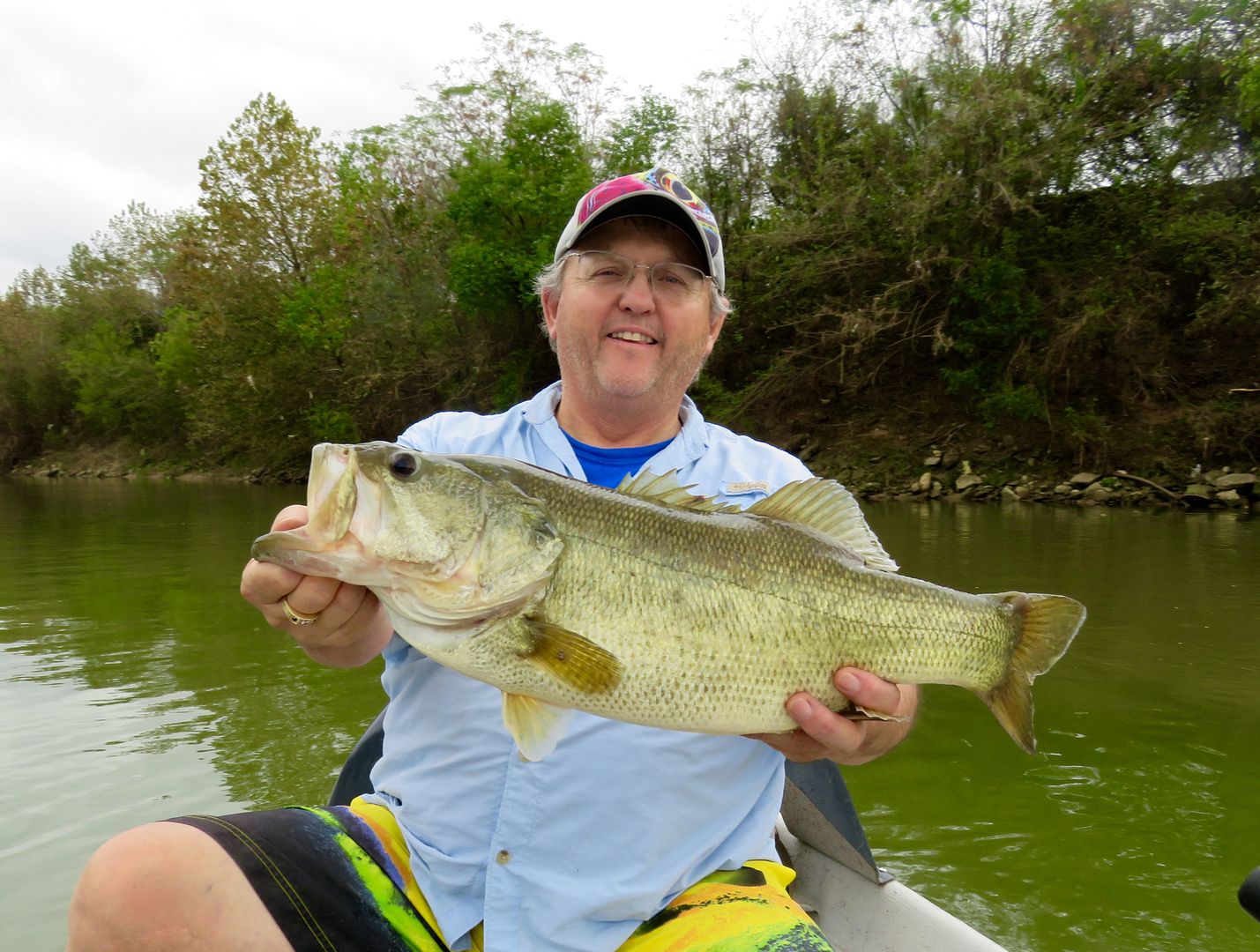 We fished below a spillway after lunch and I caught 4 bass in 5 casts all from 2 ½ to 4 ½ lbs.. Our one big flurry for the day:
Interestingly due to decreasing water clarity as we moved down river I changed my baby bass bait to a size bigger and it really seemed to help. Caught several more very nice fish:
And my last fish with the aforementioned jerkbait shown (now I have to kill everyone):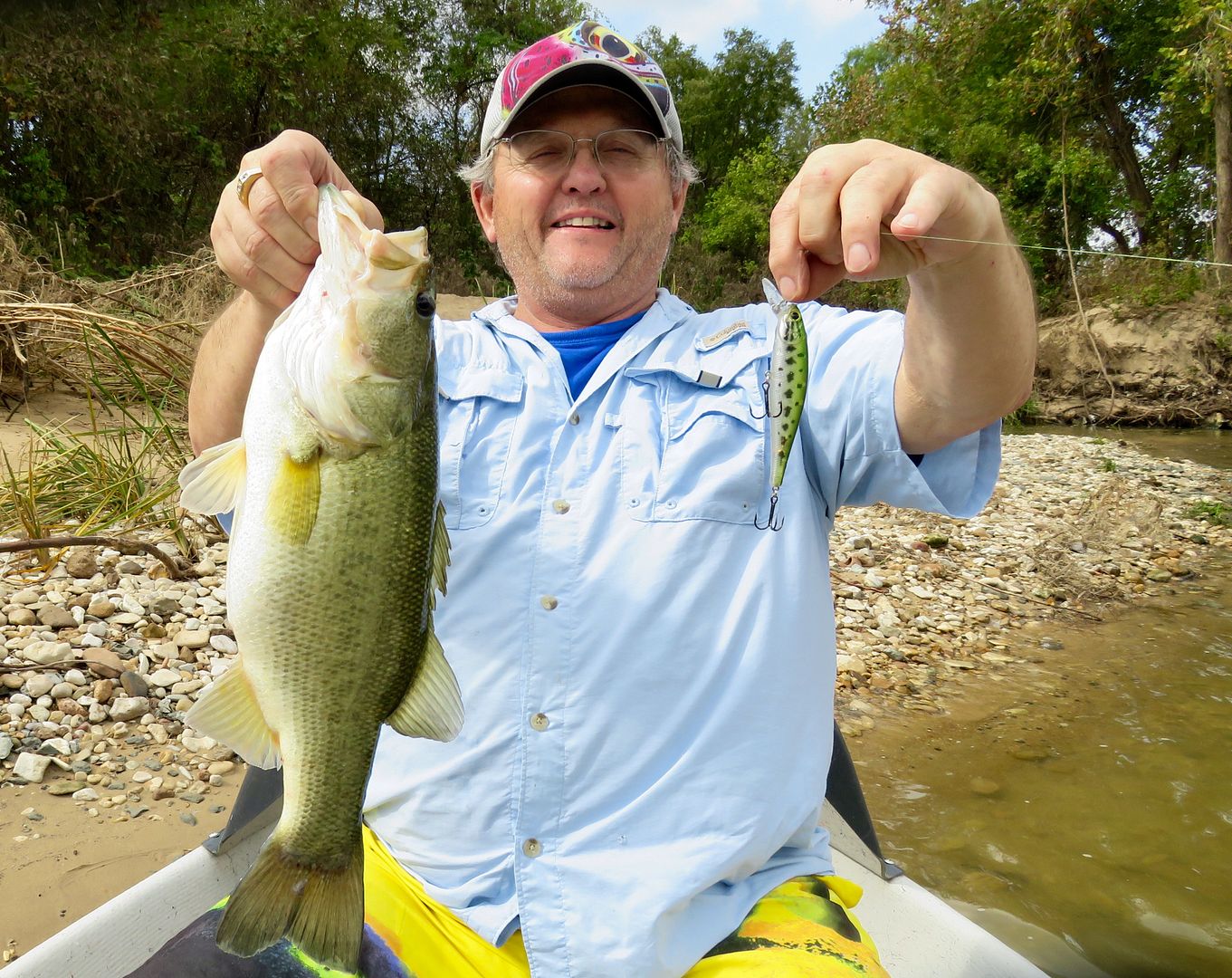 In addition to the bass caught I lost another 6 that were in the 4-6+ category….it was one heck of a great day….but fishing with Shea always is. Anyone headed to Austin way with a few days to spare should look him up. Thanks…..
Brian