O.k I'll start off cuz. man do I want that knife. :lol: Last year my wife and I both lost our jobs the month before the archery hunt started. Well we looked at this as a positive. We had a little money saved so we dicided to take the entire hunt off before we dicided to look for jobs. *()* We bought a camp trailer and made it our perminate residance a week before the archery hunt started, for some scouting. And stayed in it untill the very end.
Here is a picture of my home for 36 days.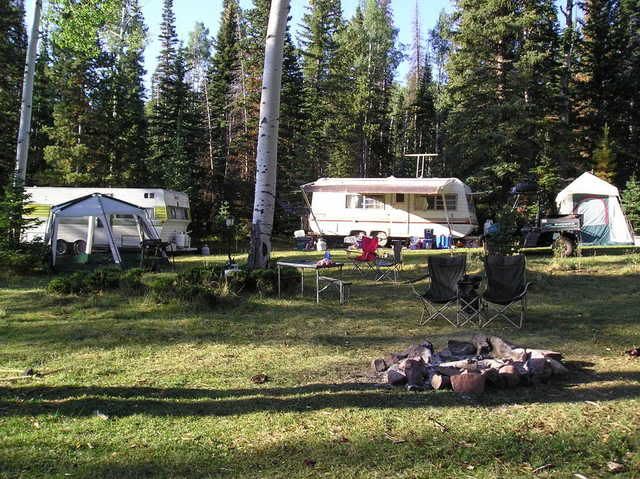 After several days of hunting I hadn't had much luck. I had a treestand set up I bought from a fellow forum member. (thank you sagebrush i've had a blast on that thing.) Several small bucks, and cows came well within shooting distance but I just couldn't shoot, knowing there where still two weeks left in the hunt. One night a cold front came through bringing rain and cold temps. So I took the wife and kids up high, so we could play in the snow. We found none however, just a few flakes. We did a little fishing and decided to head back HOME, with a little shooting light. Well on the way back this nice little 4x3 jumped right in front of us. I jumped out and the wife drove off and the rest was history. He presented himself with a 40 yrd shot, after a little stocking under the cover of my 7.3L, powerstroke driving of in the distance, I , made this beautiful shot. *()*
Here is the shot placement, he didn't even take a step. If you look closely you can see the broadhead going through the spine. We had to drag him 12 yrd.
Here are some pics of me and the kids enjoying.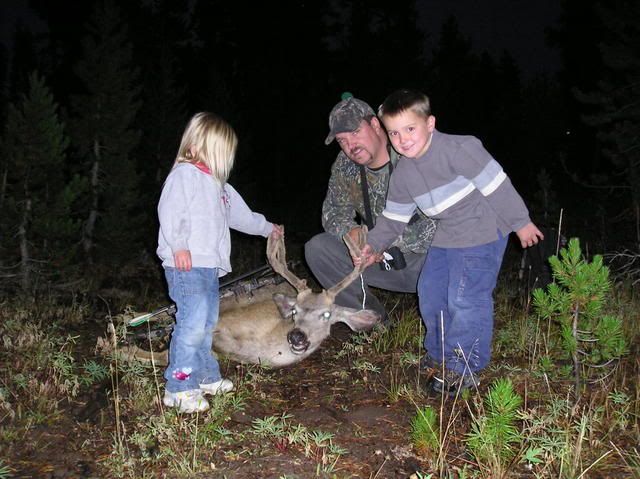 One more pic, believe it or not by the look on my face I didn't start celibrating for another 2 hrs.