We had just left the influence of the river when my daughter said the water color had turned deep blue. There were birds cruising and then I saw a "pudder". Time to deploy gear. We had not gone far when the first fish of the day was on. It was steady fishing after that for several hours.
On the drive home I often wonder what makes a great day for crew who accept an open seat. Or for that matter old friends. Is it the total number of fish they have in the back of the truck in a cooler? I asked my daughter what she would call a great day and she said today had been great. She said everyone had " Just clicked", and it was like fishing with family.
James had accepted a ride a few days ago with me and here he was back again. Since that first trip he had gone out and bought a new rod and reel for jigging. Bill had infected him with this curse on the first trip. As the first fish hit that morning he deployed the new gear and was hooked up shortly. I don't think he ever let a troll rod touch his hands except maybe to deploy it. I did hear a few "school girl giggles" coming from him each time a tuna hammered his jig! He seemed to enjoy the day.
Jim has been a a few trips over the years with other captains, but had never been on a
live bait
trip. He seemed excited to give it a try. Not only did he catch tuna with bait but birds and sharks were his friends. He even had a bird swim down deep and snatch a jig he was working. Then the bird got the line in its mouth and promptly bit it off.
Jamie has fished with me before and is fishing the OTC events with the team. He always seems happy and is easy to get along with. He is always looking around for something to do and is all over the boat.
I cant say enough about my youngest daughter. She has really become a great crew member. She has grown up around the OTC events and asked this year if she could fish on the team. Well as it worked out, her brother could not fish the event in Garibaldi and so a spot was open. But I told her it was not only my decision but also the rest of the team. I take this stuff serious and allowed the team this decision.
On the first trip this year she was under the gun to prove she could handle things. There was a marked difference in her abilities this year and she made sure each of the judges saw that. She was quite excited when I told her she had passed the test and would be pre-fishing the Deep Canyon Challenge and would be a full part of the team for Garibaldi. Instantly she was looking at places to stay in Quepoes! She intends to do all she can to win this thing!
Around noon the steady bite we had been having had slowed and there was time for some joke telling and laughter. Amanda had said the thought Jamie reminded her of the "Cat in The Hat".
We all had a great time ribbing him about it! Then he did his impression of Mylie Cyrus!
The laughter was flowing like the water from the river.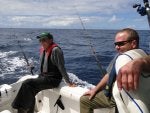 At the end of the day, every storage place on the boat was filled. You know they are when the kill bag comes out. It took all hands on deck to get the kill bag zipped up. That left one lonely tuna that had to go in the drained out live well with the last of our ice tossed on top.
As to my question about what makes a good crew and a good day of fishing was answered by this last photo!
I hope to be out with a great crew like this again in the near future! But until then anyone of you would be wise to accept anyone of this crew on your boat. Not a fault among them that I detected. Well wait a minute, that young lady there to the right has to wait a few more years before she is allowed to date, so she is off limits!
Thanks guys and gal for a great day on the water!