Don't know what to do with all that bison in the freezer?
Tired of having Boerwors and Droëwors all the time?
Makin' a move on a hot Brazilian soccer mom?
Make some Biltong then. Biltong, a spiced and dried meat, originated on the African plains and has been around for thousands of years. It's now THE official food of the international soccer community. Everybody that's anybody is making it. Uh......actually I don't have a clue and this is my first time making Biltong. The Italian/Polish/******* meat curing stuff has become boring so I'm exploring African cured meats and sausages.
I bought a package of Bennies Classic Biltong Spice and loosely followed his instructions for making Biltong. See Bennie for all your African meat spices at:
http://benniesbiltongspices.com/
Biltong
Ingredients:
12 lbs - 3/4" thick sirloin or round steaks
2/3 cup - Balsamic vinegar
1 pkg (8 oz) - Bennies Classic Biltong Spice
Directions:
> The spice kit will season up to 20 lbs of meat.
> Sliced frosty meat with the grain into strips about 1" wide.
> Throw all the meat in the sink. Add the vinegar and mix well. I put the vinegar in a spray bottle and sprayed the vinegar on the meat.
> Transfer the meat to a small garbage sack and lay it out flat on the countertop with the top of the bag open.
> Sprinkle the spices, a little bit at a time, on the meat. Mix well as you go. I used the whole package.
> Set aside for 4 to 6 hours.
> Remove meat pieces from bag and lay them out flat on the counter top.
> Fashion hooks out of paperclips and hang the Biltong in a dry cool place. I don't have a Biltong Box (yet) so I'm hanging mine in the basement.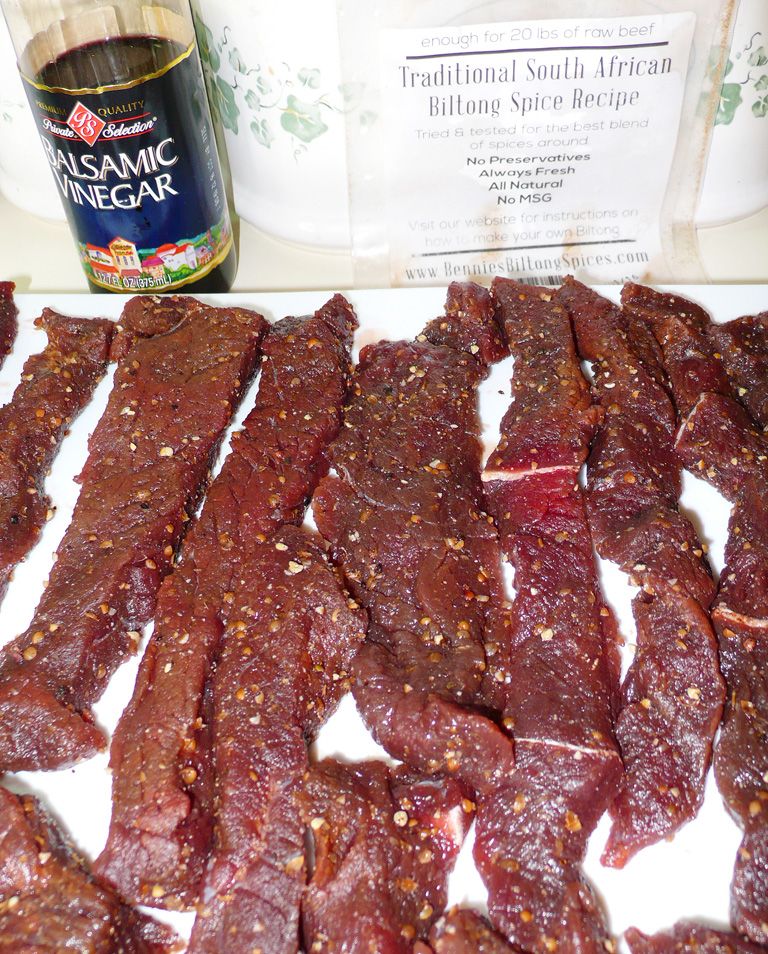 Biltong spices have a lot of coriander in them. Man, do I like coriander and I use it in many of my wild game sausage recipes. Coriander is what gives pastrami it's unique flavor.
.