Discussion Starter
·
#1
·
Good Lord, what a day!
.
Today was destined to be a great day of fishing from the very start. No gremlins in the clock this week, Sonia (wife) woke up and got ready at the same time I did (never happens), and we were out the door at 5:45am.
The fact that we were within 15 minutes of the planned departure time, was enough to convince me that the fishing gods were watching over our trip.
We went to the dam (our new favorite spot--autumn), but it was still dark when we got there and the air was frigid. I new Sonia wouldn't come out of the car yet with our boy, James. I decided to go down anyway (of course).
With the bright moon shining down on the water, I tossed out a minnow and then started casting a "Halloween Bugger" behind a bubble. It was one of the only things that worked out for me last week, so I thought I'd give it a chance.
That didn't work out so well, but my line started pulling away from shore on my minnow rod. That usually means good things at Scofield, so I got pretty excited. I waited for a moment and set my hook to land a 15 inch bow with a beer belly. It wasn't the big bow I'd hoped for, but it was nice to get a hookup so quickly. (sorry no pic of this one)
As I was putting my fish on the stringer, I heard a familiar car horn and had to run up and see what was up. When I got up to the car, I realized that James was just playing with the steering wheel (under Mama's supervision) and bumped it a couple of times. Bonus jog for me.
Before I went back down, I noticed the sunrise was getting kind of intense and snapped a quick shot: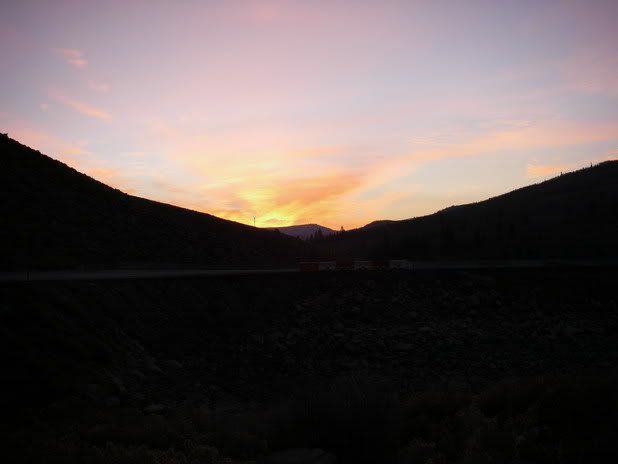 I went back down to the water and threw out another minnow. Then I thought about switching my bugger to one of my other new flies. I didn't really know what I was doing, so I tied on a parachute adams. Before I could even try it, I saw line jumping from my bale on the minnow rod.
I got up and readied myself for battle and set my hook. This was a tank! It put a serious arc in my bigger Ugly Stik and really tested my drag while we fought. I couldn't help but let out a little holler once I got a better look: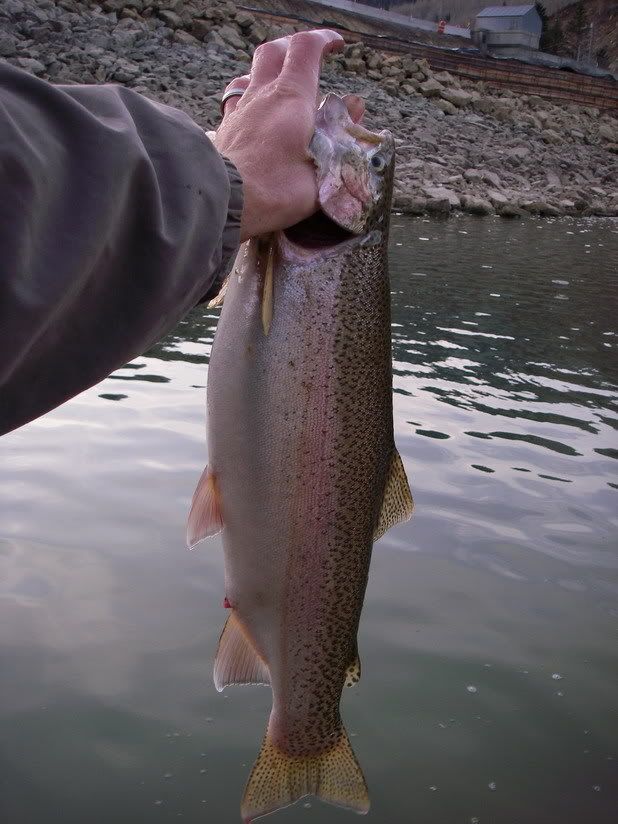 A few moments later and I taped her at 20 inches. That's my biggest rainbow so far. I'm very pleased with it (in fact, I just finished devouring it with my family :wink: ).
With my hawg out of the way and my wife still in the car, I figured setting the bait pole down and focusing on the fly/bubble thing would be my best option. The surface was exploding even more, now that the sky was brightening steadily.
Today I chose the right fly. 8)
First cast and I pulled in this little guy:
Next cast and I pulled in this little guy: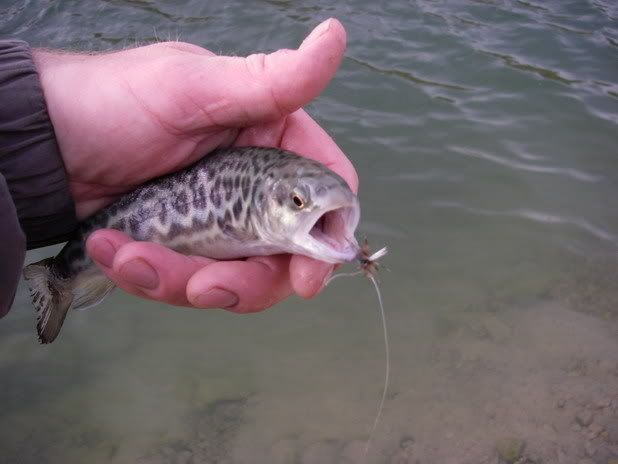 I'll spare the text between most of the shots because most of them look like this: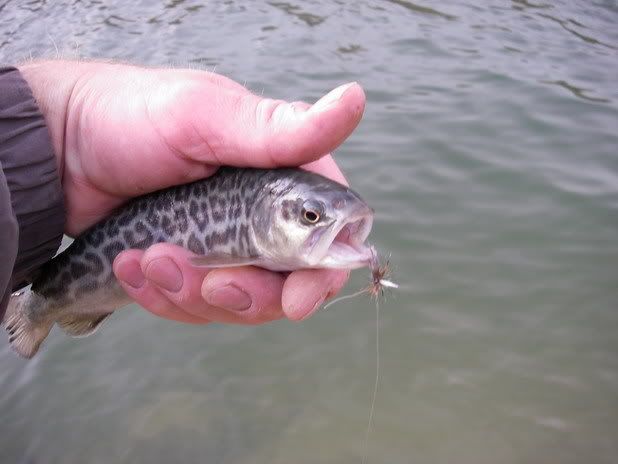 And even a few more that I didn't care to photograph with freezing hands at that point.
Then something unexpected happened and I had a flying tiger of decent size flailing about:
Here's a better view: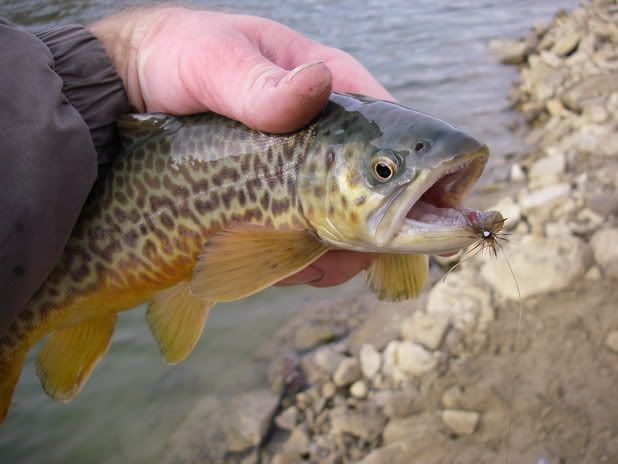 That's my biggest fish so far on a fly. That guy had some great coloration and a mean attitude...I let him go even though he had sentimental value...He earned it.
Then the next while looked like this: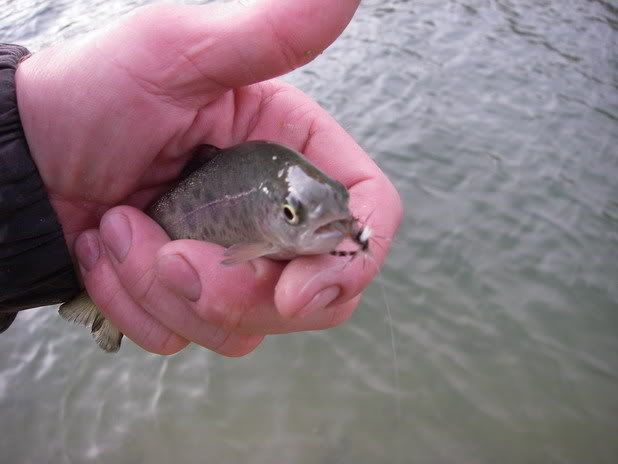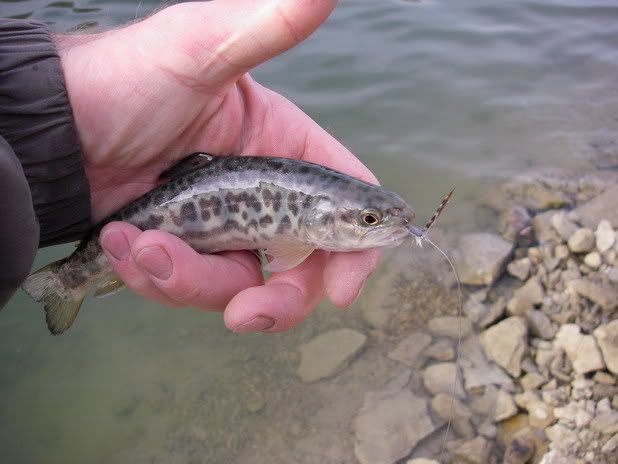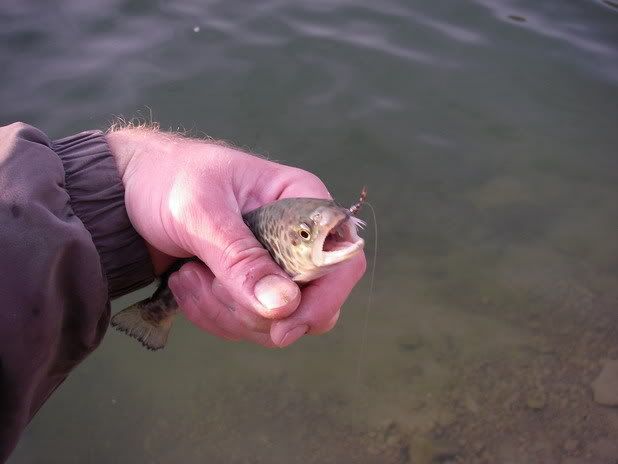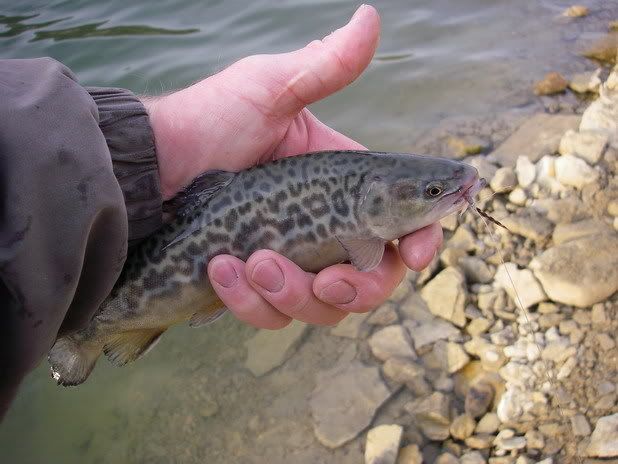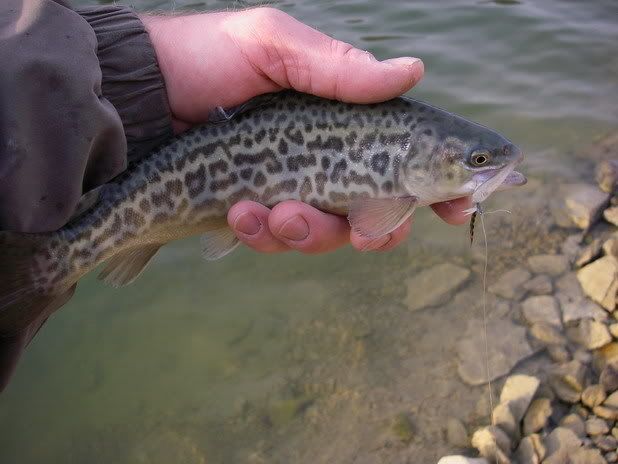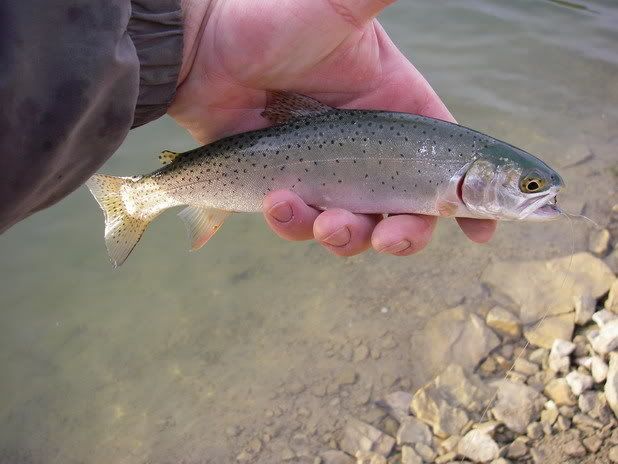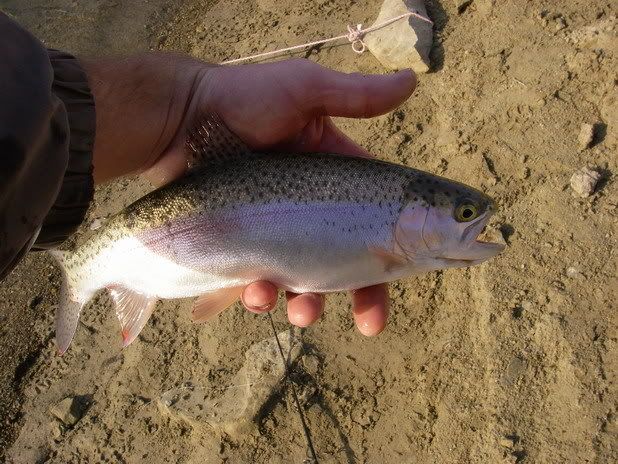 Again, those are just the ones I photographed...And those are only the pics that weren't blurry. :lol:
I decided to try for some better size on my bait pole while I continued to rake them in with the fly. I rigged a worm behind a full bubble and launched it into the "depths" and threw my fly.
That's the same fly in all those pics, BTW...It started out as a nice looking PA and it got so hammered all morning that it ended up as a wad of lint on a tiny hook. The dinks were still hitting it on almost every other cast when I decided to try the Jake's. Hah! Craziness.
Meanwhile, the worm rod started dancing and I got this guy: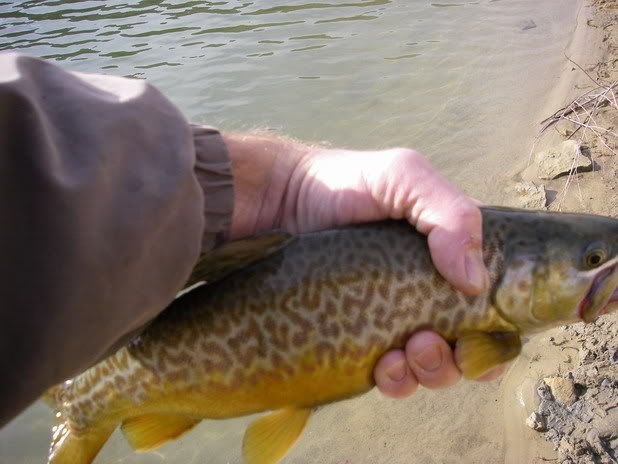 Sorry, I couldn't see the screen when I shot that.
Here's one more with a fly before I switched to the Jake's: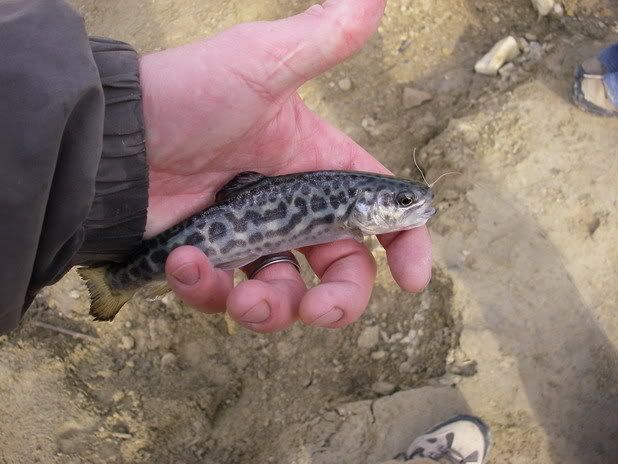 This guy came and said hello to our stringer and then went off to taunt a kid and his Dad that were closeby: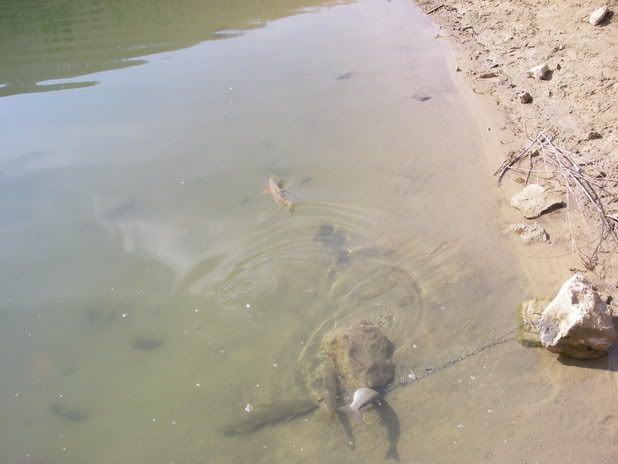 The kid and his Dad were pretty frustrated because they couldn't get it to bite their lures. The sad part is that a little later on, the kid came by and showed me his nice tiger that he just SNAGGED on purpose with his Dad. They got so fed up with chasing that guy around that they got a lucky snag and brought it in. The kid displayed it to me and told me how they caught it. I told him that was illegal to keep and that he shouldn't tell anyone else that. :roll:
I got another chubby bow (notice the deformity on it's throat):
I tried the Jake's and had a lot of luck with that, but took all of 2 pictures: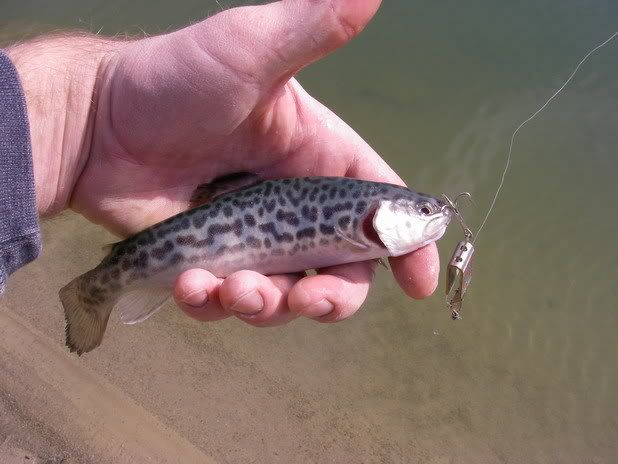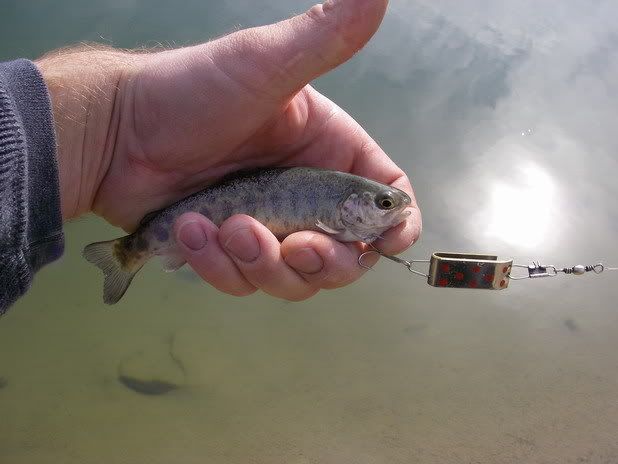 After a bunch of fish hit my Jake's, I whipped it out too hard and lost it on a cast. I switched to a rainbow rapala for some bigger potential, but still only hooked up with more dinks. No pics of those.
I rigged Sonia's new pole for a minnow and when she finally came down to the water (shortly after I caught the big bow), her first cast was swallowed by a monster. She got to fight it for a whole 5 seconds before it threw a pulpy mess of a minnow back at her. I saw the beast. It was just as big mine, I think. That would've made her day, too.
After catching a good tiger on a minnow, she reverted to her most comfortable tactics. Sonia managed to hook into about 4 fish all day with her "Go to" of a worm under a bubble.
I saw .45 and luckystrike there. I got to watch them on their 'toons for most of the day.
Anyone want to see what .45 looks like?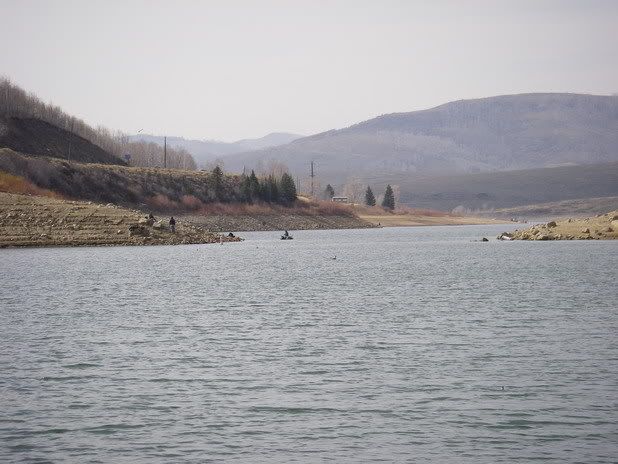 :lol: He's the one in the pontoon! :lol:
There you go.
We went and met up with them when they docked their pontoons with their trailer. It was good to meet them...Good guys.
So if I had to guess how many fish I caught today, I'd honestly say around 40, but it could be more or less. Definitely over 30. I took 28 pics today on my camera and 25 of those were of fish I caught (I didn't post all my pics, BTW). I don't know how many fish I caught and threw back without a pic, but I'm guessing it was easily over 15. I try not to exaggerate, so I'll just say well over 30 8) .
I know the number sounds crazy, but it really happened. I've never caught so many fish at one spot (or in one day) in my life.
I was skeptical when I heard about other folks having days like this, but now I know it to be true!
Happy Fishing, Humans.