Discussion Starter
·
#1
·
What does everyone think about carp?
I have never given them much credit. I don't fish for them specifically but when one get hooked it is a bonus. They are usually caught by a foul hook but on occasion fishing for musky I have witnessed them hit my lures.
My job takes me all over the world and on my days off I fish. On a recent fishing trip to the Arkansas River I was fishing for stripers. The fishing was slow but we still caught a few stripers on the small side. The big ones just took your line and lure. I was using a spinning rod and 6 lb line. "Not the best combo for this river but that's all I had." I couldn't wait for night time on this river because nobody would fish it at night. So a friend of mine would have the river to ourselves. I tell you what the stripers hit better after dark but there were fish in this stretch of river that would send chills down your spine. On several occasions I hooked into fish that didn't even know they were hooked I couldn't pull them off the bottom. They would swim up stream a few feet pause and than swim back down. I would do this for a few minutes just applying as much pressure as I could without breaking my line. When I would get tired of this and wanted to see what I had I would pluck my line a couple of times. This would usually wake them up and send them pulling my line and screaming drag down stream. I don't know what kind of fish I had on but I did see huge 20 to 30 lb gar swimming by my feet. Maybe it was one of them. On this week of fishing my best fish ended up being a carp. This fish pulled my drag as hard as any fish I have ever caught. It took me down stream nearly 250 yards. I could hardly keep up with this fish. The current was extremely strong. It was at night and I only had one stretch to land this fish on. I had to get into the river and wade out around a tree that was in the river. When I did the ground disappeared. I was now swimming in a dark muddy river thinking how bad it could turn out. I didn't let go of my pole and finally landed the carp. It wasn't incredibly big, probably over 10 lbs but man did it fight.
We ended up catching tons of carp, crappie, flathead catfish, stripers, white bass, and several other fish I can't identify.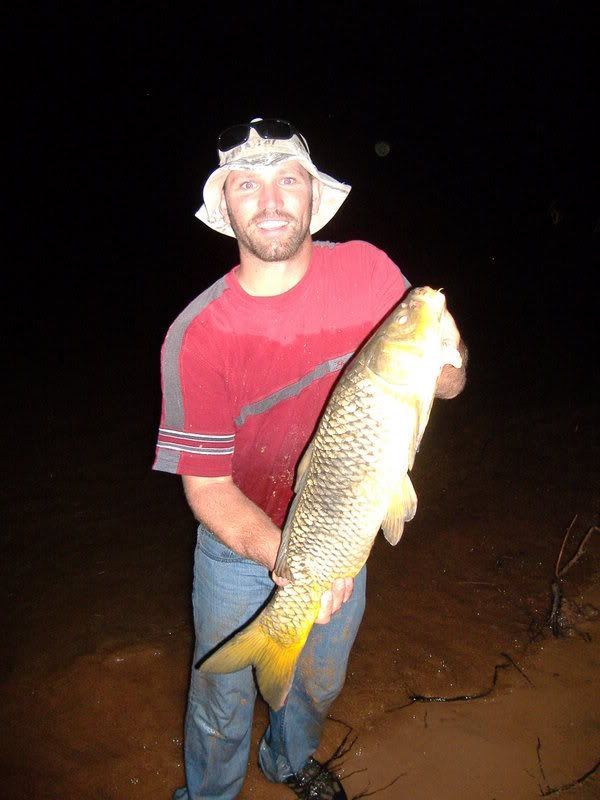 Dont know what kind of fish this
average striper
one for the wall 9lb 10 oz 45 inch long gar. Not the biggest but will look good next to my 51 1/2, 31 lb utah tiger muskey
average flathead