Discussion Starter
·
#1
·
Funding was lower than usual this week, so I promised Sonia I'd stay closer to home. I figured I was due for a
GOOD
trip to Deer Creek, since all I can seem to finagle from there are dink smallies.
I didn't set the alarm, so I woke up around 7 and something. That must mean I didn't really have a lot of excitement about going to Deer Creek (I wanted to go to Strawberry), but I got up and went through the motions (coffee, food, etc) and was out the door.
I already had my waders on because I was planning on floating to get to the trout, wherever they were. I also kind of wanted to get into the river a little later. I've been going to so many reservoirs week in and week out, I've neglected the river!
I arrived and parked at the first pullout past the dam. Got the tube pumped up and everything ready to go. The air was pretty nippy, but the sunlight hadn't crept over the hill yet. The hike down was super steep on loose rock (most of it is normally submerged), but I managed to get to shore without falling on my tube or ripping the waders. *Whew* It's just too bad the wind had already picked up and it didn't look (or feel) like I would get out on the tube. Oh well.
I knew that if I threw my Blue Fox or some other hardware along the shoreline that I'd have plenty of action for tiny smallmouth bass, but I really wasn't interested in that. I've never been able to get into the trout that are in Deer Creek. I've scored a couple of bows and browns from the Charleston Bridge area, but I don't really count that...Especially with the water level how it is.
I failed to pick up some minnows last night, so I had to rely on other trout tactics for today's adventure. I threw out a worm under a bubble and worked some flies behind a bubble for awhile. I'd seen several fish rising in the area, but they didn't want my junk.
A while later, without any bites, I decided to reel in my worm and cast out to a different spot. Upon my retrieval, I thought I'd stop about 5 feet out to see just how active these smallies were. Almost instantly, I had a hit and my bubble was being towed around. I reeled in the tiny morsel of a fish.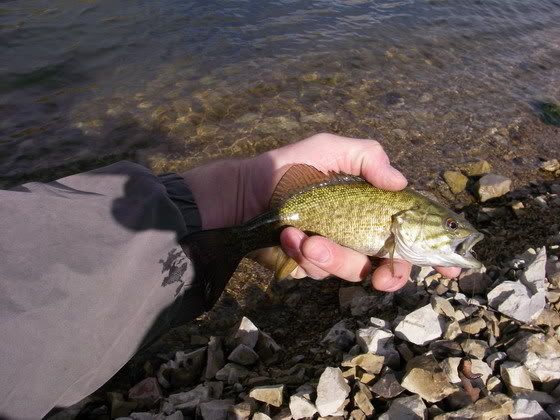 Another look: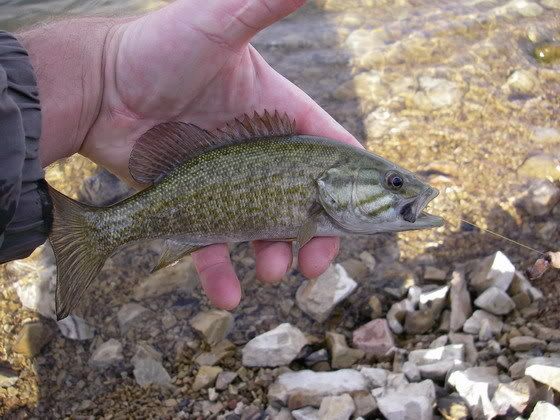 I had to laugh at how easy it is to catch smallies at Deer Creek. Finding a decent one is the real task. I actually got my biggest "Deer Creek Smallie" today at around 8 inches. :lol:
I didn't get a photo of that one.
I ended up with 2 really small ones and I moderately small one. No trout. I had some bites that actually got the bubble under the water, but never got to fight those. They were gone as soon as they hit. I was done with Deer Creek and it was time to find some trout in the river.
I parked at the Charleston Bridge and had a small brown on my second cast with the Blue Fox, but he flipped off before I could get him in my hand. No biggie. I tried a little longer on the other side of the bridge, but the rising fish downstream didn't want anything to do with my offerings.
I still had my waders on, so why not hit the Middle, right? I've spent very little time on the MP and figured that if I struck out, I could always hit the Lower on my way home. I tried a few spots before heading off on a backwater stretch that was secluded from the main channel. It wasn't very fishy, but the it looked nice and it probably didn't see too much pressure. Access would've been impossible without waders with all the brush along the banks.
If there were any fish here, they'd be spooky. The water was crystal clear, very cold, mossy, and only about a foot deep between the green. I walked back for quite a ways without seeing any fish and was starting to wonder. Then I saw a really pretty hole and knew that it had to hold at least one lonely brown. I took a couple pics before I tried anything: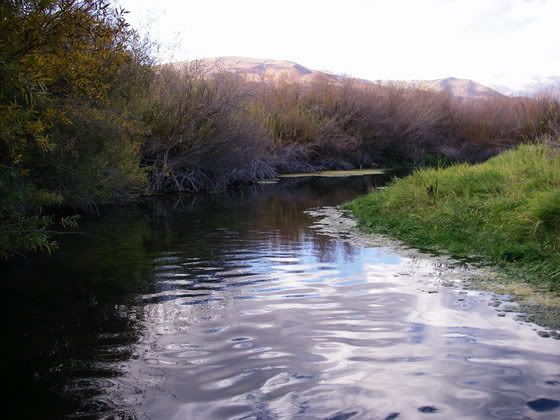 Just as I put the camera away, I saw a good splash back by the floating moss. I wasn't close enough to get a good cast and I didn't want to scare it off with a bad one. I moved very slowly through the water, which was difficult because my feet were sinking deep into the soft stream bed with every step. As soon as I got into "range", I threw my favorite lure just above where the ripple was. I had to crank it as soon as it hit the water or it could get bogged up by the heavy weeds. No sooner than I started reeling did I have a big strike and a thrashing, angry brown on my lure. It fought really really hard! I was worried that it would throw the hook, but I kept my rod high and brought it onto the grass for a photo.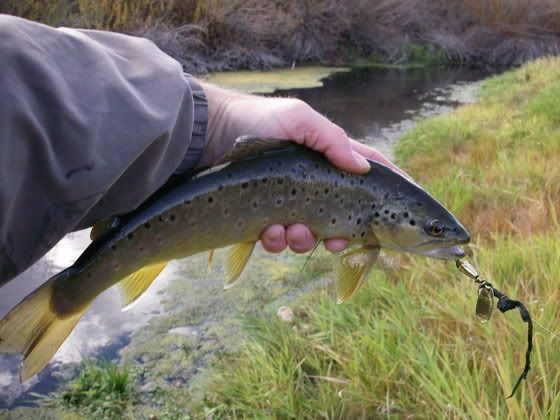 Another view: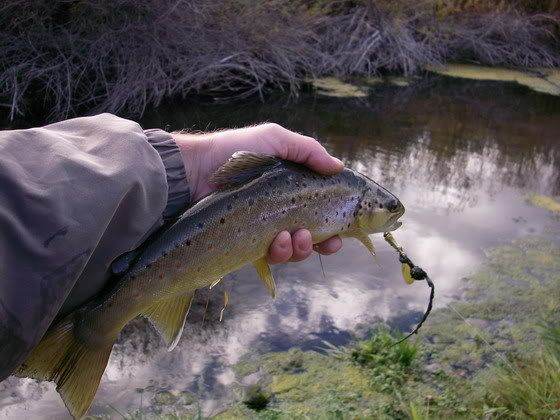 It wasn't huge or anything, but everything about that event (setting, situation, and the fight) made my day. I'd been waiting for a satisfying catch and this was the one.
I cast out again for kicks and got the lure most of the way back to me and another fish took me by surprise. It seemed about the same size and attitude of the last. The fight only lasted a second and it was gone. I couldn't believe that after watching his buddy get pulled out of the water thrashing, this fish would actually dare to bite anything at all. Oh well.
I reached a fence and knew that any further meant potential problems for me. I decided to call it quits for this area.
On the way home, I stopped at one of my spots on the LP in Provo Canyon. I tossed the Blue Fox around a bit and got a bite and saw the splash, but no catch. I switched to a worm and got Sonia a fish: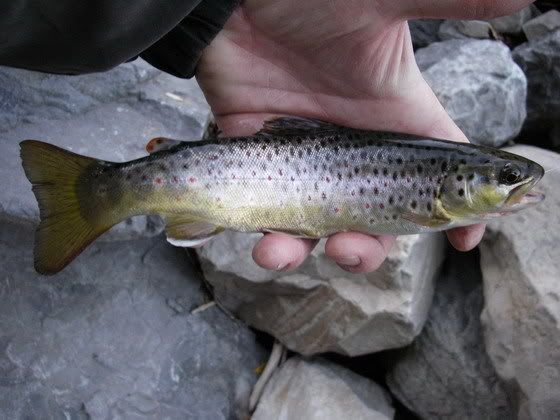 Just a little one, but it was close to getting dark and I only had one fish in the cooler.
It was really nice to get back to the mighty Provo. I used to spend most of my fishing time there and haven't really seen much of it this year. Before I left, I had to take a look around and it wasn't hard to remember why I used to spend so much time here.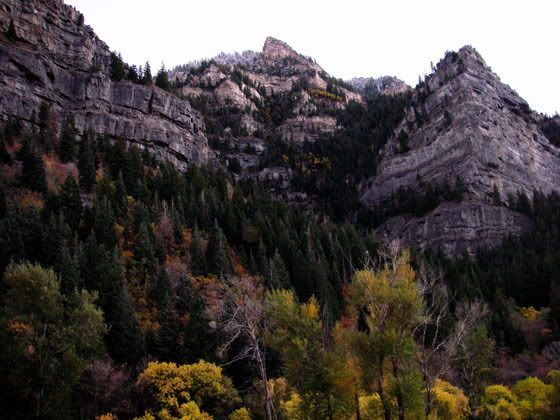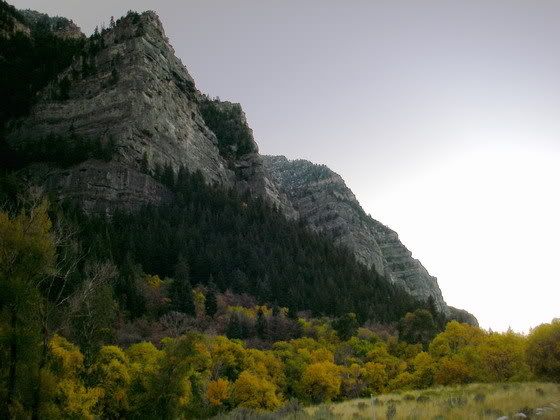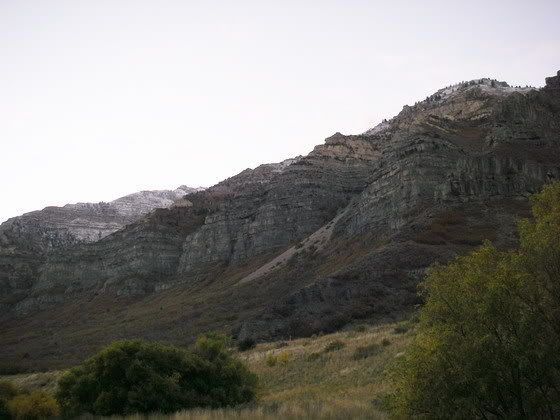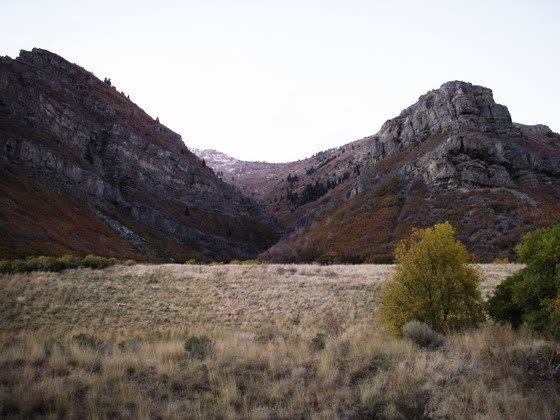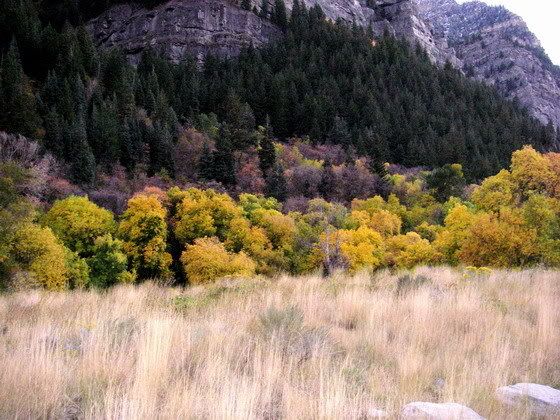 Happy Fishing, Humans.