Discussion Starter
·
#1
·
Well Here she is. When I was told a moose hit with an arrow will go down fast they weren't kidding. I shot her on Sunday at about 9:00 in the morning. We spotted her from the hill above the swamps and she was in a great spot to get to. I drove down the hill and parked the truck and made my way to her last location. I was slowly sneaking in when I caught here coming out of the willows 25 yards in front of me. the problem was I still had a bunch of cover and there was no place for a shot. I don't know if she smelled me or saw me but she started heading to the direction I cam from and I was still stuck in the middle of some thick little quakies. I started trying to reposition myself and not spoke her as she walk through a good opening at 44 yds but she didn't stop to say hi. She then stopped on the edge of the pond behind the willows and decided she didn't want to cross the water so to my surprise she turned and walked right by me and stopped broadside between 35 and 40 yards. I pulled back took aim through the window in the cattails and thought to myself. "I can't believe I am going to shoot a moose with my bow" and I let it fly. The titanium tipped carbon express fly like art and completely disappeared into her side. She swapped ends and went straight into the pond she didn't cross seconds before and dropped 20 yards after the shot. Man it is crazy to see such a beast go down so fast. Thanks to good friends and my wife we got her out of the water and cut up much faster than I expected. So a big thanks to my friends David and Jeff for rescuing a guy with a moose in a pond. I hope I can return the favor soon.
Her is the picture of were she died.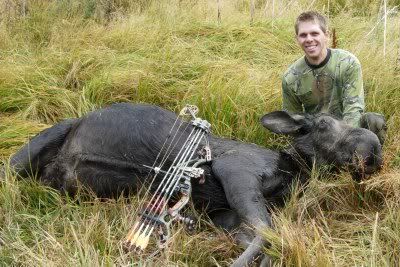 We also got a little fishing in on saturday before the storm hit. We stopped by washington lake and caught a couple on nice little tiger trout and a brookie.