Discussion Starter
·
#1
·
So I heard a little story from a guy I work with about a puddle of water somewhere that has fish in it. It was somewhere I'd never been and the story told of a brookie of 2.5 lbs pulled out of it amongst some little bows.
I drove for a couple of hours and took in the new scenery as I rattled my way to the pond. It was good to see a bunch of new sites and unfamiliar landscapes.
After a wrong turn and a good half hour delay, I made it. Neat little place tucked away from most...Except for the 12 people I counted there when I showed up. :?
Half of them were scouts and they were glad to throw rocks into the water for a couple of hours. Then they left.
Honestly, there's not much story for this little trip. I caught a few very small wild bows and got some hard hits on the blue fox, but couldn't set any.
The fish were mostly tiny, but their wild colors were worth a couple of pics.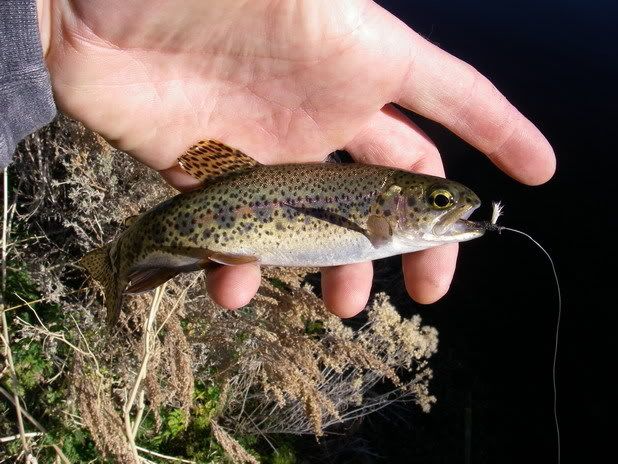 I love that the fins were intact and full. That makes such a difference in my overall impression of the catch. This place acted as a small natural hatchery for these bows that used to be stocked a long time ago.
Here's the crazy part: Having heard a report of possible larger brookies, I brought some minnows. I found a gap in the weeds and cast out to find line pulling about 15 minutes later while I was working a worm on the other rod.
I got pretty excited since the biggest fish I had seen for the day was about 6 inches. Well, I went through the usual motions and it was time to set the hook and see what kind of surprise this water held...
...It was the fish of the day! I couldn't believe the size. Actually, it was the smallest trout I've ever caught with a minnow.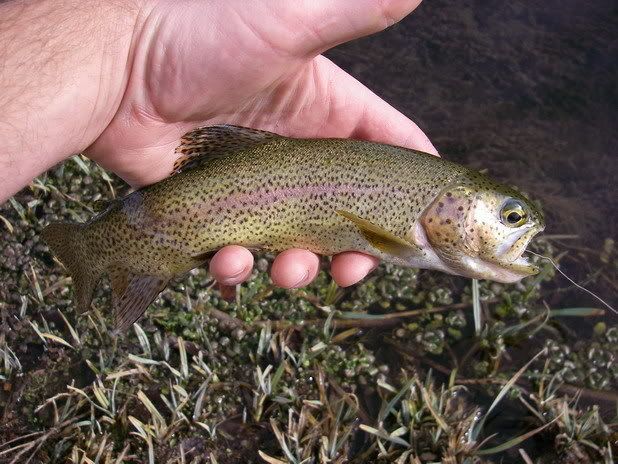 Maybe 10 inches. :lol:
I had to laugh at myself. I caught a few more and then a family showed up to do some shooting. I took off and made a quick stop at a nearby river to see if I could catch something with some size. I'd never really fished the river, either. I figured I'd hook into a footlong brown or two and then leave.
A pretty thick brown of about 14 inches picked it up and did a little dance for me while I brought it in. Unfortuately, it threw the hook as I was swinging it over to my hand. Oh well.
I then proceeded to loose a couple of my blue foxes because the line would snap while casting. :evil: That's no good. Now I'm out of brass. I've got all week though.
So there you have it. Not too much action this week, but I saw some new places and fished some new waters. Catching tiny wild bows is actually a lot of fun.
For the last couple of weeks, I've been staying up pretty late the night before fishing day. Last night wasn't any different and I'm really feeling it. G'night!
Happy Fishing, Humans.