Discussion Starter
·
#1
·
I knew time on soft water was running out and I had to get back to Scofield before the ice came. I woke up around 4:40am, but I went right back to bed. I ended up leaving the house close to 8:00. :?
It was nice to at least be able to see the scenery as I went through Sp. Fork Canyon. I love this section: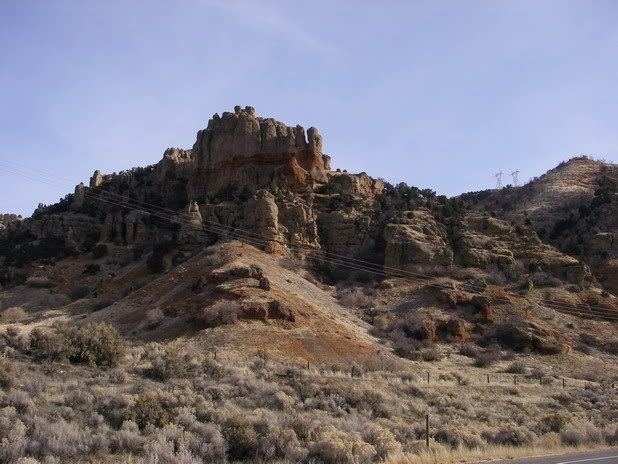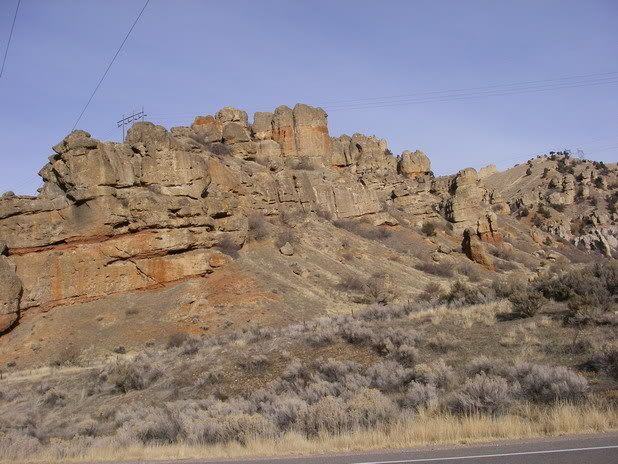 I arrived around 9:00 to see that the lake was iced. I hoped I could find some open shoreline somewhere and was sourly greeted by a strong sheet of ice up to the dam. Further up, there was a section of shimmering (liquid) water. I parked and head down to try my luck and got some pics to show what it looked like today.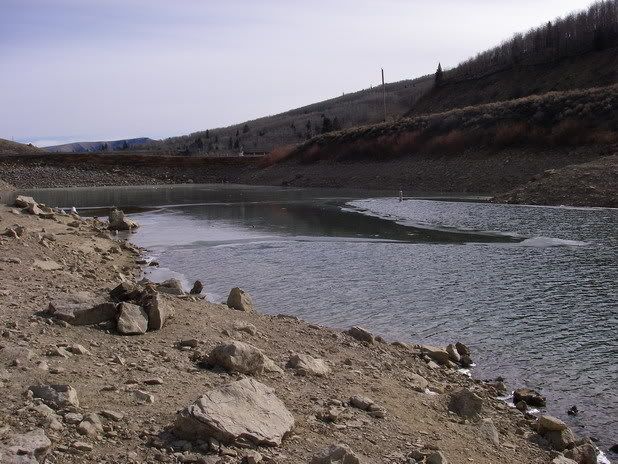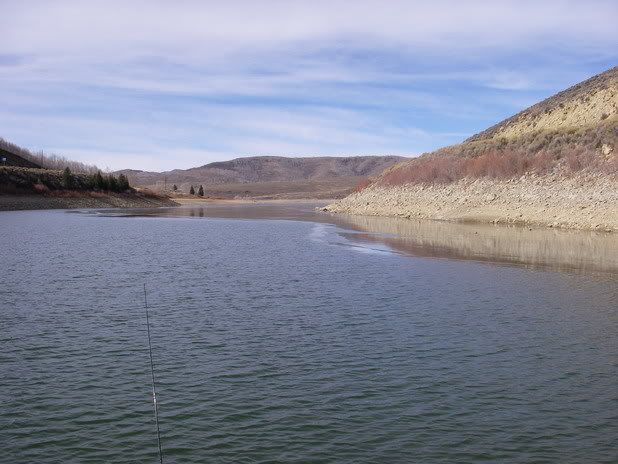 It was pretty sad that the spot by the dam was frozen. I usually do quite well there, but I'd have to make due with what was available.
It wasn't too long before I caught a tiny tiger with a rapala. I kept getting chasers behind my lures, but the fish were sluggish to bite. Ocassionally, I picked up a small fish and let it go.
Finally, my minnow line started pulling out and I got excited. A few moments later, I pulled my minnow out of the mouth of whatever had it. It didn't help that I had much larger minnows than I normally fish with, but the trap was soaking next to a school of minnows and it would only be a matter of time before I got one better suited to the needs of Scofield.
Surprisingly, I missed a couple more on the minnow rod and one of those times, the line was shooting out very quickly from my reel. I managed to land one eventually...It was a tiger about 13 inches long and pretty snakey. I expected larger, but I took it anyway. A little bit later and I had an even smaller fish on my minnow. Good grief.
I hung around and caught a few more dinks with lures and got lucky enough to get one more fish with a minnow. This was a first for me, but it was a BROWN!!! Out of Scofield!!!
I'd heard about browns in Scofield, but I'd never seen one. This girl was fat, too. She was only 17 inches long, but she was really round, considering most of the browns I've seen. What a treat.
This would be my last fish for the day. It was good to get a little bit more still water fishing in before the evil ice monster takes over for a few months. Looks like I'll be playing in the river a bit more for awhile.
Happy Fishing, Humans.