Discussion Starter
·
#1
·
All I can say is that I am lucky to be home alive with no property damage after this morning. Holman927, Jat83, Shaueelab and I went on quite the adventure. The plan was to fish E-lake but when we discovered there was no parking and that our trucks would likely be burried by a snowplow, as well as nothing other than a steep drop off we went to hunnington instead. The start of the tirp was great, Holman927 iced a tiger and I had a strike on the patened orvis double dough. From there lets just say it went down hill, the big alaskan tundra storm blew in and we were almost blown of the lake, as well as pelted with little ice balls from mother nature (guess it was her way of telling us to leave).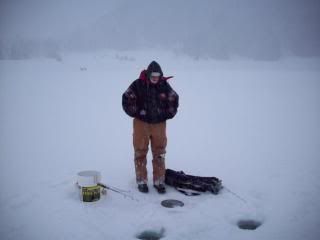 As far as the question of who is better Dodge or Chevy, I had to pull a chevy out from a snow bank so I was feeling pretty cool about myself. Shaueelab will post of the the photos later, I am sure of it. We thought that we would try our luck at scofield and headed out into the storm. It ususaly only takes 20 min to get there but can you see the road in this picture?
Trying to avoid another Chevy stuck on the side of the road my tires caught the edge of the pavement and the mighty Dodge slipped into the grasp of the snow monster. Luckily a Chevy Tahoe tried to pull us out but couldn't manage to get us free. The three of us dug for another 1/2 hour is balmy temps to dig us out of the snow (we were up to the door handles!). Fianlly Shaueelab and the mighty Toyota Tacoma with some coaxing dragged the 1 ton Dodge out of the grips of the snow monster! I guess today the Toyota was the tuffest truck.
Lessons learned today:
1. Ice fishing sucks in the middle of a blizzard
2. Four wheel drive will not get you out of anything
3. Fat guys do not climb hills fast when falling through waist deep snow
4. Had a blast on our adventure and met some cool new fishing buddies!
--\O