Discussion Starter
·
#1
·
Moving right along to my "work" trip to Alaska at the end of July I was greeted by a good run of sockeye on the Kenai River….and had lots of friends to help me out: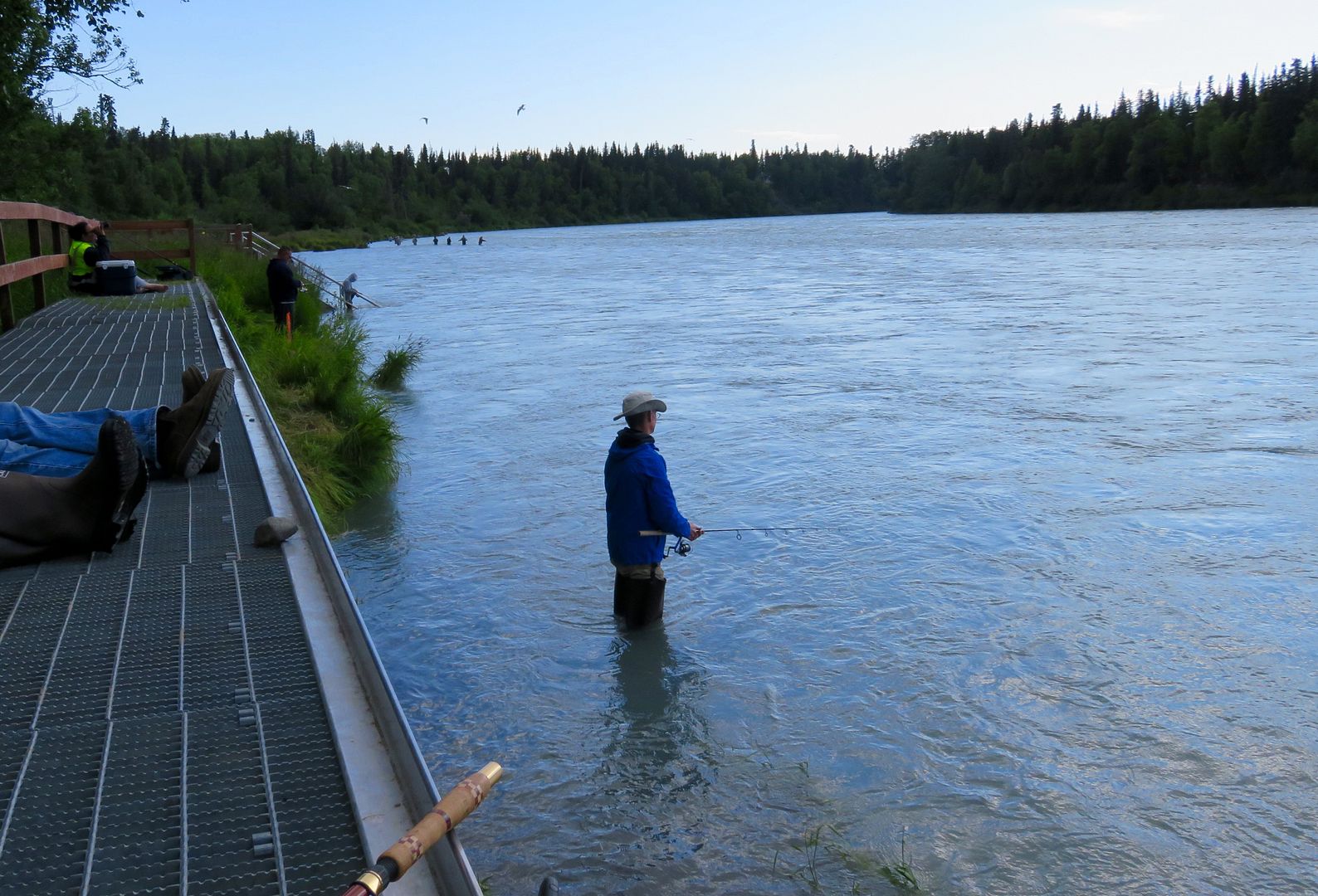 Took me about 3 hours to catch my limit of 3 reds…..lost or released several foul hooked ones also. Some people find this fishing a pain, which it can be, with so many fisherman around but I always strike up a conversation with those around and try to have everyone enjoy the experience. Filleted the beasts and headed down to Ninilchik to a friends "rustic" cabin. It's in the bushes but is 2,700 sq. ft and has all the luxuries of home….obviously doing root canals (as my friend does) is a booming business. This is the view from the main floor:
That "mountain" you see in the distance is Mt. Illiamna, actually an active volcano: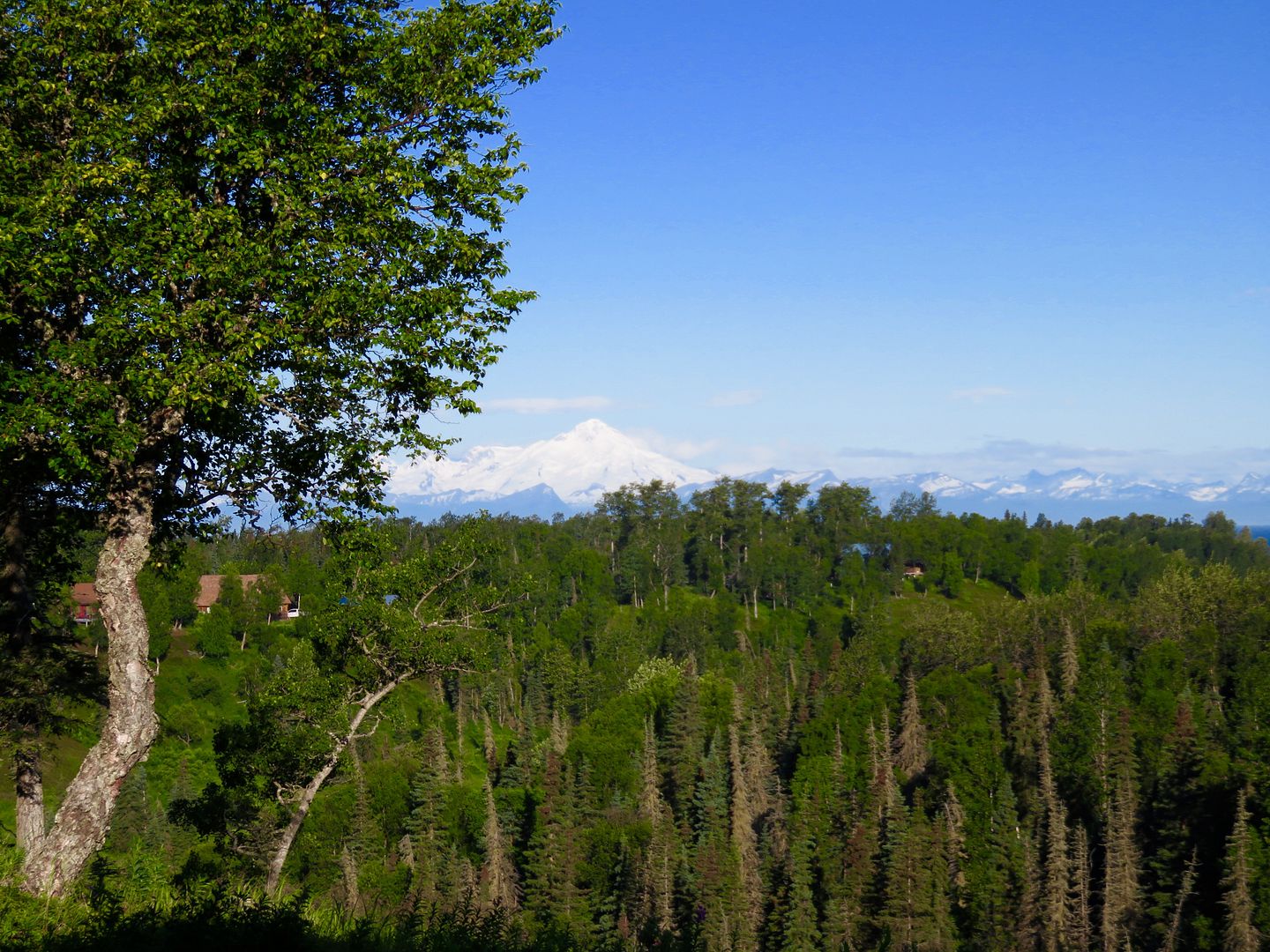 Illiamna was the center of a recent 7.1 earthquake which rattled everyone up in Alaska recently. Some old friends were also at the cabin and we decided to hit the Ninilchik River for a few hours that evening to try for some late run kings. As we came into the first hole I promptly missed 3 strikes in a row (hey…no ones perfect) my buddy hooked up with a very colored up king which he masterfully brought in:
Yes, that is a picture of an endodontist….the evil root canal dentists (he looks more like a boy scout). You'll notice this fish has an intact adipose fin which means it is wild and must be released. On this small river you can only keep kings with clipped adipose fins which indicates a hatchery fish. So we slipped it in back in the river and I promptly missed a 4th strike….in my defense these were probably small dolly varden who just couldn't wrestle that big hook into their mouths (that's my story and I'm sticking to it). We started moving downstream and came around a bend to be confronted by a majestic baldy protecting his salmon…..nicely he posed for several pictures: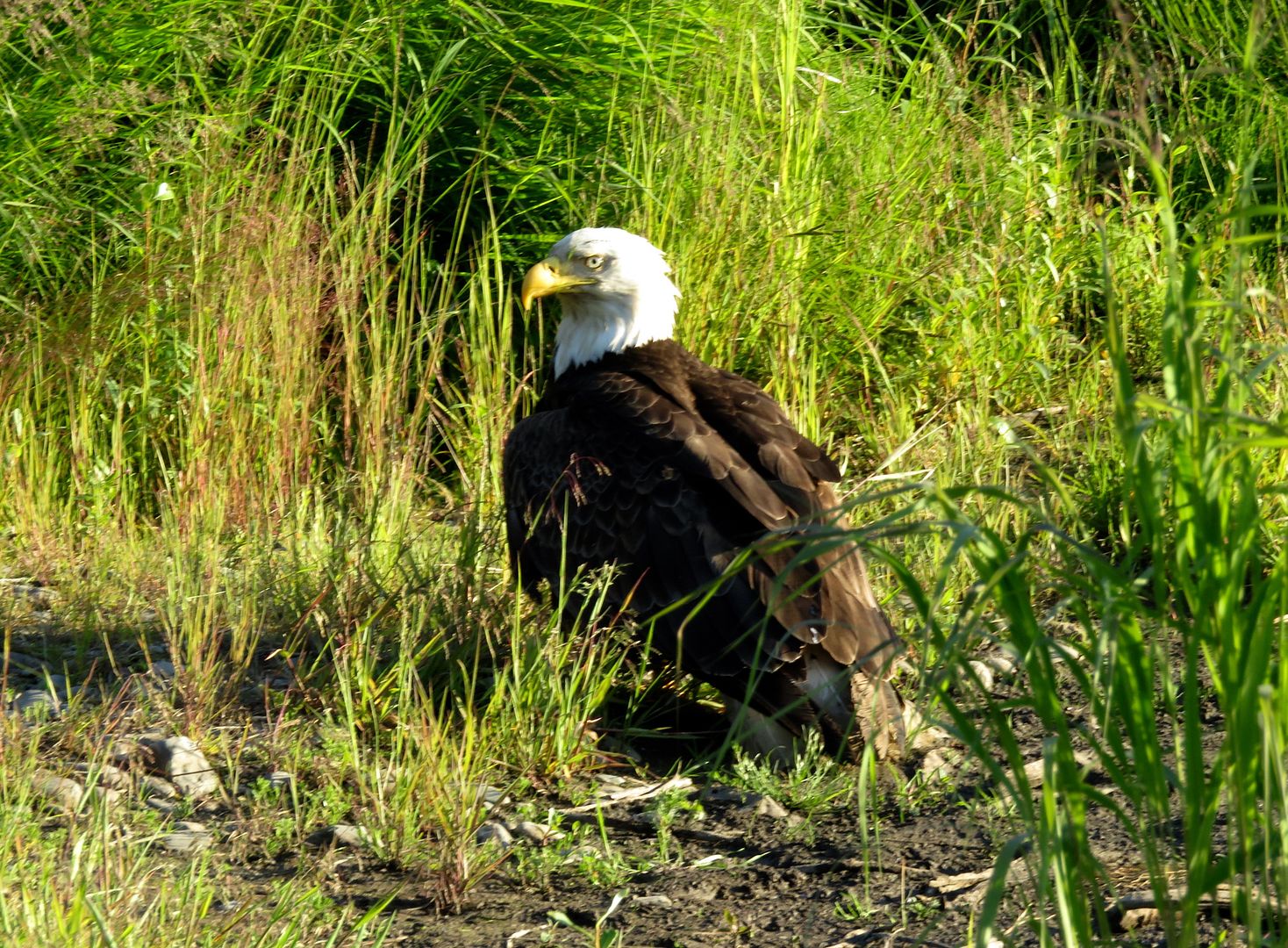 The bird finally let us by and in the stretch below there Jerry hooked into a chrome bright, jack king salmon. For anyone unfamiliar "jack" salmon are fish that run back upstream after only a year at sea instead of the 4-5 years normal for these kings. They are generally very tasty eating, especially chromed up like this. We were bouncing cured salmon eggs this evening while fishing.
We fished down for another hour and had a couple of pick-ups but that was it for the evening. Slept back at the cabin and the next day I headed south to Homer in hopes of finding some silvers in the lagoon there. It was a fruitless endeavor as the wind was howling the rain was falling and the crowd here was quite "ugly"…..wish I'd brought a big stick. So I headed back to Ninilchik and while crossing the river I just had to stop and throw in a few more times, and was immediately into a nice king. Managed to land it on my medium spinning gear….as you'll notice this is a hatchery fish as it has no adipose fin:
As I continued fishing I noticed several kings in a long stretch above me that were obviously right into doing the spawning thing. Decided to head back to the cabin, get a good nights sleep and would be back in the morning with the fly rod to fish for dollies. Took a pic of this weird branching on a tree next to the cabin….looks like a new tree growing right out of a branch:
Just strange looking.
Hitting the river early I managed to fool nearly 20 dollies into hitting my bead. They ranged in size from 4-16 inches:
Fished upstream for a while but saw no other spawning kings and only managed one fish then headed back downstream. As I crossed the road there was an immature bald eagle just staring at me:
Going downriver I was catching the big white stripe….until I got into this long deep stretch and in the back end I could see some smaller spawning salmon. Never caught a dolly around them but finally managed to hook one up. To my surprise it was a humpy, or pink, salmon which I didn't even think were in the river:
After finding no apparent life in this area past the pinks I headed back to the car but decided to hit the upper hole (which produced all the dollies) one more time. There were few pick-ups until I hooked into something really nice on the 5 wt rod. It stayed deep but I finally worked it up to the shore and it was a beautifully colored jack king which I promptly released:
Caught a couple of dollies then spotted a nice one sitting deep on the sand eating eggs. It made several rushes at my offering but always turned away…finally I lost sight of it as it cruised into the deepest part of the hole. I decided to take-off…but certainly not without fishing my way out. I walked the bead through the deepest part and thought that dolly had finally picked it up but as I set the hook all heck broke loose and I was onto another nice king with the tiny gear. Excuse my poor video attempts as I was using my hand camera and trying to play the fish…..makes from some nauseating footage…wish I knew how to splice the video sections together (to much brain power for an old coot like me):
Beautiful wild king:
I know….should be using a Go Pro…heck I got one ….am just to lazy to learn how to work the darn thing. Anyway after that beautiful king I slithered back to the car and headed back to Eagle River…..a 4 hour drive which was absolutely gorgeous on this day:
Of course as I drove home I couldn't help to admire Quartz Creek as I drove along its windy little path….ah, but that's a story for next time. Have a good one.
Brian