It just amazes me some day's just how desperate or ???? people are to kill a duck. This is not a Utah WMA but I found it interesting and I believe it's just the typical story now in every WMA across the nation.
Down here in the desert where I hunt for part of the season, I have gotten to know the staff of the WMA quite well so I get to see the numbers of hunters, ducks taken and species taken. Well this last Sunday I hunted the WMA and had a pretty good morning taking my 7 bird limit fairly quick as the blind I picked ended up having a few birds working it. What really got me excited was the amount of shooting happening all over the WMA. I figured we must of got a push of new birds in with all the banging that was going on. I figured there must of been 500+ rounds fired before I finally decided I better head home around 10 to earn some brownie points with the wife.
Fast forward to yesterday when I run out to pick up a reservation for next week and my friend shows me the numbers for the day. There were 69 hunters total on the WMA and...........................a whopping 68 birds killed for the day. How in the hell do 69 hunters fire that many shots and only kill 68 birds????? I figure two things are probably what happened, one could be that it was newbie day (which there were a ton on them) and they were shooting like crap or 2, any bird in sight no matter how far it was, was shot at or I guess number 3, it was a combination of both 1 and 2.
I guess what really gets me is, how have we got to this point where we have no respect for the game we hunt and the people we hunt around. I have only been up on the GSL wet lands a few times and I have witnessed this first hand to a small point up there but I am guessing with some of the stories I read on here it sounds like its just an everyday thing.
Well as to my day and bag. 7 ducks shot with 13 shells fired from a little Remington Wingmaster 28 gauge firing 5/8 oz of steel 4 shot and my first pinner of the season with hopes of many more and better to follow.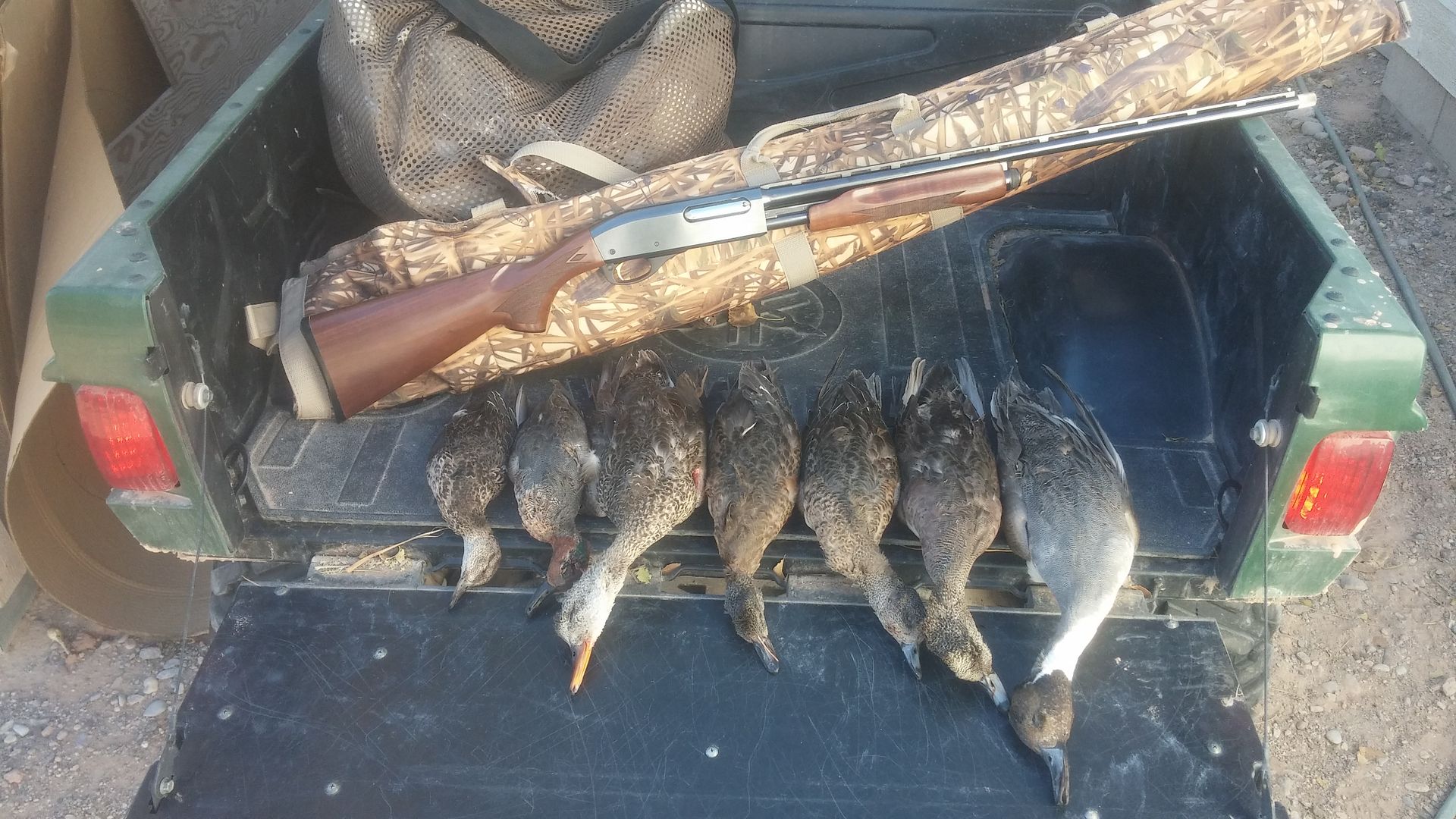 And how the those ducks looked tonight;-)