Discussion Starter
·
#1
·
With the recent icings of most of my favorite waters, I found myself on a hunt for open water.
I woke up nice and early and made my way towards the berry. The roads were very slick, but I managed to ice skate my way there. I figured Strawberry would be frozen in the bays and shallows, but I was relying on the moving water to keep the ladders area ice free.
I was right...mostly. Here's what the channel looked like: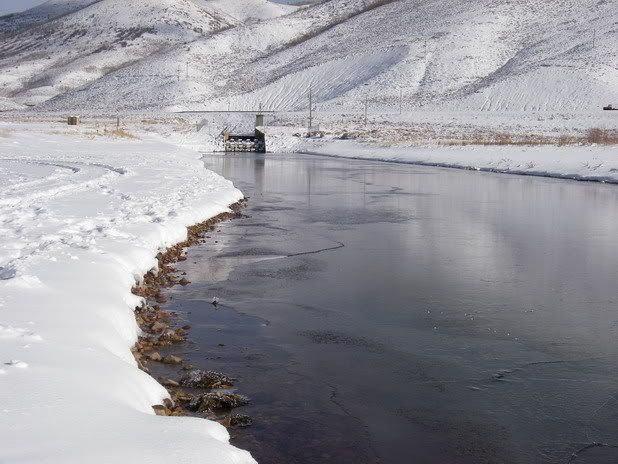 So the channel had a nice sheet over it, but it opened up just before the cement barriers where it meets the lake. There were stray sheets of ice floating around all over the place, but most of the water was still open.
In the earlier part of the morning, I heard something through the fog that I didn't expect: A boat chopping through the water and ice. When it came into view, I saw that it was a duck boat, all decked out and in action. I heard quite a lot of shots early on. Hope they had fun.
The fishing wasn't red hot by any means, but it wasn't too bad considering my usual experiences of waiting most of the day for 1 decent fish. Not long after I started fishing, I had action on the minnow rod.
I knew it wasn't too big, so I hoped it was a rainbow.
It was, but it left me wanting more, fight-wise. It hardly thrashed as I merely guided it into my net and onto the snow. Taking a pic was pretty easy since it was so nonchalant.
They must've planted that one when it was bigger than most of the ones they plant. The fins were hardly there. No wonder it didn't fight hard.
I tried several rigs on the fresh line of my other rod. Practically everything I threw snapped off and flew out into the water, far away. :evil: I was debating whether or not to buy a luckycraft for this trip, but I'm glad I decided not to. First cast with my rapala and it was gone.
BRAND NEW LINE!!!
:x
Tell you what, folks: Stay away from "Vanish" fluorocarbon. I had 10lb test and I was breaking off while casting a simple weightless worm rig. Apparently NOT a good cold weather line. I've never had a worse experience with line and I'll never buy that brand again.

Once I got a worm to stay on that line for a whole cast, I got a taker right away: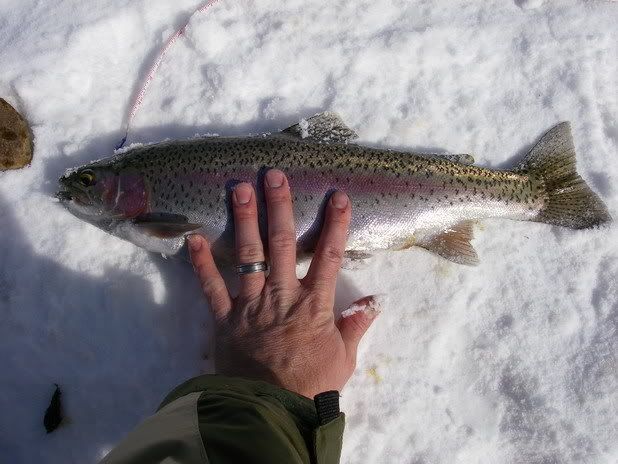 Now that's what a rainbow is supposed to look like! It was fat, healthy, good color, nice fins...just what I wanted.
Okay, now for that big cutt I've been after...
I ended up catching 3 cutthroats, all in the slot. 2 at 20, and the fattest one was 18 inches.
Here's one of the 20 inchers: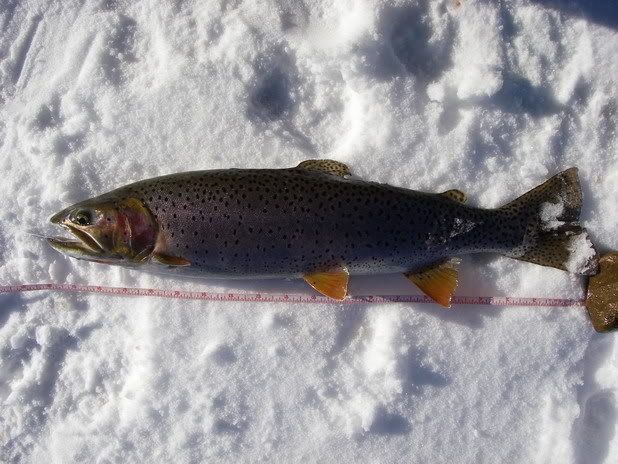 I had one fish messing with my minnow on the crappy line rod, but patience had escaped me and I pulled the hook out when trying to set. Who knows what that would've been?
It was a pretty good day and I had the whole place to myself until about 1:30 when a guy with a pontoon showed up. He made me wish I had a 4WD vehicle...I had to park on HWY 40 and walk in because the snow was too deep for my little car to handle. Nice little jaunt.
While waiting around for bites, I noticed how cool the ice looked that had formed on the rocks at the shoreline.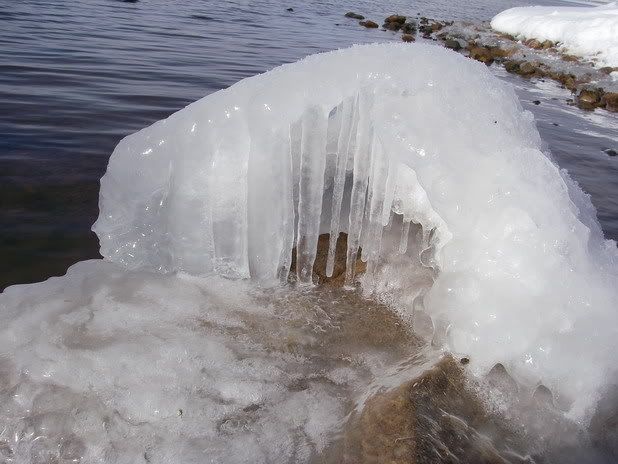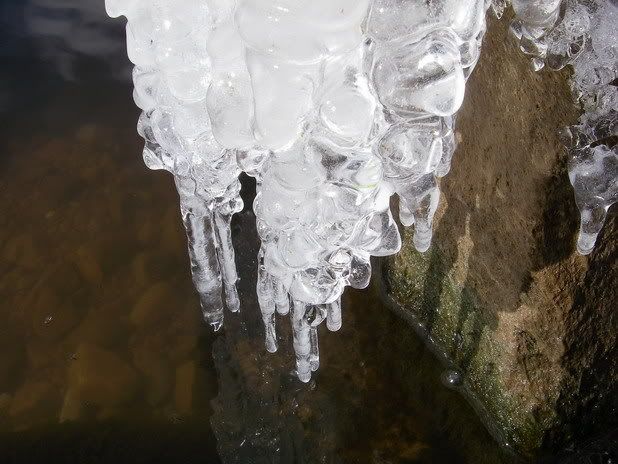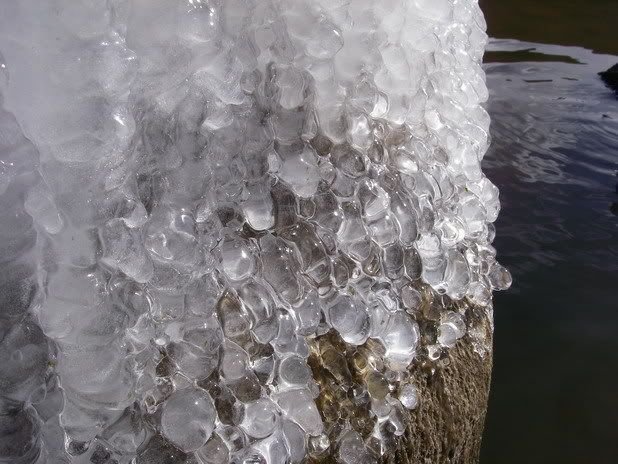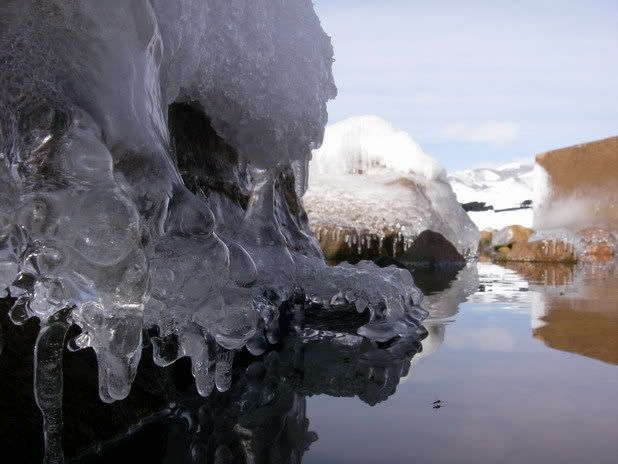 All in all, a good day to get out! It wasn't too cold (I was very bundled), the fish were hungry, and I got there and back safely. Mission accomplished.
Happy Fishing, Humans.