Discussion Starter
·
#1
·
It was that time of the year again; the annual Midwest pheasant hunt. Time to leave a mountain state full of forest grouse and chukar for the lonely open country of the Great Plains. Mecca to the king of gamebirds: the Ringneck Pheasant. Myself, my Gordon Setter Jonesy, and my GWP Oprah were joined by TEX-O-BOB and his three dogs (2 GWP, 1 ES)
We arrived at our destination late Saturday, unpacked, had a nightcap, then slipped into that last sleepless night before a great hunt.
The beginning.
We were staying at a local ranch of about 4000 acres, which consisted of CRP grasslands, cat-tail sloughs, grain fields, and a meandering pond.
The farm had been hit fairly hard by the folks before us so we decided to take it easy that first day; you know…give the birds some space and time to re-connect with the land. At about noon we headed out to see if we could push a few birds out of this slough. Typical pheasant habitat.
Shortly thereafter TEX shot the first rooster of the trip.
Within an hour we had our birds and were back at the ranch house.
Later that evening we took a drive a round the county and found these locals hunting in quite a peculiar way. One brother would drive the combine.
While the other did the gunning. Whatever works.
The next day came early. The skies were clear and the air was brisk.
We decided that it was time to push through the CRP.
And we were again rewarded with limits of rooster pheasants.
Back at the ranch before noon.
Restless and with nothing to do, we decided to go look for other areas that might hold birds. An easy task. The birds were EVERYWERE!
Painted.
Time to take the Ugly Dogs out.
Getting the job done. Heidi and Oprah.
TEX shot this "
Ken
" pheasant. Many of the marking of a rooster, no spurs; likely a hermaphrodite.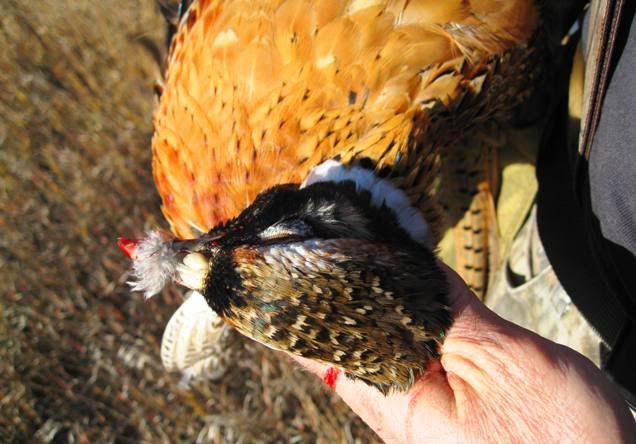 All the makings for a great evening.
Flush!
Jonesy and I.
A true triple. Three shots, three birds. Thanks to a great tracking job by Heidi.
So utilitarian. Three roosters, 1 GWP, and an autoloader.
My dating life in a nutshell. Better than being married though…
:wink:
More than you can shake a stick at.
Sunday morning coming down.
The coveted group photo.
And that's all she wrote.
Glad to be back.
CJ