Discussion Starter
·
#1
·
I had a successful muzzle loader hunt without even firing a shot as I went with a buddy of mine to help on his muzzle loader hunt. You could call me a guide as of sorts but don't want to be thrown into the guide pool of those who are accused of Pimping Utahs animals.
Below are some results.
This first photo is what I called home for 10 days.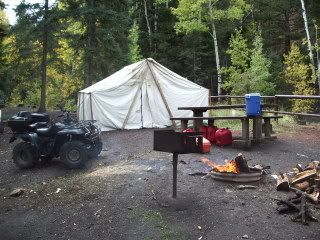 This buck was the result of waiting them out until good things happen. We had hunted many days and passed up on several VERY nice buckies. With two days left, we found ourselves in the middle of a basin that had held some dandies. We decided to not go back to camp for the noon hour but spend the whole day in the area that we had hiked into and just watch. About 4:00 in the afternoon, a huge 30" buckie came out of the trees. He had cheaters on each side causing him to be well over 30". My friend Sean was patient in waiting for him to feed closer even though he was at 180 yards. We wanted to make a perfect shot and why not, he was feeding up the basin? Any way he dissapeared into the trees again as he fed along them and like a ghost, he disapeared. Sean was dying a hundred deaths when an hour later, this boy walked out along with two other bucks and three does. They fed towards him and when he was at 152 yards and broadside, the muzzle loader clouded the air with smoke. He turned and walked towards Sean about ten steps and then stopped to look for a few moments. He then turned to walk down hill as the other 5 deer just stood and stared. He took a few steps down the hill and then did 4 summersaults down the hill to his final resting place.
He at first thought them to be all to small but only had looked at the other two. When this one finally lifted his head, he decided that he would do.
He is 29 1/2" wide with his main frame. He's 32 1/2" wide with the cheater. His G-2's are 20" tall. He has 39 inches of mass and scores a green score of 200 3/8.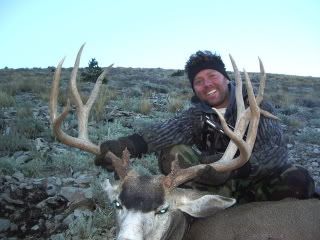 Finally packed out and back to camp, we settled down for one group shot.