Discussion Starter
·
#1
·
I am sure most were not out fishing Saturday morning but I was lucky enough to get an invite from two fellow forum members of UWN to go to the "honey hole". Now out of respect to them I will not divulge the location of this spot but WOW! I rolled up about 7am and this was a location you just got to know about, no signs, locals only that kind of place. The first hour was slow and very windy while it became bitter cold. We all decided to move spots across the lake and for 30 min it was fast and furious for me. The person who invited me also showed me how to fish for these fish and it is different much different from how I am use to fishing. I have more pictures but will only post these three of fish with minimal background. If any of you know where this is PLEASE keep it quiet.
The monster 20" 4LBS Tiger trout…
Sorry about the dirt but had no net and he flopped around a bit, I was so excited to get a picture and get him back in the water, but you can see he is a big hooked jawed male! I also had hooked into another fish that felt larger than this fish but as luck would have it the fish took me to the bottom and snagged me up. Yet, another tiger that broke my heart this year. You would also think these nice cuts came out of the berry but we were all surprised when I got them in a nice chubby 16" and 18" cut.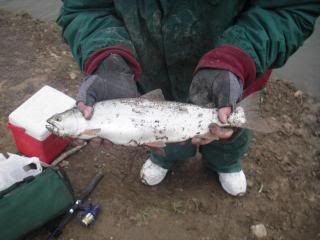 Thanks again for the invite, you know who you are! We will do it again only not in a blizzard next time. My fingers are just starting to regain feeling again and my toes are returning to their normal color!