Discussion Starter
·
#1
·
A good friend of mine is leaving on his LDS mission in just a few days so I decided to make the trip home this weekend for to say our last minute goodbye's. I arrived back home late Thursday night, and since I had nothing to do until Friday night, I figured Friday morning would be perfect to head out to Navajo Lake with my dad, a place I haven't been to for years.
We hit the road at around 9:30 that morning, and after a couple of stops we eventually started making our way up Cedar Mountain. As the road winded up the canyon, we started to realize that the weather probably wasn't going to be on our side with thick, dark clouds drifting into the area, along with strong gusts of wind. We arrived at the lake to see that we had it almost exclusively to ourselves: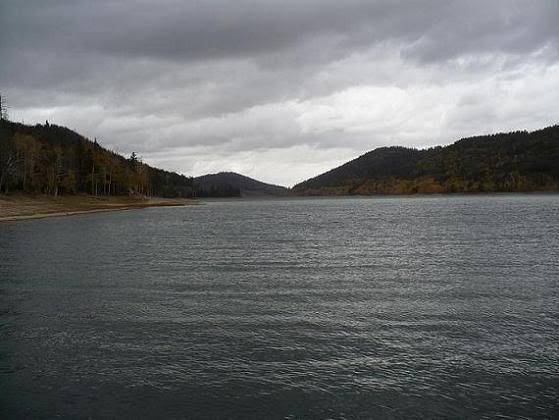 When I stepped out of the car, the cold wind hit me immediately, and it felt bitterly cold. Apparently the Southern California weather has spoiled me. :lol: We walked down a small revine to get to the lake and had all kinds of problems getting ready to fish with wind gusts easily over 40 miles per hour. I have heard that flashy lures like Jakes and Kastmasters have worked well at Navajo this year for Rainbows and Splake so I decided to tie on a Kastmasters to start out with. The wind seemed like it kept changing direction, which made it tricky to cast out one minute, and the next minute the wind would help to get my lure way out there. It seemed like every other cast I was pulling in a ton of moss, so after about 30 minutes of trying this particular spot with no luck, we decided to go closer to the dam. My dad brought most of our stuff up to the car to drive to the dam, while I decided to walk. Not too far down the shoreline, I discovered a place where the water appeared to get deeper closer to shore. I decided to cast out a couple of times just for the hell of it, and sure enough I had a fish on very quickly!
I got it up to shore, and sure enough I had caught my first Splake!
A little guy, but a new species for me! -/O\- (Sorry about the quality of the picture, I had to use my phone to take it because my dad had brought the digital camera up to the car with him). :x
I casted out a few more times in that same area, but had no takers. I continued to make my way towards the dam and met up with my dad. We alternated Jakes and Kastmasters for about another 30 minutes with no luck. I decided to tie on a black marabou jig to try for Brookies, and my second or third cast I had a fish on! 8)
Here's a closeup:
It was a 13 inch Brookie (although skinny :? ), but very pretty as well and fun to catch. I acually had a difficult time telling it apart from the Splake I caught earlier, but the distinct white at the edge of its fins and the yellowish-orange on the belly helped me identify it as a Brook.
We continued to fish for about another hour, despite the fact that it started to hail on us, and the wind was so strong at times that we had a hard time staying on foot. :lol: My dad caught a little 6 inch Brookie (sorry no picture), but for the most part the fishing continued to be pretty slow. I was hoping to complete the Navajo trifecta (Brooke, Splake, Rainbows), but we decided to throw in the towel because of the weather.
All things considered, it was a successful day. Sure, I wish the weather was better, but any day that you cross a new species off the list is a good day in my book, and the Brookie was an awesome bonus.
I really appreciated the beautiful drive on the way back through Cedar Mountain. I hadn't been up there for a long time. Here are a couple of pictures I took:
And some pretty foliage: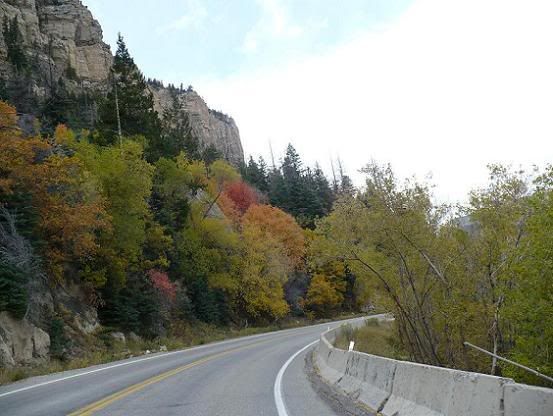 Time to go get packed. I'm flying back to California later this afternoon! :lol: Happy fishing!!!