Discussion Starter
·
#1
·
The cat has somewhat been let out of the bag but by Deercatcherguy on his thread but I thought that I'd fill you all in a bit on a journey that EPEK, Tex O Bob and myself are heading into. We have another person involved in in our orriginal quartet who is an archery shop owner. Since all of us are somewhat annonomous, we'll leave him that way too.
On September 28th of this past fall, ('07) Epek phoned me and said that he is tired of not getting broadheads to fly true. He knew of my frustration in the spring when I shot every broadhead under the heavens and had the same luck. It wasn't that we couldn't get some of them to fly but NONE of them flew like a field tip and hit in the same place as our field tips. We could change our sights to adjust to the broadheads but when we came back to camp we couldn't shoot for fun without being off. His frustration was with mechanicals as well since they ALL had something hanging out there to cause problems with the wind. He said, "I want to get a broadhead to fly by getting a few of us together and coming up with our own new broadhead that would have totally concealed blades. He told me of the other two guys that he would like to work on this project and he likely had the same conversations with them also. We began meeting and creating drawings. We met in Tex's shop and tried to make a prototype with parts lying around his shop. We could come up with the gest but that was it. Epek made a prototype out of foam and a tube from a paper towell roll. He took that to an engineer and off we went. We had it drawn by a professional and then machined. Last week we all spent three days at the Archery Trade Association show in Indianapolis Indiana. We took a handfull of prototypes and had a ball. We showed it to litterally thousands of dealers, exibiters, and hunting Celebs. We did not have ONE person that went away from us saying that our idea was bad. They all loved it. We have celebs wanting to shoot it on their show. We have dealers all accross the nation wanting to sell them in their shops. It was a fun event and we decided to open it to every one. We couldn't say anything about it before now as we just did the paper work on the patent.
It works off of the pressure on the head causing the deployment of the blades. They all open at the same time. I have a picture of it closed and open. The blades in the photo are not real blades but prototypes to show the effect.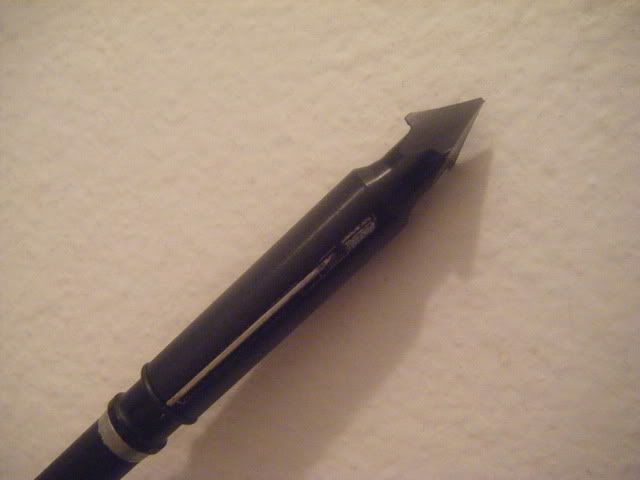 She flies JUST like a field tip because she LOOKS like a field tip.