Discussion Starter
·
#1
·
Well, let me start by saying thank you to everyone who helped make this hunt a success. We received a lot of very helpful information from guys on this forum as well as others who don't participate here. We had a lot of fun, saw a lot of moose and created some great memories.

Opening morning found us glassing an area that we had found several moose in during our scouting trips. As soon as it was light enough to see we found a pretty good bull following a couple cows and calves around. We spend some time looking him over and trying to decide if he was worth getting a better look at. While watching him another showed up about 200 yards from him that also looked pretty good. We decided he deserved a closer look and began the hike down into the canyon to get a better feel for what they were. We were only able to find the 2nd bull, the other was further around in a draw and we could no longer locate him. The second bull was bedded about 420 yards from us and gave us a good long look at him. He had 7 on one side and 11 on the other. I would guess he was close to 40 inches wide. He was also lame on his front left leg. We watched a bowhunter move toward where he was and he eventually moved off.
First Bull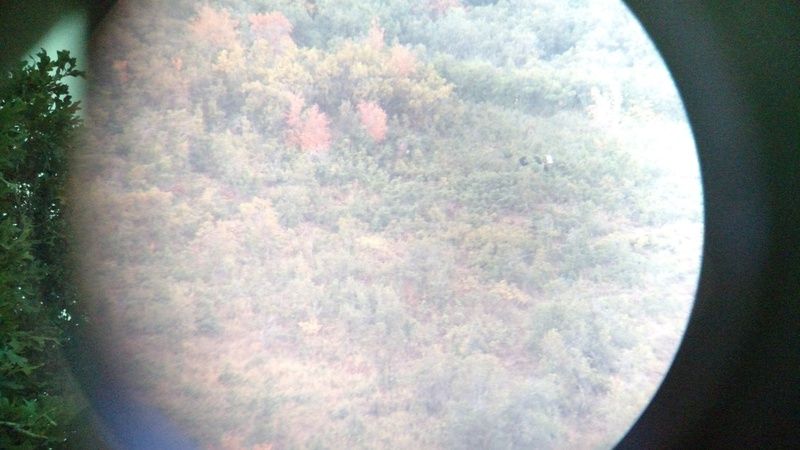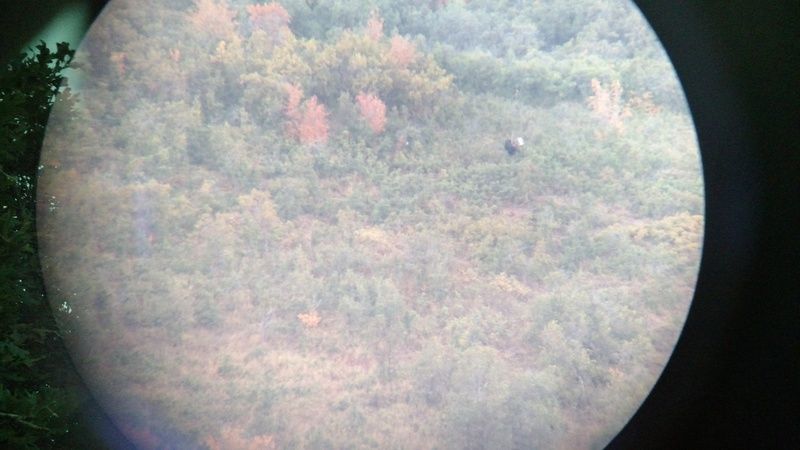 Second Bull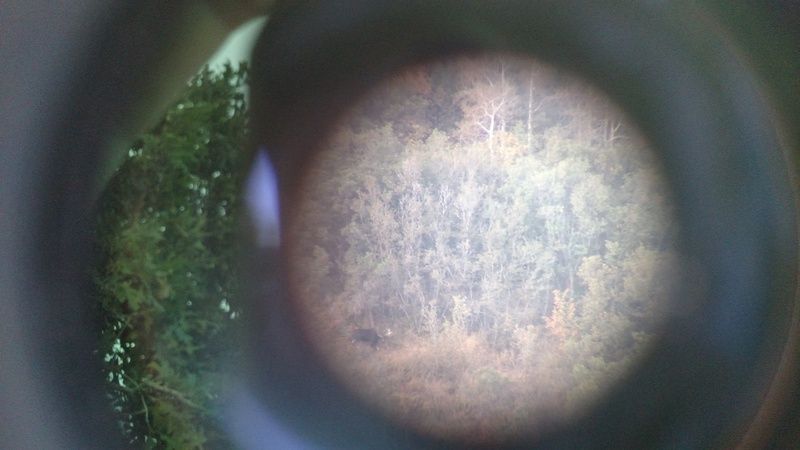 On the hike into where these bulls were we ran into this guy. He wasn't going anywhere so we had to skirt around him a bit.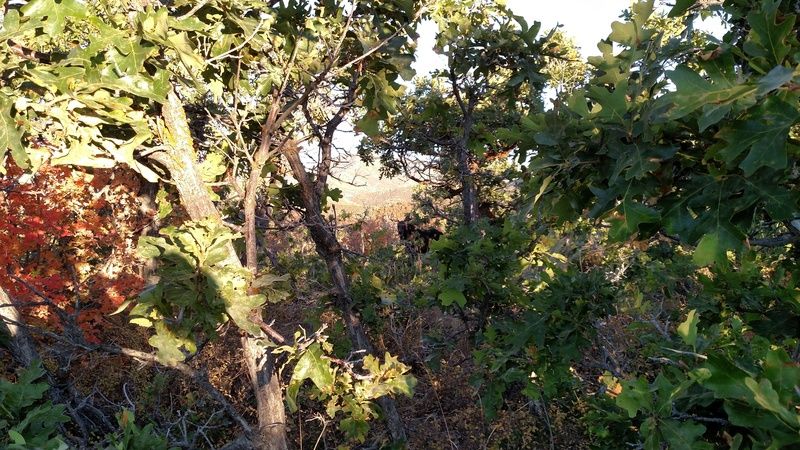 We ended up speaking to several bowhunters that morning, both of which had spend a lot of time in the area and had trail cams up that had pictures of multiple bulls in the area. We recieved a text later that afternoon from one of the hunters. He told us the biggest bull he had seen in the area had just walked under his treestand with another bull that was nearly as big. We gave our email to one of the hunters and he sent us several pictures off of his trail cam of some of the moose that were in the area.
We hiked up in hopes of catching one of the bulls, but we could not find them and decided to make the long hike back to the truck.
The following Tuesday we glassed the same area we had seen the bulls in on the opener and found a smaller bull in the same area. We decided to hike to the area that the big bulls had been in on the opener, but had no luck locating them.
We spent most of the afternoon trying to stay out of the rain. Around 4:00 we located a couple of small bulls but nothing to get to excited about. After glassing for a while we could not find any other moose and headed back to the truck wet and tired.
My dad headed back out Thursday with one of his buddies. They went into the same area again where they saw a few cows and small bulls. We were seeing fewer moose in the area we had seen on the opener and little sign on the water holes they had been using. Most of the moose seemed to have moved over a couple of canyons and we could not locate any of the better bulls we had seen earlier.
They did run into these two bulls right in the middle of the trail about a 1/4 mile from the truck.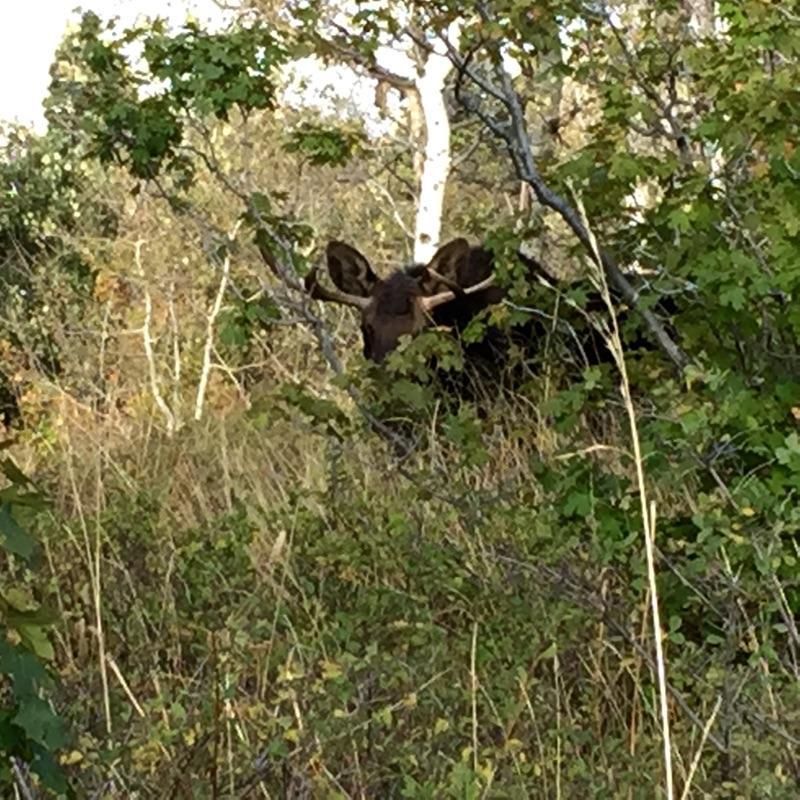 Saturday we headed into the same area. We glassesd into the area we had seen moose in early in the hunt, but again found it empty. We did see a cow directly below us and then saw a group that we couldn't see well from our vantage point and in the poor light.
We decided to hike down the ridge to get a better look. As we moved down the ridge we kept an eye on the cow hoping to see a bull with her, but if there was one there he never showed himself. When we finally found an area we could glass from we looked into where we had seen the moose earlier and could see 3 moose. They all appeared to be bulls, but they were moving through the brush and we couldn't get a great look. We moved down the ridge a little further and glassed again and there were 5 moose together, 4 bulls and 1 cow. We looked down the ridge a little further and found two more cows about 500 yards below them.
We glassesd the bulls for about 2 hours and determined there wasn't a shooter with them. There was a bull that was quite wide, but he was only a three point with no palmation at all. There was another bull with 5 on one side and 3 on the other and again very little palmation. The best bull had good palms and 8 or 9 per side, but he wasn't particularly wide and given his location we decided he wouldn't be a shooter. There was also a young bull with them.
Wide 3 Point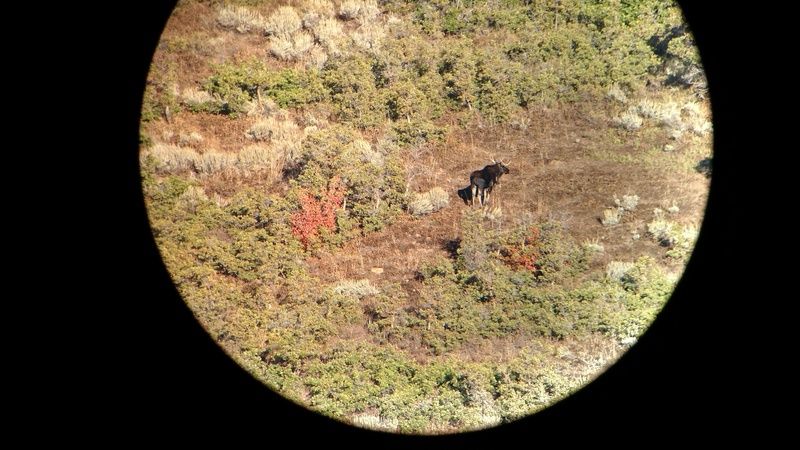 4 Bulls, 1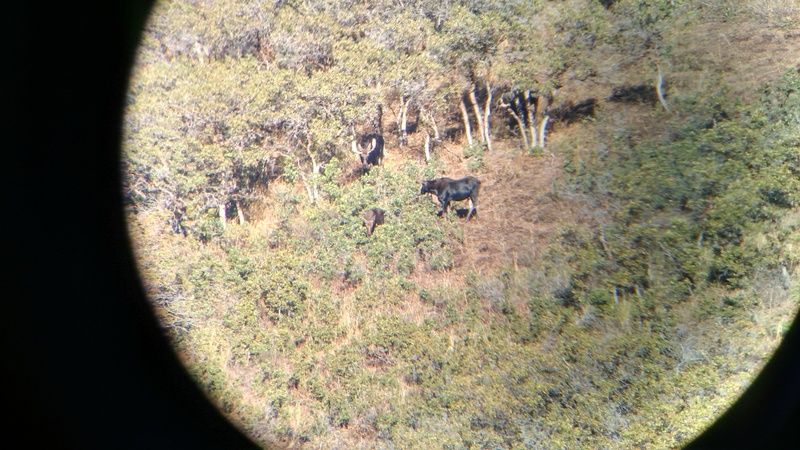 Cow
Check out the waddle on the 5x3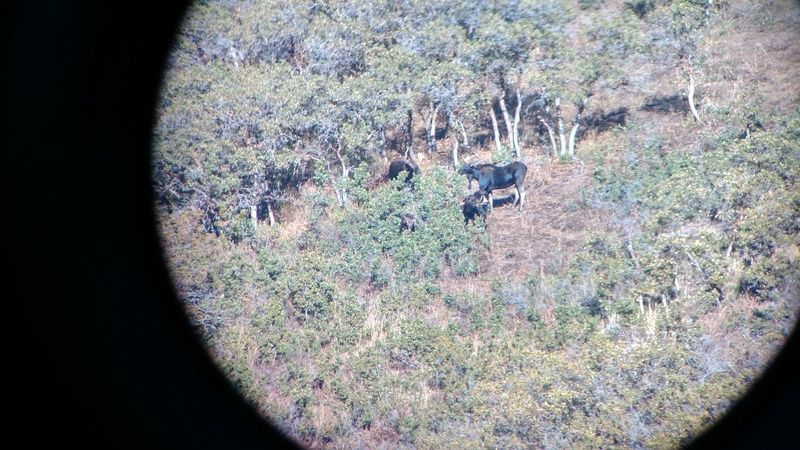 Good Bull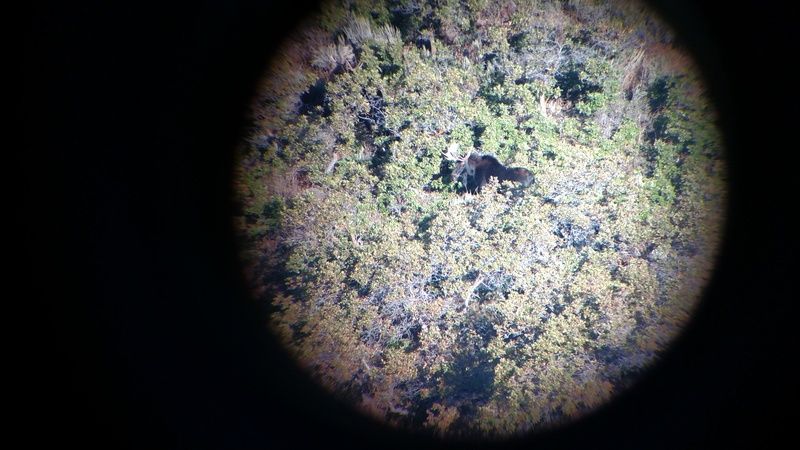 Young Bull
As we were glassing them we saw another moose hunter we had talked to at the trail head moving toward where they had bedded. We assumed he had located the bulls and was going to try and kill one. We sat down in hopes of watching the action take place. Just as he reached the point where he could have moved into position he dove off the ridge and we never saw him again nor did he ever shoot. I guess he either didn't see them or decided that they weren't worth the effort. We spent the rest of the evening glassing and didn't turn anything new up.
Monday my dad headed out on his own and decided to hike into an area we had been told about earlier. We had scouted it, and found some water, but hadn't seen any moose. I had to head back to work and so he would be hunting solo. He had been hiking for about 2 1/2 hours and decided to sit down and take a breather. He took his pack off and sat it down when suddenly a bull came out of the brush about 70 yards below him. He looked it over and decided it was good enough.
If you didn't know this...moose are not easy to kill. He put the first shot into his chest cavity and the bull acted like nothing had happened. He shot again and the bull looked at him, lifted his leg a bit and again seemed mostly unaffected. My dad watched him for a bit and could see his breathing was beginning to become labored. He shot him a 3rd time and the bull dropped.
He began to move toward the bull and suddenly a cow appeared out of the brush as well. She moved to the bull, smelled him and proceded to lay down next to him. My dad called me and let me know he had a bull down and gave me the details. I told him I would head out and help him take care of it. He spent the next 20 minutes trying to run the cow off by yelling and throwing rocks and sticks. Finally, she got and moved off. When my dad got to the bull she was standing about 20 yards away with a calf.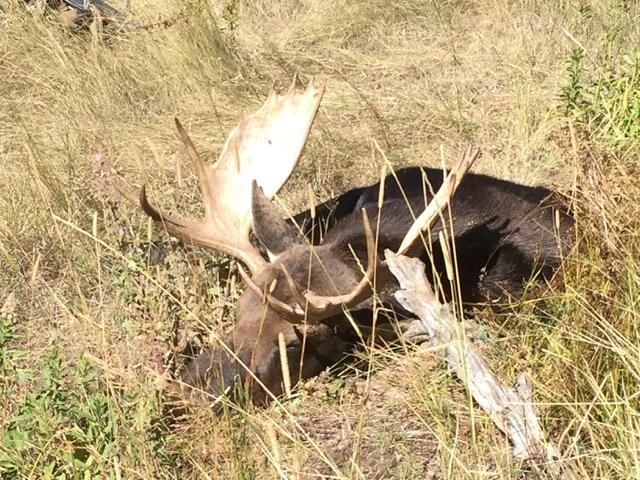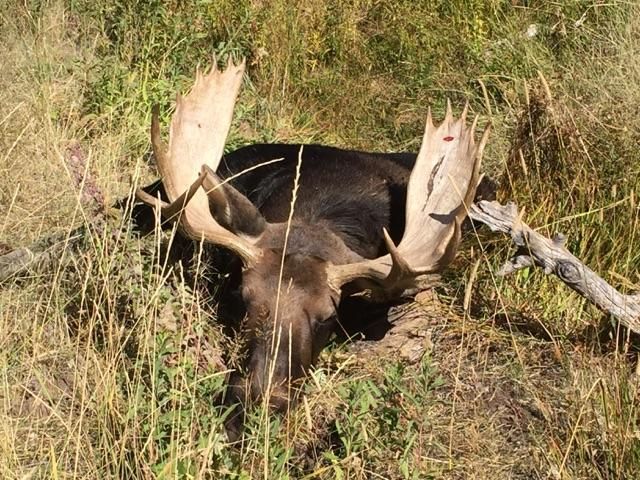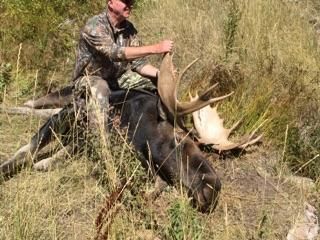 Big Animal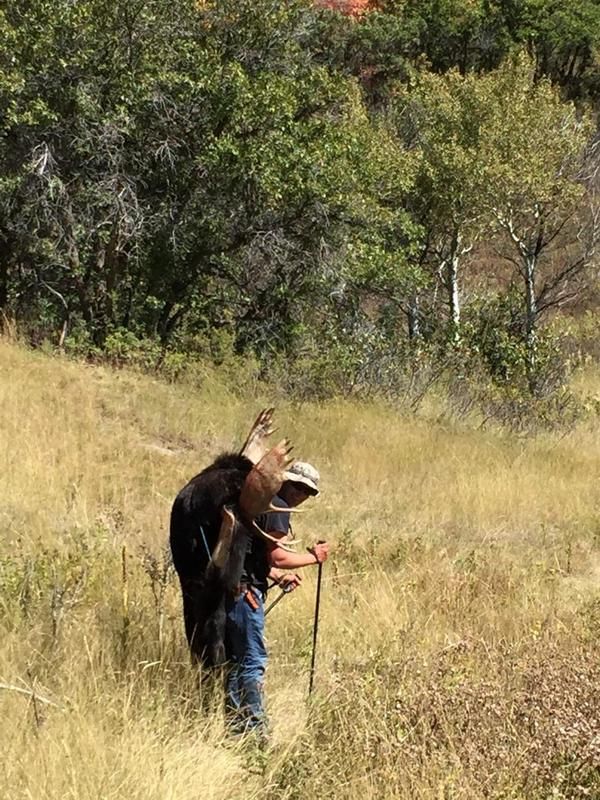 Cow with bull
We got a group together and got the moose off the hill without too much difficulty. Turns out the bull my dad killed was on the trail cam pics that we had recieved from the bowhunter we met on the first day. It is also possible that he was the first bull we saw on opening morning. That bull was fairly narrow with good palms...particularly on the left side. It was too far away to be sure and the pictures are too grainy to make a good comparison, but he was only a hundred yards from where the pictures had been taken.
Once again, I have to say thank you to all of you who shared information and help make this hunt a success.