Discussion Starter
·
#1
·
A few forum members decided to get together today and after much deliberation during the week, Jordanelle was selected as our destination.
Orvis1, STEVO, his buddy Darrin, bucksandducks, holman927, JAT83, Weekend Warrior, and I met all showed up and got our holes drilled. Most of those guys beat me there, thanks to last minute trip to Wal*Mart for the wifey. I also had to park out by a maintenance shed quite a ways from the boat ramp. My car probably would have bottomed out in the snow, so I took a hike. I got to the group and they reported that they'd just started fishing.
Right off the bat, holman927 had the hot hand and hooked into a rainbow.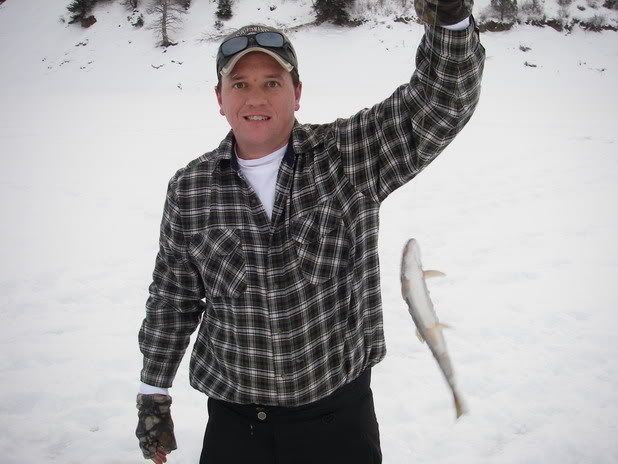 Orvis1 had a taker right away, but it slipped free at the hole.
The bites were coming pretty regularly, but we weren't always getting to them in time. I got a solid bite and got this little guy to the hole before he thew the hook inches from the top. In its confusion, it made a couple of splashes and jumped right out of the hole and onto the snow. We all had a pretty good laugh about it.
Holman continued to pull up a few more and a couple of perch too. The water in our area was only about 13 ft deep or so and the bites were coming close to the bottom. The ice was about 5 inches on top with about 3 or 4 inches of slush under that and then another 7 to 8 inches of ice under that. I drilled a few holes with the manual just to see what that was like. Not too bad, but still pretty tedious.
JAT83 finally rounded one up:
Orvis1 waited patiently for any sign of life under him, but didn't get much action. He missed a few more and started talking about Currant Creek. STEVO and Darrin set up a tent, so I'm not sure how they did. I got another bow, a tiny perch, and then missed a few more, Weekend Warrior arrived and waited patiently, as well. I think bucksandducks scored one a little later.
Overall, it was a pretty slow day and the bite had basically disappeared for at least 2 hours. Everybody either left for Currant Creek or went home. I decided to stay and exploit some of those abandoned holes. :twisted:
About an hour later, I ended up chatting with another group near by and as soon as they left, I pulled up another one. One of the people from that other group ended up landing a rainbow that was noticeable bigger than the average bow for the day: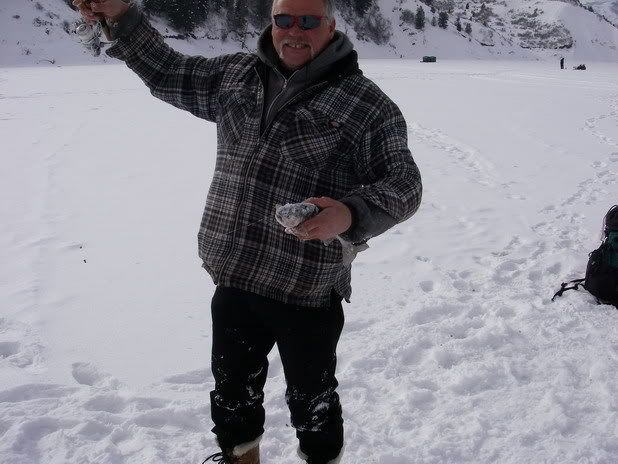 Not the best pic, but the fish was probably 15 or 16 inches.
Another hour later and I pulled up my last fish for the day. All my fish were about 13 inches and looked like clones of each other, :lol: so I kept a limit today. Fishing time was over for me and I packed up to leave.
As I stowed my gear, I spoke with some departing people who claimed that they'd been pretty steady closer to the mountain across from the boat ramp and West a little. They all caught plenty of fish and kept a few.
1 of my fish came on a jig tipped with a mealworm. The other 3 took a nightcrawler dropped weightless on a baitholder and tipped with a power egg.
It was good to get out, meet some people from the forum, and catch some fish through the ice. I still can't wait until ice-off, but this ice fishing thing is pretty fun.
I'm looking forward to hearing how Currant Creek went for those that made the trip. o-||
Happy Fishing, Humans.