Discussion Starter
·
#1
·
Have you ever had a day when you just wanted to go for a drive and get a "full" day of fishing in? That was my mood on Saturday and being the compulsive person I am I headed out a 4am to hit the lake with Chuckmiester and Greenguy88. Good to meet you Chuckmiester and good to fish again with you GreenGuy! I caught into my first fish before either of them had shown up with a sculpin bugger, if you look close you can see it hanging out of its mouth!
The action was steady all day, no monsters this week but 13-16 inch trout all day long caught on a variety of methods the best today was on flies. The fish caught on the lucky craft lure had 3 fish follow it to shore so I stopped reeling in and let the lure drop. The lure was in about 6 inches of water and this tiger swam up and grabbed it, it was a great show we could all see! I did pop for the lucky craft lure and this was its first maiden voyage, I would say $15 well spent!
I stayed at the lake until about the noon wind came up, the weather was perfect and the trout kept coming, here is another example of what we were catching: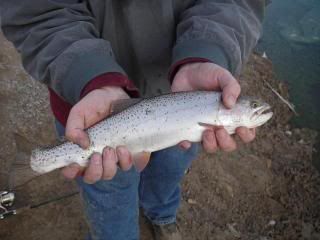 Chuckmiester was making them pay with leaches on the fly rod, and greenguy88 made a big splash catching 3 fish within 20 min of his arrival, way to make an entrance. I have a two-pole permit and we had a double hookup and a third fish came 2 min after landing the first two fish. It was very visual fishing because about ½ the trout hit the bugger within 5 feet of shore and I could see them take it.
That would have been a day for most but I though heck the green is only another 1-½ hours away why not give it a try. I miscalculated and 2 ¾ hours later I pulled up to little hole.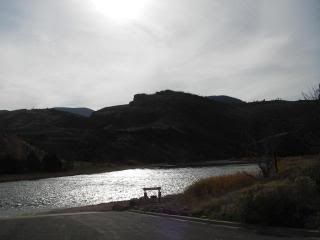 It turned out the water was as low very low, and tons of moss along the shoreline and overgrown foliage to cast through. I did pick up one fish but due to a perfect long distance release I have no photo to share. What a humbling day, my last trip to the green produced more than 10 fish today 1 hookup OUCH. That is fishing for you!