European Sparrows were introduced to North America in New York City in 1852 to control the Linden Moth. Since then the little birds have done well, spreading across the continent. They've done especially well on my bird feeders so well some sparrow "management" was warranted.

Europeans have eaten sparrows, and starlings, since ancient Roman times, maybe longer. In the book Unmentionable CUISINE author Calvin W. Schwabe has no less than 15 recipes for sparrow and other small birds. Schwabe describes small bird casseroles, broiling, grilling, soups and stews, sparrow pies, and crunchy deep-fat fried sparrows that are just popped in the mouth eaten whole, bones and all! Schwabe says "In the Middle East and elsewhere, the smallest broiled birds usually are not drawn and are eaten bones and all. Uh...I'm just gonna skin mine for now, thank you.

I've put a few things together with stuff laying around in the fridge and pantry. I'm calling it "Sparrow Surprise".


Sparrow Surprise


Ingredients:
5 - house sparrows, skinned whole
12 oz - ground pork sausage
5 - sweet mini peppers, tops removed and cored
2 - sweet mini peppers, diced
1/2 tsp - fresh thyme, minced
1/2 tsp - fresh Rosemary, minced
Instructions:
·

Soak the birds
overnight

in lightly salted milk.
·

Preheat oven to 350°
·

Blend the diced peppers, thyme and Rosemary with the sausage.
·

Pack 1 tbsp of sausage into the bottom of each mini pepper.
·

Tightly stuff 1 tbsp of sausage into the body cavity of each bird.
·

Push a stuffed bird into each pepper "head first".
·

Fill any voids between the bird and the pepper shell with sausage.
·

Form a ball with the remaining sausage and place in a small casserole dish or bowl.
·

Position the stuffed peppers on the ball of sausage.
·

Bake in oven for 30 minutes or until the peppers are done.
Comments:
·

Can substitute sweet peppers with jalapenos or pablano peppers.
·

Leave the heart, lungs and liver in the body cavity if you like.

Not too complicated:
Soak the sparrows overnight in some lightly salted milk: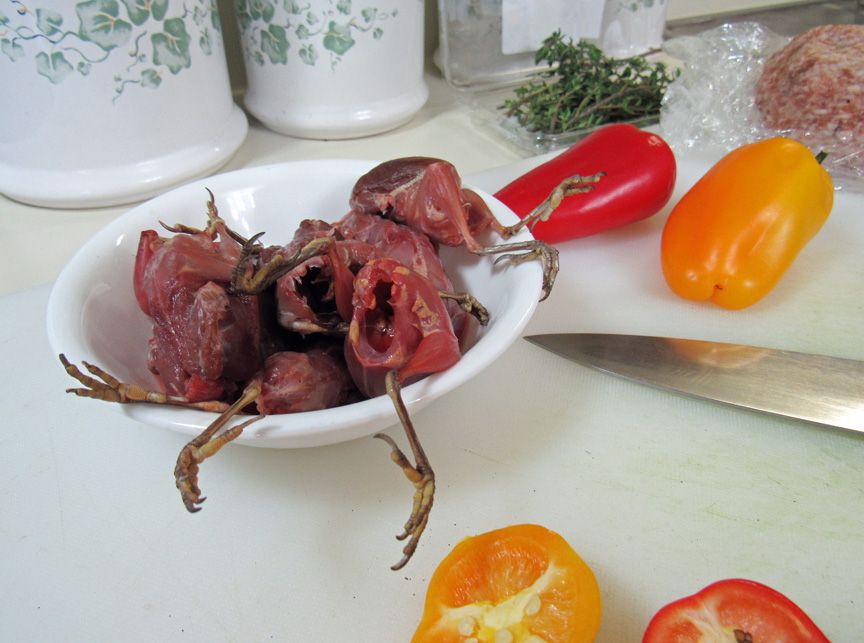 Mix this with the pork sausage:
Don't overcook:
The meat is mild-flavored, not "birdy" like dove or starling: