Discussion Starter
·
#1
·
You have heard of the Clint Eastwood movie, "Two mules for sister Sara". Two mules couldn't have made it where I took my little Sara.
I believe that Benjamin Franklin said it best when he said, "One of life's greatest moments is that of a Father and a daughter teaming up on a Buffalo hunt."................................Ok, he probably didn't say that...............it could have been George Washington or some one else like that..........................Well if your going to press me like that then I have to admit that neither of them said that. That is simply cause they didn't have the daughter that I do.
Sara drew her once in a lifetime Utah Buffalo tag in the spring of this year while at the ripe old age of 17. I have been anticipating this hunt every day since then. She on the other hand would give me an occasional smile and a "dad, your weird" comment as I would let her know of my excitement.
The big day came, and we found ourselves setting up our wall tent on the east side of the Henry Mountains on a plateau called Coyote Benches. Our sight had a beautiful balcony view of The Hillers and a side porch view of Mount Pennell. The weather was beautiful and the only cloud in the sky, was the one hanging over my head as I parked my truck, I heard the trailer tire blow. The reason for the lame tire was the fact that I had three of the four leaf springs broken....................Not a problem, we will solve that later as we have a picturesque view and a Buffalo to hunt.
In the middle of the night, I had friends show up to help in the hunt. One showed up at around 11:00 and somehow slipped into the tent, put up his cot, laid out his sleeping bag and crawled into bed without me noticing until an hour later when I heard another friend (Mr. Henry Mountain) coming up the road. As I awoke to welcome him, there was the first one, sleeping in my tent. (I'm glad that he wasn't the booger man or I would have been had.)
We had seen a herd of 28, the night before the hunt but elected to not hunt that group as every one else had seen them also. We went another direction in search of "Tatonka". We saw one bull late in the day that we had spotted about 1 1/2 miles away. We would have had to pack him out on our backs that entire way and after a first, second and third thought, we elected to save him for another day. As I made it back to the 4 wheeler, Mr. Henry Mountain was frantically calling me on the radio. He had a dozen spotted, not far from the road. By the time we got there, it was too dark to make a plan for them. Another group happened to see them right at dark also and were there at first light Sunday morning to kill a big bull out of the group.
Sunday morning found us getting ready to attend church in Hanksville. We would go to Hanksville, attend church, make some calls to home for enough bailing wire or parts to Jimmy rig the trailer enough to get us home. Another friend from home got me a few Leaf springs that my brother could bring down in the morning. Life saver, yes, but when was I going to work on the trailer, we had a hunt to do.
In church I was sitting next to a guy and asked him what he did for work. He mentioned that he was a jack of all trades and did what ever to survive. I said, Wanna fix a trailer? A few "What've ya got's" and he took my tire to fix it and said he'd be there in the morning to do the leafs. We had a good time reacquainting with the great people in Hanksville after meeting them while down there for my other friends deer hunt in September. There are some good people there and I feel like I've made some great friends.
The next day Sara, my son and myself went out in search of Bison as my other friends had all left and my brother and nephew had not arrived yet. There they were! A herd of Bison with about 40 critters in it. They only problem was they were many miles out into the "no mans land." We could see an old road and as we were trying to figure a way to get to them, my brother and Nephew showed up. We decide a way to get to them and off we went. Our plans were foiled when there was NO way in. By the time I figured that out, I was a long ways from camp. We had looked for a road by going half way around the mountain and then on the way back, Sara and I ran out of fuel. Luckily we got a hold of my brother on the radio and he went for fuel. He clocked it on his way back and we were exactly 25 miles from camp. (not much chance of making that on what fuel I had) I got a hold of MR. Henry Mountains on the phone while out looking for the road and he informed me that the only access to the area where the Buffalo were, was about 200 yards from where I had spotted them. We made it back to that point just before dark. I had spent an entire day chasing a road that didn't exist. I found the access to the area and saw that the buffs were still there in the same place......................why would they move anyway?..........................The next morning, we spotted the buffs about two miles from where we had seen them the night before and they were on the move. We headed out to where we had last seen them doing some amazing cross country feats. My leaf spring mechanic joined us. We got through some of the biggest washes and crags that I could imagine. We arrived at the last spotting of the bison area at about 11:00. We were hours behind them. Sara and I began to walk so we didn't scare them with the 4-wheelers. Leaf spring guy joined us while my bro. went back for more fuel as it was obvious that we were going to need it. We walked the desert for about 3 miles before seeing the tracks start to spread out and give us hope that they may have gone into a feeding mode. Just as I was walking up to a butte to get a look-see I heard my leaf man call me on the radio to say that he could see them just ahead of me. What a relief. I wondered if they would ever stop. He went back to intercept the rest of our group while Sara and I watched the buffs through the spotting scope. They cooperated great for about 10 minutes and then walked over a hill. I worried that they were lined out again so I told Sara that we need to get going. We walked up the river bed that was a deep wash to stay out of sight and hopefully direct our scent in a safe direction as the wind was blowing towards them. We spotted the top of ones back. I watched her for a moment and she began to run. No.........this can't happen, we've come to far for them to smell us and be gone. We continued to scurry up the draw when I noticed the herd just milling around and were not scared. The one running must have just been playing with the others.
We rounded the bend and I could see two Buffs. I was in shock as I looked through my binoculars to find that the only bull that I thought worthy of shooting from that herd was one that I could see. That just doesn't happen..........not for me at least...........Maybe it was because it was Sara. I got her set up at around 150 to 200 yards. She was ready. The bull was standing right where we need him and quartering away from us. The perfect shot. She drew down and after what seemed an eternity of coaching her on where to hit it, Ka-boom! He dropped slightly, I heard the wack and off he went. The herd quickly joined him to their feet and they were gone. Although they slowed down quick and then stopped to look around at what they were scared of. We waited for them to leave over the top of a little rise so we didn't spook them. We surely couldn't shoot again as there was a sea of brown and we didn't know if the one she had hit was down. They left and we found nothing. As we topped the next rise to continue looking, they were standing out there at 100 yards saying "Shoot me", but again we couldn't see him nor did we know if he might have gone down in the draw between us and them. Our search frightened them and all we could see was a cloud of dust that went on for a mile or so. Empty in our findings of a downed buffalo again. I was sick. I knew Sara was spent. We had just tracked them for 3 miles and they were now a mile ahead of us and still running. We looked for forensic evidence of our hit and found nothing. I knew inside that she had hit though as the unmistakable thud still sounded in my mind.
The others brought the wheelers to us and off we went again on their trail. After about two miles of following their tracks on the 4-wheelers, We noticed a cloud of dust ahead of us. We had spooked them again! I told everyone that I was going to walk with them instead of riding or I would never catch them. Off I went and I had Sara at my side. What a trooper! She wasn't near as enthused as I was, I have to admit that but she was determined to give it her all. We hustled along and within a mile had caught them. They were milling around some Cedars and then began to lay down. As luck would have it, the bull laid down near the front of the herd and was behind a cow. All we could see was his head. My brother had caught up to Sara and I and he watched the herd from about 175 yards as we crawled to a spot with a better angle. We put the gun up over a rock that was higher than the wash we were in and poked our heads up. We were in a good spot! We discussed again where to hit it and which one it was. Just as she was going to shoot, I said "Wait, are you sure which one it is?" She agreed that she was on the right one and..............................Ka-boom! This time as the herd jumped to their feet and began to scurry, we saw one laying there still. She had done it! She just finished her hunt in a fantastic way. We were done chasing Buffalo. We watched the herd as they confusingly left. This time we didn't care that they were leaving. What a great feeling................My daughter had just filled her once in a lifetime tag and I was elated. Big hugs followed the moment and my cheers filled the sky. Even the sight of that HUGE animal and how were we going to get it out of there didn't slow the emotional feelings of that great moment.
Pictures followed and then the thought of getting him out of there became a reality. My brother thought that we should take care of him and hang him in a tree until morning. We could build a fire until morning and go out in the light as we only had an hour of light left from when she had shot it. My leaf man insured us that he could find his way out of that unbelievable country in the dark. We loaded him up on two 4 wheelers. The back end on one and the front including the head on the other. It was quite a load.
I found myself tipping over backwards several times as I tried to go up hills and out of washes with the 600 pounds on the back of my machine. I am still in awe of what a 4-wheeler can do. We worked our way out of there doing a "for some must push and some must pull" method (and some must hang off the front for counter weight) for several hours and made it to camp by about 1:30 am. We skinned for an hour and a half and slipped into a cozy warm bed at just after 3:00 am. That didn't matter, we were done and had a great time in doing it.
It wasn't easy by any stretch of the imagination but it was worth it. The biggest thing for me was I had a great experience with my daughter and that memory will never be taken away. Those that don't understand hunting.....................That is what it's all about.................... Creating memories with family and friends! Even the trailer tire blow out on the way home wont dampen my spirits.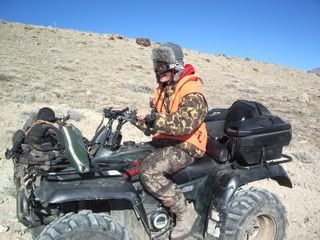 She was always dressed for the cold
A proud moment for Papa and Sara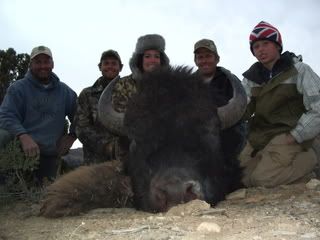 The family pose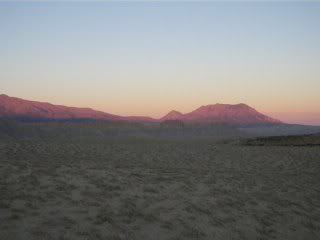 This is the country that we were hunting. The kill sight is right behind the camera. That is a heck of a long way from our camp that is through that lowest part in the mountain near center. We were 8 miles beyond that pass.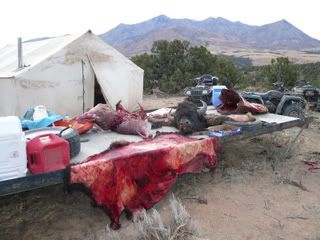 Home sweet home. That's what a buffalo camp looks like on the morning after a great hunt.
I don't think even a tube will repair that one. Any one have a can of fix a flat?