Discussion Starter
·
#1
·
The second weekend in September last summer, my boss flew us out for a few days of fishing at random spots……although the Talachulitna River (a very popular rainbow trout river for "visitors") was on our radar. We flew out in his piper cub to a favorite little stream he calls "Sweet Creek" of the Yetna River. The view of Denali
(Mt. McKinley) was spectacular:
Bob landed at the mouth of the little creek and we found it was inundated with chum salmon (sold out of Washington as "keta" salmon as the names chum or dog salmon don't sound so economical wise). Caught and released several of those despite not wanting to bother with them. Surprising the dolly varden were scarce to some degree and we only picked up the occasional fish and we moved up river. Caught two out from under a couple of logs that were just spectacular in spawning colors: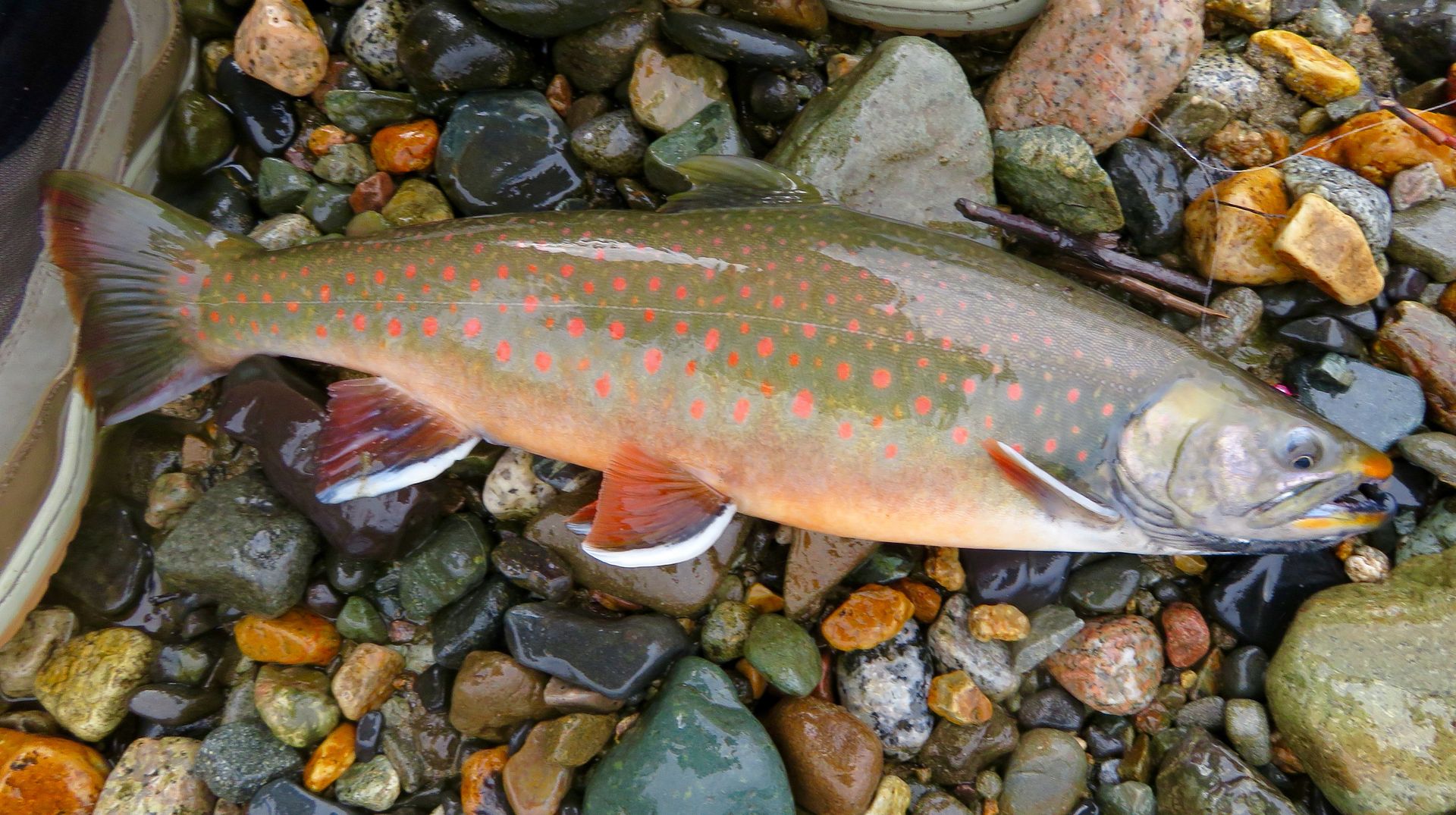 That second fish was just as pretty as dollies can get. As we moved upriver we caught a bunch of smaller dollies but nothing of any size. Bob was wondering if there were any rainbows in the creek as he hadn't seen any in years. Not long after that I caught a pretty little bow:
Then proceeded to catch 6 more rainbows on the way back down the river to the plane….guess that question was answered. We took off and headed back down the Yetna, which is a large fingered, glacial silt filled river, and could see massive schools of chums in some few areas with clear water. We pulled over to fish on such river finger. There were no dollies because there were just too many chums in the water and they would have been ripped to shreds by the salmon. Did catch a couple of chums:
This one area had hundreds of chums and they were all incredibly sized…..all in the 18 to 30 lbs range….it was amazing. From there we zipped on over to Bob's new cabin on an isolated lake off the Skwenta River. Here we actually had a grass strip to land on:
Guess it would be called Hewitt Lake International Airport…..haha. The terminal facilities left a little bit to be desired:
We put the little boat in the water and motored down to the cabin to spend the night and then hit the Talachulitna in the morning. As luck would have it as we were munching on dinner we saw a boat go by on the lake which happened to be not only one of our patients but one who was a guide on the Talachulitna. Bob called him and we went over for a little visit….he was here to fish the river and Bob volunteered to give him a ride over and he offered to "help us out" fishing the Tal. So in the morning Bob shuttled Arthur and then me over to the river and we started fishing.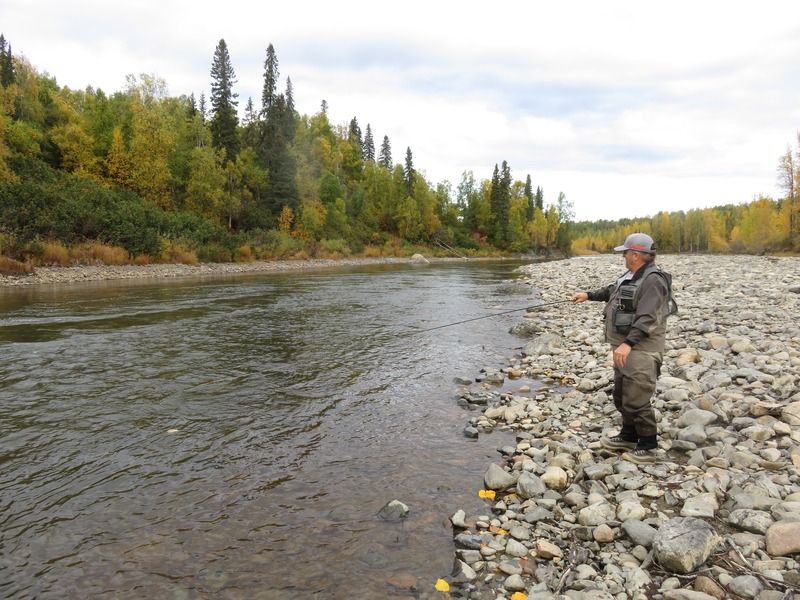 We used egg patterns to no effect and started trying other flies….I switched to my favorite sculpin patterns in mossy green and soon started popping some rainbows: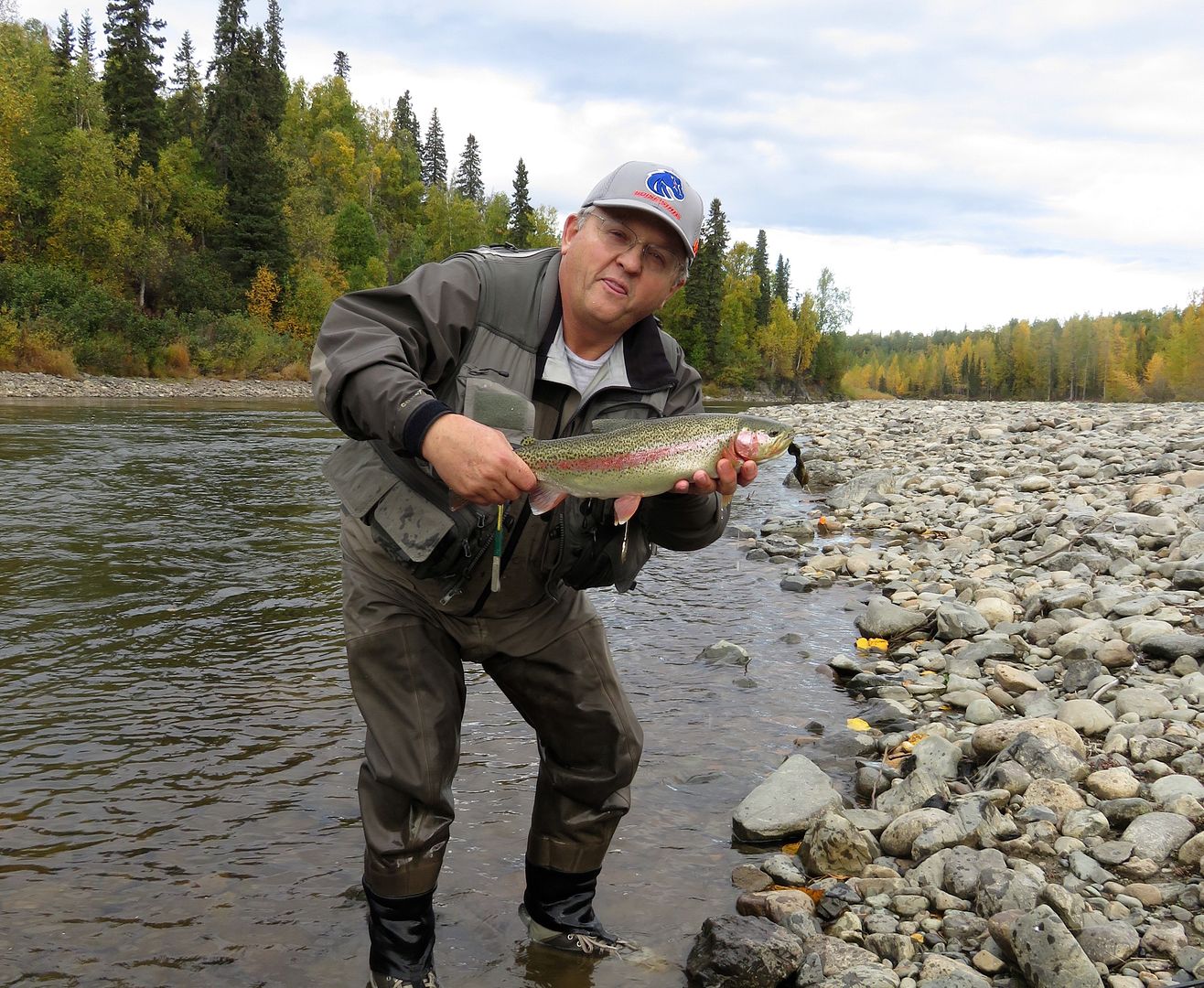 There weren't a plethora of fish but we had pretty consistent action on rainbows from 12 to 20 inches for the rest of the morning. Arthur couldn't help but play the guide as we landed fish: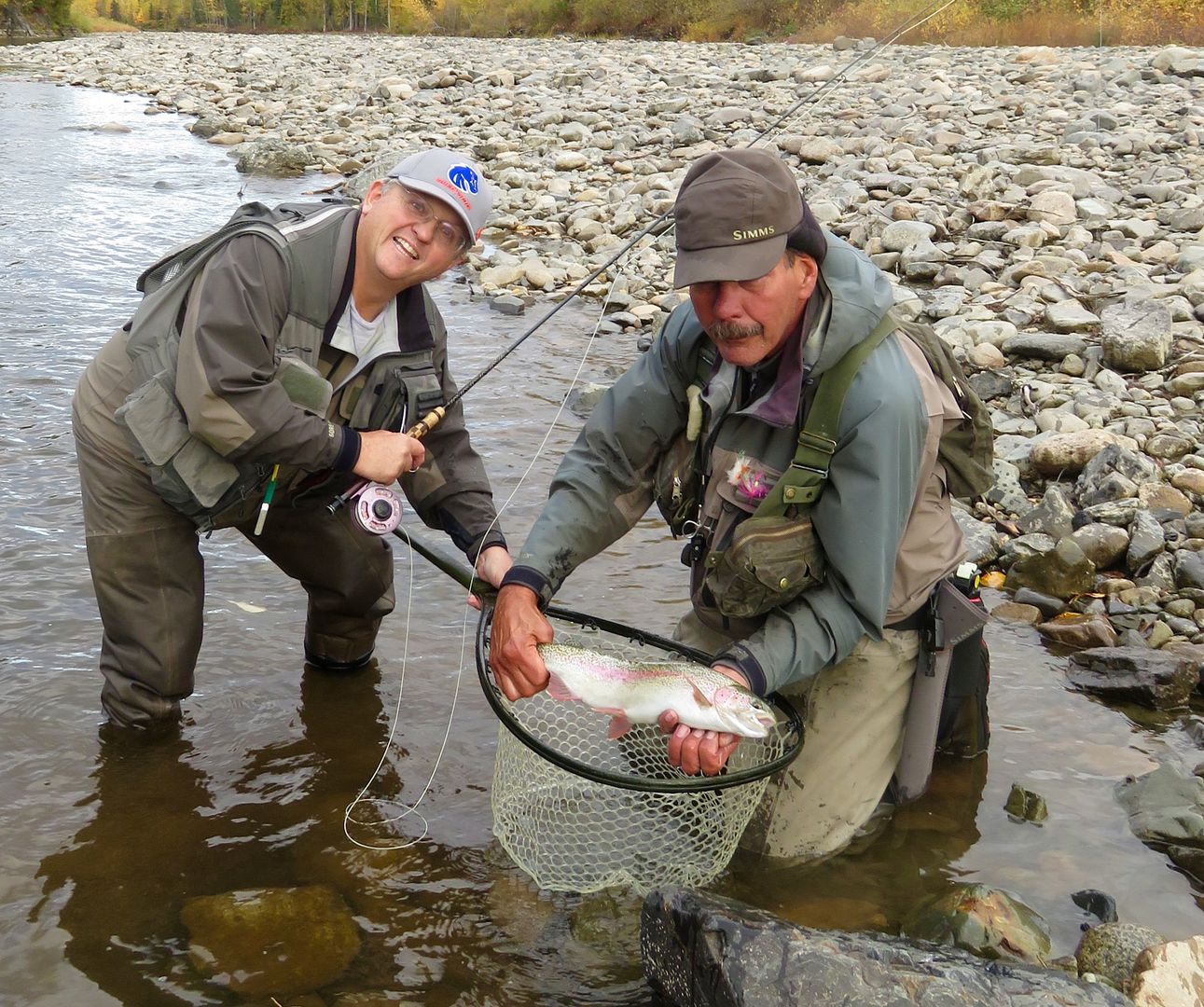 Of course we never saw another person or bears for that matter. It was a lovely tranquil moment in time…….until I looked upriver and there was Arthur and Bob fishing…or so I thought until I noticed Bob was on the phone.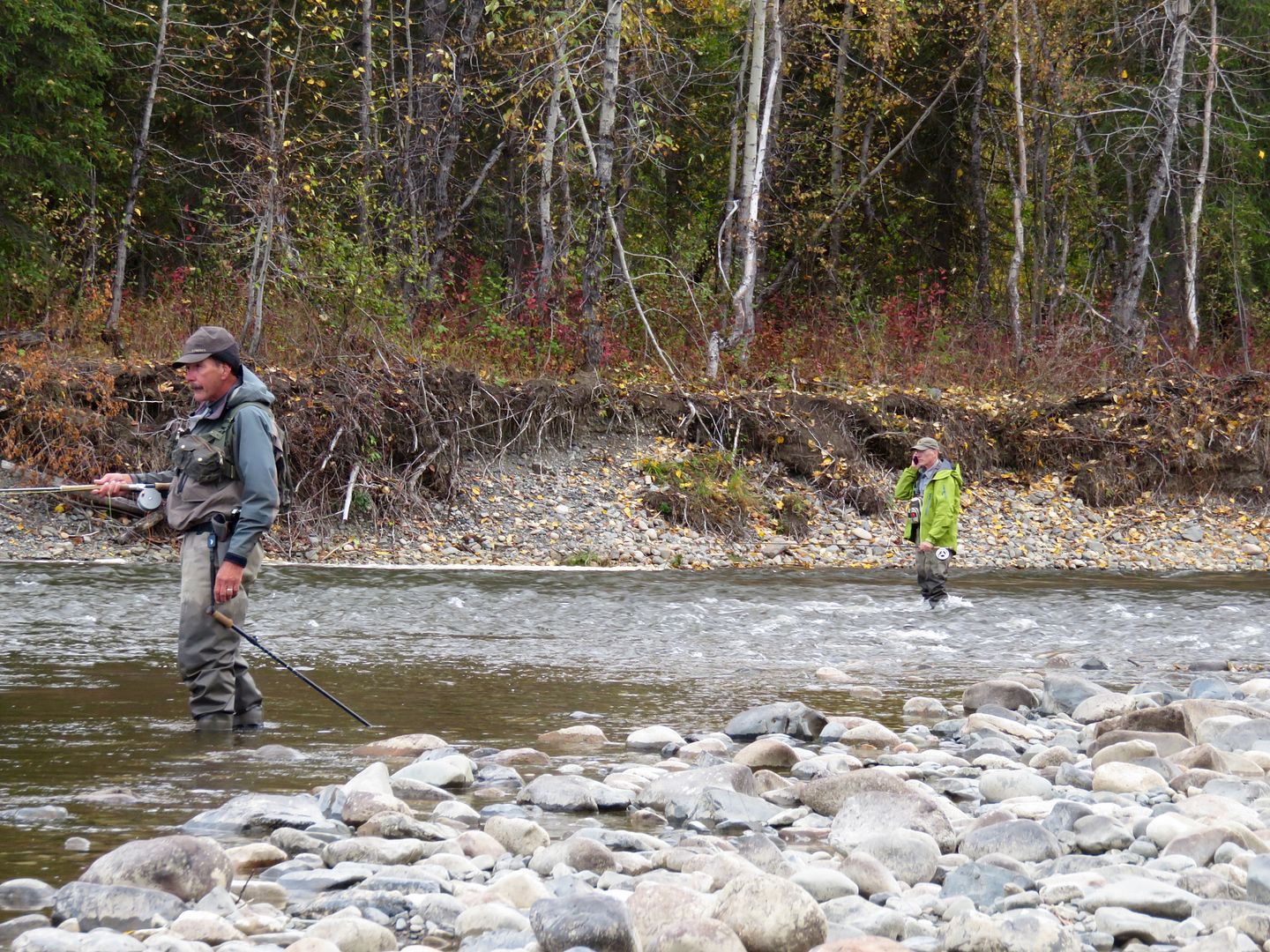 That was just so wrong with the setting we were in….oh well, so much for being out of civilization. At one of our river crossings I caught and wrenched my very sucky bad knee and couldn't move on the rocks very well….this caused me much consternation (don't I look consterned????):
Bob figured it would take all day for me to hike the mile and a half back to the plane so he just set me on the rocks overlooking a beautiful hole we'd taken several bows out off: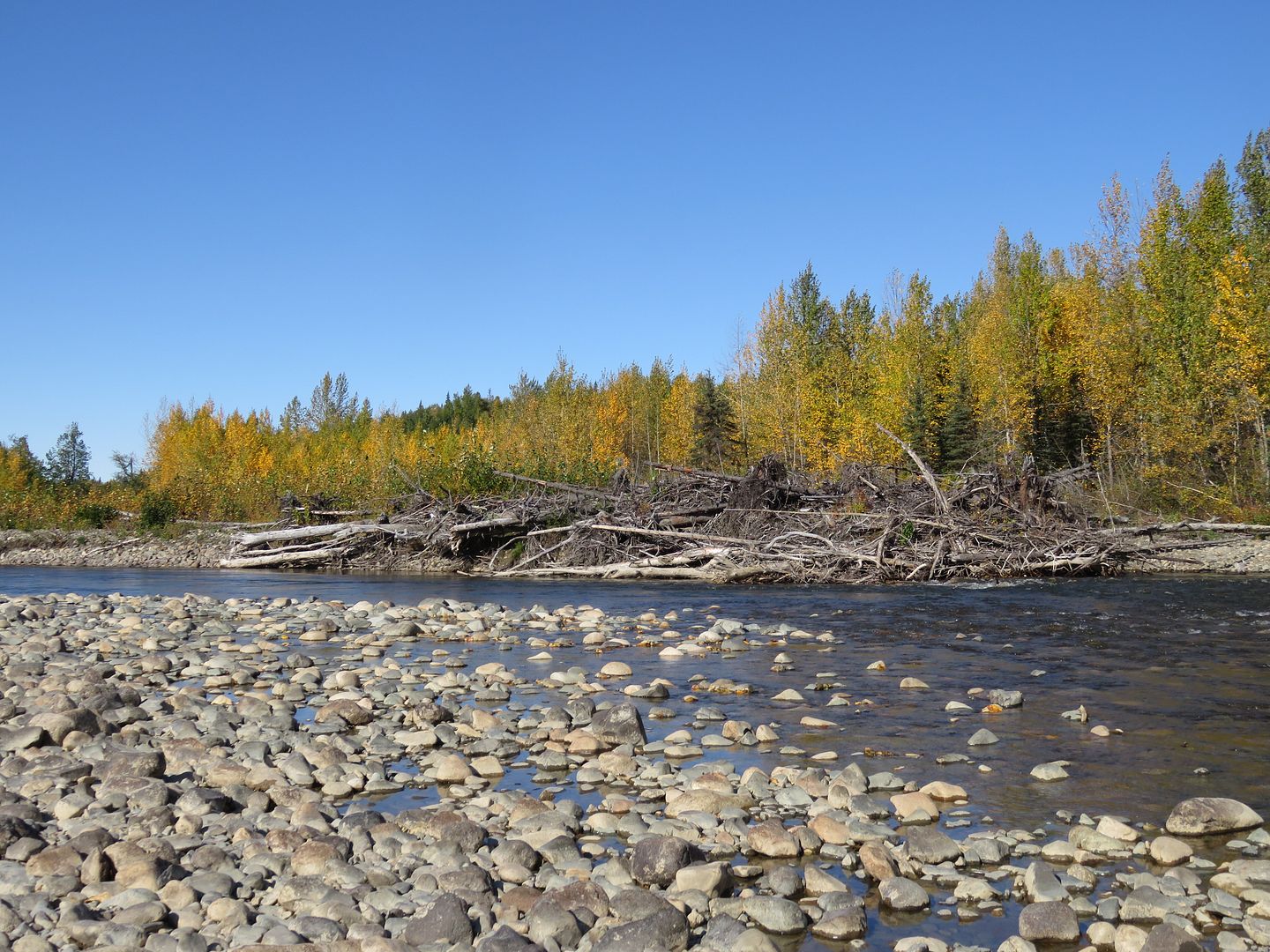 And he and Arthur fished back to the piper then flew down to pick me up (river side valet service cannot be beaten….yeah). Although he scared the bejebbers out of me when he landed as the wind caught him right as he put it down on the rocks and the plane missed me by only about 10 feet. We headed back to the cabin, had a nice meal and headed back to Wasilla. This is not a very steady, or clear, video of the takeoff but it gives you an idea of the "smooth" surface of this grass strip….haha:
Again the scenery was great on the way back:
We made a safe landing and were back into the civilized world….at least as civilized as Alaska gets. It's great fishing with good friends.
Brian