Discussion Starter
·
#1
·
I think every waterfowler has harvested one particular bird that stands out in their mind as being truly exceptional. A trophy bird can be a trophy bird for a variety of reasons, whether it's an exotic species, a high-quality specimen, a bird you worked hard for, or a bird that was harvested in memorable circumstances.
I think it would be great to devote a thread to stories (and preferably pictures, as well) of our trophy birds, and why these hunts stand out in our minds.
I'll start...
It was the last day of the 2014-2015 season. A few of my family members and friends decided we'd like to finish the season with a good, strong effort, so we made a long drive and set up an ambitious decoy spread in hopes of luring one of the few wary, late-season birds that remained in the area.
I had one target on my hit list that day, and that was a drake pintail. I'd harvested several pintails in my day, but never a nice late-season drake with a long tail and perfect plumage. I kept my hopes high as I hid in the reeds and waited for the afternoon flight to begin.
We sat for several hours, and it seemed that the hunting was as slow as could be. But it turned on as fast as lightning when I looked north and saw a flock of about 20 pintails passing us by. With one quick hail call, they swung around and dove into the decoys with reckless abandon.
I couldn't believe it. Just like that, I had a flock of pintails over the decoys. I picked out a nice drake and fired. I dumped the drake I was aiming for, but a stray pellet managed to wound another drake as well. I watched in disgust as he set his wings and sailed into some reeds about 150 yards away. My dad managed two birds out of the flock as well.
After retrieving the first three, I set off for the reeds where my second pintail landed, and commenced in a search which I thought would end in failure. But I desperately wanted to find it, and after stomping through the reeds for about 15 minutes, I scared it out into the open water and delivered a finishing shot.
I picked him up, and I think I almost had a heart attack when I noticed what was on his leg.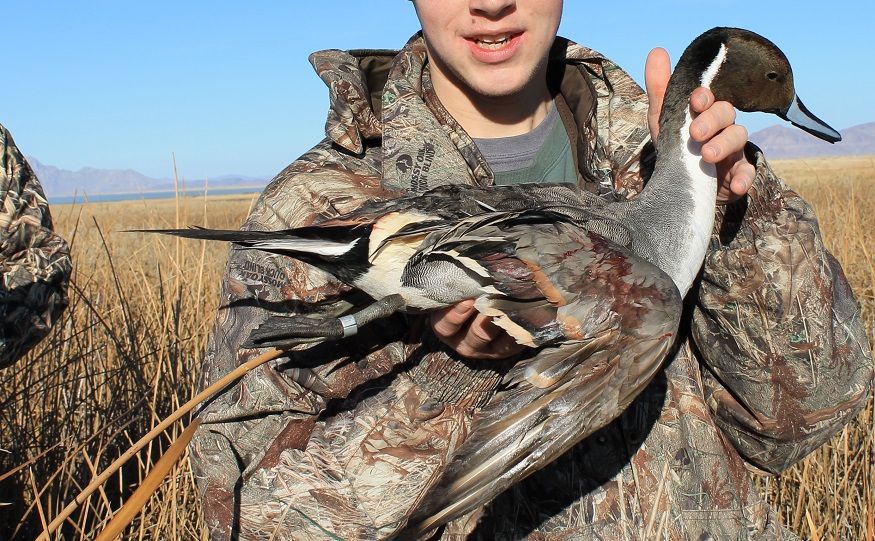 I consider this bird to be the trophy of my lifetime due to the bird's quality, the effort expended to get it, the luck involved with hitting and recovering it, the fact that it was banded. I doubt I'll ever have a better hunt.