Discussion Starter
·
#1
·
With the weather being as nice as it was Saturday no way I am going to sit around, I have one more good fishing trip in me before old man winter hits. Boy was it a good one! I headed out and met Greenguy88 and Chuckmiester at the old fishing hole. Once again I kindly ask for your discression if you know this spot great, but don't announce it to everyone, thank you in advance for your consideration. I arrived a 6:15 am and started my hike, as you can see I am not a petite flower so that took some effort. Nice to have the first fish out of the way.
Then Greenguy88 got into the action once on the pontoon boat: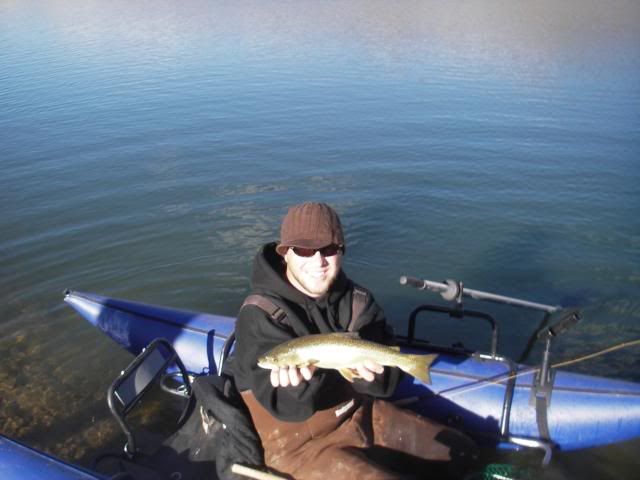 Then the wind came up so bad he headed for shore an landed this nice fish:
I had a fist today as well thanks to the help of greenguy88 and chuckmiester I landed my first fish on Stillwater with my fly rod! He took a leach pattern about 15" from shore that was fished under and indicator.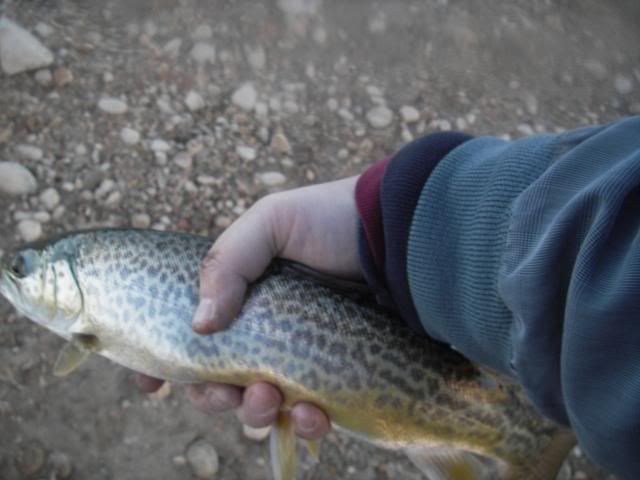 I was also able to coax one tiger to eat a bugger: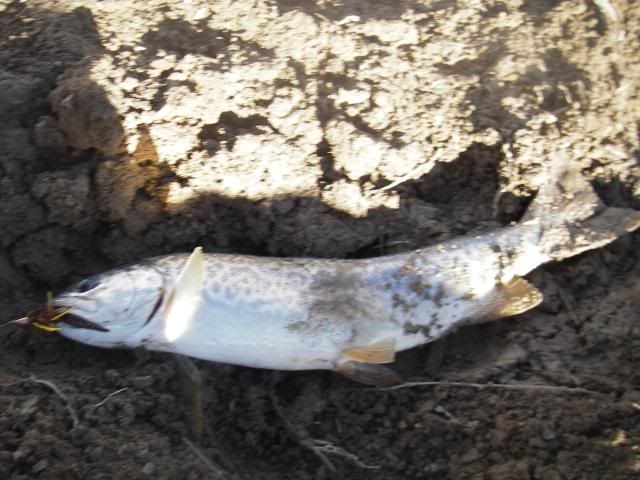 But the highlight of the trip was this bad boy! We estimate about 22" and 4 ½ - 5 lbs. Funny story behind this photo, I hooked the fish and no one was around me. I got him to shore and he broke off right at the shore, I thought oh no another big tiger to break my heart I cant take it! Well as nimble as a 350LB guy can be I jumped into the water and grabbed him by the jaw and tail while in the mean time splitting my pants. A stranger across the water heard all the commotion and watched me try and hold the fish and take the picture (not working!). He rowed from the other side of the lake and snapped this photo for me. I am grateful to have evidence but the photo does not do the fish justice, remember I am 6'1 and 350LBS. You can see the fish is as long if not longer than my arm ! I now know why they have those clamp things to hold the fish and measure them because I had my hands holding his jaw and his teeth cut my hand up good, but all worth it for a fish like this.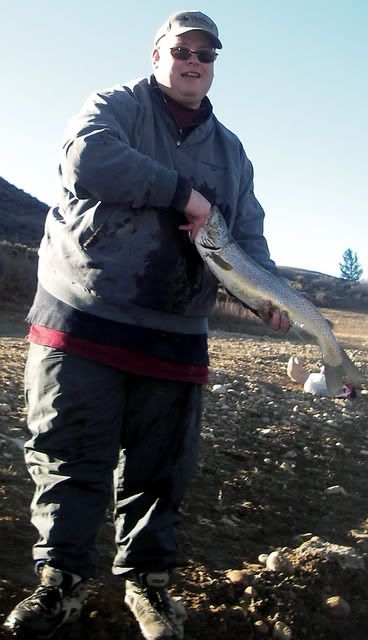 I hope you all got out and enjoyed your weekend as well!
Orvis1