Discussion Starter
·
#1
·
Although for me fishing is always about catching, I'm just curious to find out how everyone did this year. I would really love to see a photo of your biggest fish this year only. If you don't have a photo, a description would be just fine. I'm not looking for destinations. As a matter of fact, unless it's Scofield or Strawberry or Jordanelle, I rather not know where you caught it.
This was my accomplishment this year. This bad boy went 23.5 inches long.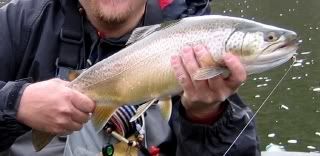 It was the new catch and release state record Tiger trout. However, because the state requires that you give the location of where you caught your fish, I opted not to turn this fish in to the state to claim the record. I'm particularly careful about giving out this location and it just wouldn't be worth having this place over run with anglers.
So... how about you?